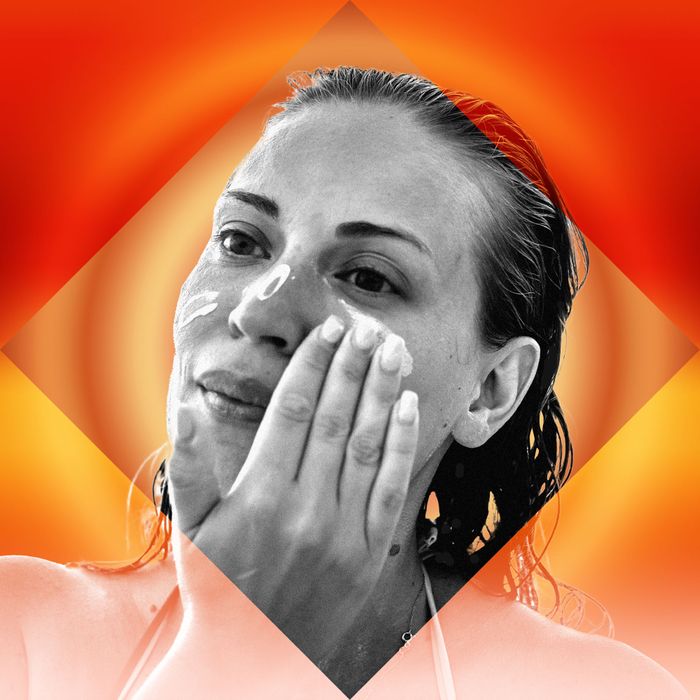 Photo-Illustration: by The Cut; Photo: Getty Images
Even if you've been living under a rock — which the New York Times seems to encourage when it comes to skin care — you know by now that if you want to preserve your healthy complexion, you need robust protection. A concerned reader wonders if she's getting enough.
Q: I wear an SPF 50 foundation mixed with an SPF 30 moisturizer daily. At 73 years old, I like the even-toned look it gives my skin. I thought I was being good till a friend told me that foundation with SPF doesn't work. Am I shortchanging myself in the sunscreen department?
A: First, thanks for trusting me with your beauty question, instead of your alarmist friend. Although she's not right, she's not completely wrong. Why? Dermatologist Laurel Geraghty, M.D., explains.
"Mixing your moisturizer with foundation is fine," she says. "As you know, it can give you a nice dewy look, rather than a potentially cakey one. And I love that both products you're using offer sun protection. That's always a good start." But the key to effective sunscreen use is always the same, says Geraghty. Are you applying a thick, even layer all over your face? Is it enough to get the level of SPF given on the product label?
Herein lies the rub. "Sunscreen is meant to be applied liberally and often," says Geraghty. You need a nickel-size amount (around half a teaspoon) for your face, applied every couple of hours when you're in the sun. If you have ever tried applying that much sunscreen to your face, you know it's a lot. But there's a trick to it: Dermatologist Heidi Waldorf, M.D., suggests applying one coat, letting that dry, and then applying a second coat, which gives you enough protection without feeling like you just stuck your face in a vat of meringue.
As Geraghty astutely points out, most of us don't apply enough moisturizer with SPF to get the level of protection listed on the label, and even fewer apply foundation in the thick layer that would be required. So if you wear both, layering one on top of the other may be the ideal approach, allowing for an even application of the SPF 30 moisturizer followed by your SPF 50 foundation as bonus protection. (But take note: Wearing an SPF 30 and an SPF 50 does not give you SPF 80; you get only the amount of protection offered by the highest SPF.) So just to recap for when you explain this to your friend: It's not that the SPF in foundation doesn't work. The problem is that when we skimp on our application (whether of moisturizer, foundation, or a mix of the two) or don't apply a product evenly, we're at risk of inadequate protection and racking up sun damage.
As for products, Geraghty (like me) is a fan of drugstore moisturizers. She (also like me) doesn't believe you need to pay more for a moisturizer to get a really excellent one. She loves La Roche-Posay Lipikar Daily Repair Moisturizing Lotion (for light hydration), or the brand's Lipikar AP+M Triple Repair Moisturizer (for dry-skin types), and Cetaphil Moisturizing Cream (which she uses everywhere, including on her face). She's also a fan of Alastin Ultra Nourishing Moisturizer and SkinCeuticals Daily Moisture. As for moisturizers with SPF, there are many good ones, including Cetaphil Healthy Radiance Whipped Day Cream SPF 30 and the one I use, Neutrogena Rapid Wrinkle Repair Daily Face Moisturizer with SPF 30 + Hyaluronic Acid.
For a little light coverage after a procedure or if she's dealing with some splotchiness from an exuberant skin-care routine, Geraghty always uses Armani Luminous Silk foundation. And the Nars Pure Radiant Tinted Moisturizer SPF 30 offers broad-spectrum coverage (with the look of a light foundation).
Geraghty's sunscreen favorite is the Alastin Hydratint Pro Mineral Broad Spectrum Sunscreen, which she says is incredibly lightweight and offers a sheer tint and light coverage. "It's also what I use on patients after laser treatments. Rather than looking reddish or splotchy, they look even-toned and glowy," she says.
In the summertime, I always carry a Colorescience Sunforgettable Total Protection Sheer Matte SPF 30 Sunscreen Brush. I find it's the perfect way to reapply protection without having to slather on more liquid product. It's also a lot easier than living under a rock.
Valerie Monroe was beauty director at O, The Oprah Magazine, where she wrote the monthly "Ask Val" column for nearly 16 years. Now, she writes the weekly newsletter How Not to F*ck Up Your Face. Her goal continues to be to shift our thinking in the beauty arena from self-criticism to self-compassion and learn how to be loving witnesses to ourselves and one another as we age.