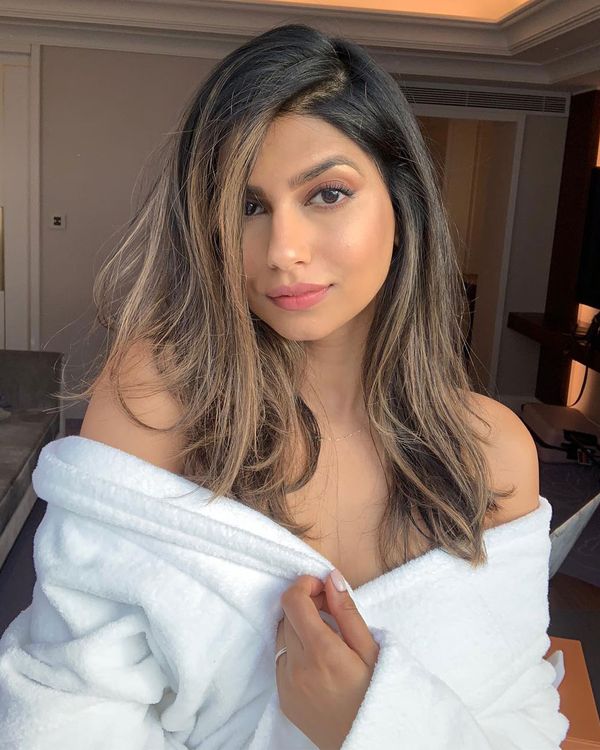 Photo: Courtesy of Arshia Moorjani
Arshia Moorjani's love for beauty takes root at Sephora. Long before the beauty blogger and YouTuber, whose bedroom-turned-beauty-room is the stuff of dreams, began reviewing her favorite products on social media, Moorjani was working a nine-to-five at Sephora and later, M.A.C Cosmetics. "[It was there that] I truly understood makeup application on myself and others," she says. "[I] fell in love with the power of makeup and how it can help boost confidence."
As any beauty aficionado will tell you, the foundation of great makeup is a good skin-care routine. Moorjani has an ultra-hydrating routine for dry skin and hyperpigmentation. She explains, "As an Indian woman, I have always had uneven skin tone and hyperpigmentation. About two years ago, I became really serious about skin care and learning more about products that help with my uneven skin. [I] have seen my skin transform ever since." The answer? Vitamin C, hydrators, (gentle) chemical exfoliators, and SPF. Read on for her go-to non-stripping gel cleanser, retinol eye cream, and the "tiny capsules" that pack a hydrating punch.
The Triple Cleanse
"I love this to remove all the makeup from my eyes (and sometimes lips!). It literally melts all the makeup and makes even the most stubborn eyeliner or mascara super-easy to remove. Plus, it is extremely lightweight and doesn't have any residue."
"Because of my job as a full-time beauty blogger, I test and wear a lot of makeup on the eyes that is tough to remove (like long-wear eyeliner, darker eye shadows, glitter, etc). Using the Lancôme remover makes it so easy to remove, but I like to use this soothing oil too to help break up the makeup from my face gently but effectively. I have been using this now for weeks to remove my face makeup. Because it is an oil cleanser, I also find it extremely soothing on the skin."
"I received a package in the mail from Peach and Lily (for PR) and then ended up becoming really good friends with the brand founder, Alicia Yoon. She has really educated me on her products and I love everything that I have tried. I double-cleanse to really ensure all my makeup is completely removed from my face, because I do tend to wear a lot of it. This is such a gentle yet effective cleanser that will deep-clean your skin without drying it out. I really love it for my (very) dry skin, but I do think this is a product that will work for all skin types."
The Exfoliant
"I love using chemical exfoliants a couple of times a week to exfoliate my skin (the right chemical one is more gentle than a physical one). I love this one from Tarte on days when I need extra exfoliation. I found this to be extremely effective from the first use and feels really gentle on the skin. I would still say that it is important to do a patch test (especially for sensitive skin) but my skin loves it. I visibly see a difference in my skin the next morning, as it looks so bright and glowy. It does tingle in the beginning, but I feel like at this point, my skin has gotten so used to it."
The Eye Cream
"Retinol, a.k.a. vitamin A, is great for anti-aging. Retinol eye creams specifically help prevent fine lines, wrinkles, and dark circles. I have been testing out multiple different retinol products for my face but haven't always had the best success with it. Eye cream for me is a must, and I'm really liking this one from Dr. Brandt because it's so hydrating."
The Serums
"I love a good serum, and this one from Fresh is awesome. It has black-tea ferment, black-tea extract, to help with anti-aging and smooth the skin. The serum gives my skin a plump, fresh look instantly."
"These tiny capsules are supposed to help strengthen the skin's moisture barrier, the layer of skin that provides protection to help retain moisture, which helps with anti-aging and hydration. Even though they feel a bit oily when you first apply, they absorb into the skin very quickly. I love using this on most days when I need something more extra. I personally love these for my skin type, but I do think if you have oily skin, they might be too heavy for you."
The Moisturizer
"I have very dry skin, so I am constantly looking for hydrating skin-care products and love the moisture-surge hydrator from Clinique. It's a gel-type product. I really like it because it provides hydration without a greasy and oily feel."
The Roller
"Face rollers at night are a must for me and a huge part of my self-care routine. Not only are they extremely relaxing to use on the face after a long day, but they also help enhance blood circulation and de-puff my face. I love a few different rollers like the jade roller from Herbivore, but also this one from Dr. Jart+ because it has small ridges. It only takes a minute to roll this over your face, but I think it's important to take even a minute out of your day just for you."
If you buy something through our links, New York may earn an affiliate commission.