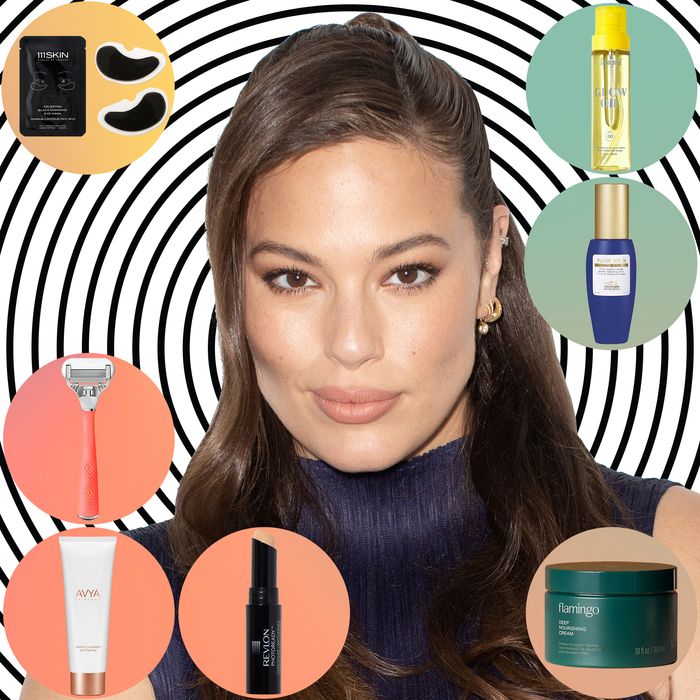 Photo-Illustration: The Cut; Photos: Ben Ritter, Retailers
On the Beauty Group, a Facebook community co-founded by the Cut and the Strategist, people chat all day long about the products they love — the ones so good they'll make you hit that little "auto-refill" box at checkout. Below, we asked one of our favorite beauty pros to share her own selections.
Ashley Graham has been shaving her legs since she was in middle school. The supermodel and entrepreneur remembers the moment vividly because she later got in trouble for disobeying her mom's strict instruction not to do so. "I told her I really wanted to shave, and I was young but I had hair. And my friend at the time, she had older sisters, so she was doing it," she says. "So I shaved, and I remember my mom and I were about to walk into a grocery store and I had shorts on, and she started screaming at me in the parking lot: 'You shaved your legs without telling me?!'"
Twenty-five years later, Graham now has her own limited-edition shaving kit, complete with an exfoliating mitt, a moisturizing lotion, a foaming shave gel, and, of course, a razor, with the body-care brand Flamingo. "I like how Flamingo is as open and honest as I am about body hair. At the time, I had been posting my underarm hair on Instagram, unbeknownst to me that it was so disgusting to some people. Every woman's preference is so different!"
In contrast to her legs, her pits have just never been of much concern. "I don't remember shaving my armpits for the first time. Isn't that funny? Now I don't even really shave them," Graham told the Cut with a laugh. "I remember right before I shot the Calvin Klein campaign for Heron Preston, I had really hairy armpits. I actually called my agent, and I asked her, 'Do you think I should shave my armpits?' She goes, 'Yeah, I think it's time.'"
Below, Graham breaks down her beauty essentials, including the sunscreen oil she takes everywhere, the $9 hair spray she has used since her teenage years, and the body cream she slathers on every single night.
The Shaving Kit
"I've been using this razor for years. It's super-easy to use because it has a cute little thumb grip on it. I love the color — it's something fun and bright in your shower. A lot of products are kind of muted, and they're calming but, for me, razors and workout gear should be fun. This comes with a holder for your razor, which I love; when you leave your razor at the edge of your tub, it gets rusty faster. The holder really allows it to get air so it can dry after you use it.
"Then the set also has an exfoliating mitt. Before working with Flamingo, I didn't know that when you exfoliate your legs before you shave, it actually helps lessen hair bumps and ingrown hairs."
The Sunscreen
"Oh my God, this is my favorite body sunscreen because it feels like you're putting oil all over your body. When I was a youngster, I put oil on instead of SPF, like a loser. [Laughs] But really, you're putting on sunscreen, and you feel shiny and glowy and beautiful and you don't feel tacky. I've traveled all over in different climates, and whether I'm on a boat or by the pool or by the beach, I never, ever burn."
The Concealer
"I will curl my lashes, put on some concealer, and brush my brows up and I feel totally put together. I put just a little under my eyes, around my nose, and on my chin — kind of where I'm a little red or discolored. It's easy, and it doesn't come off. I use a mix of shades depending on whether I have a spray tan or if I've been in the sun, and it really molds to your skin. It has been my favorite concealer for a very, very, very long time. It's also affordable."
The Micellar Water
"This is a classic. I don't use it every day, but after a day of work when I've had a lot of makeup on, I use it first to take my makeup off. Then I wash my face with a gel or foam cleanser. It's been around forever, and I don't break out. If I'm too lazy to wash my face afterward, or if my son comes into the bathroom and he needs something, and I've only used this micellar water, my skin isn't going to feel like it's cracking or dry later. I have it with me at all times but especially when I'm working."
The Serums
"This is an investment for your skin. I had a facial in L.A. recently, and it was one of those woo-woo facials where it wasn't really a facial but it was a facial. [Laughs] She did a reading on me — it was very bizarre. She was like, 'You need more glow in your life!' She totally talked me into buying this. She was like, 'Spray this on your face and it will give you that extra glow,' and sure enough, it does. But let me tell you something before you buy this: It smells like crap. It's a very pungent, kind of trash smell. I don't even spray it on my face. I spray it in my hand and then I put it on because the sprayer also is not very good. It doesn't spray nicely — it kind of spits it out — but I do like the effect of it."
"I love hyaluronic acid, and I think these Dew Drops are great. I make a little cocktail in my hand with the Drops and the Environ Vita-Complex [below]. It's just an extra layer of hydration. I always put it on right after I've sprayed a bit of rosewater, 'cause when your skin is like a little bit damp but not too damp, everything seeps in better."
The Moisturizer
"I love Environ. This is a moisturizer, so I use it right before my SPF. It absorbs quickly and makes my skin super-silky. I like the texture of it, too — it's not too thick for the summertime. I feel this is an investment for my skin. You can use it both during the day and at night. It was actually my acupuncturist who recommended this to me."
The Eye Masks
"These are my favorite under-eye masks — masks can be such b.s., but I think 111Skin has great products. I like to wear them on my way to work. I pop those off, and I look wide-awake. I don't know what it is, but there's something in those ingredients that just brightens underneath my eyes and I look fully rested. I feel like we all need these."
The Body Cream
"This is awesome. It's got a great buttery-soft texture. It's super-hydrating. It's got great ingredients like shea butter, vitamin E, and squalane. I actually use it every time I get out of the shower. I have friends who are like, 'You put lotion on your body every single time you shower?' Like, yeah. Have you ever felt my skin? It just goes to show why I do it. A little goes a long way, and it keeps you smooth. I put it on my legs before I get on planes, and when I get off, my legs are still hydrated. The scent is amazing too — it's like a mix between floral and spa-like."
The Cleanser
"I kept running into Deepika Vyas, the founder of AVYAS Skincare. One day, she was like, 'I have a skincare line, and I would love to send you some.' She talked to me about how a lot of what she has created is how her mother raised her to take care of her hair and her skin, and the thing that stuck out to me was this cleanser because it left my skin plump and dewy and not dry or feeling thirsty. I use it at night, and it comes in minis, too and I love minis because I travel so much."
The Hair Spray
"I've never been able to do my hair well, but I've been using this product since I was 15 years old. When my hair is wet, I part my hair down the middle, spray it everywhere, and crunch it up; the product turns my hair into perfect, natural waves. It doesn't make my hair crunchy or hard or anything. It's just perfect. There was this girl at a church camp I went to, and she was like, 'What do you do with your hair?' I was like, 'I don't know.' She had the same texture as me, and I used her spray and then that was it. Thanks, church-camp girl!"