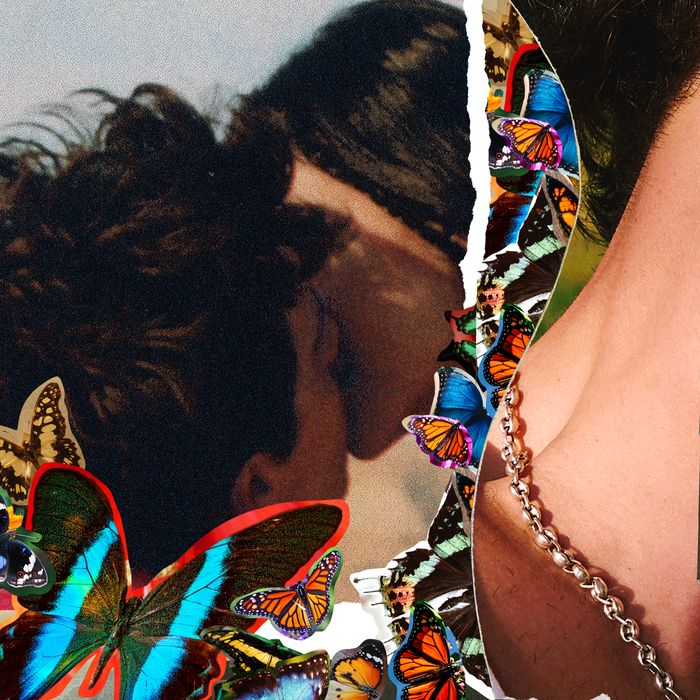 Photo-Illustration: by Marylu Herrera
This week, an American woman meets up with dreamboats and creeps across the pond: 26, single, London
DAY ONE
10 a.m. Wake up pretty late, jet-lagged. I'm in London, but I live in New York and am treating myself to a week away since I had a terrible year: a toxic new job and a really bad breakup. I was madly in love with my ex — we were together for three years — and he just didn't love me the same way. So here I am at a hotel I can't afford, trying to meet men and have some fun without too many feelings.
1 p.m. Take it slow this morning — long bath, some reading — and start getting ready for my first date of the day. I spent the last month in New York getting organized for this: I joined all of the apps and set my location for London.
2 p.m. At a café meeting Joe. He is, allegedly, an American doctor living here. Let's see …
4 p.m. Joe is sketchy! He says he's not a doctor — he's actually a nurse — but I think he's lying about that too (my mother is a nurse). He's hot but in a serial-killer way, and he does buy me lunch. Still, I'll be blocking him.
7 p.m. Drinks with Alan at my hotel bar. By the end of the week, they're going to think I'm an escort.
9 p.m. Alan is not cute. He's chubby and balding, but he's got a great British accent and he's funny. He's also tall (I'm five-nine, so height matters) and tells me I look like Nicole Kidman, which is just about enough to invite him upstairs.
9:30 p.m. Alan says: "Would you like to show me your room?" He puts his hand on my lower back, and I feel a spark.
10 p.m. Alan is currently fucking me against my hotel-room wall. He has a tremendous penis. He's confident and passionate and his mouth tastes good and he smells nice. I come quickly against the wall. He then bends me over the hotel bed and comes on my ass.
11 p.m. We say good-bye. It was really nice, actually. He's also normal — he's a lawyer, has friends, and his story adds up. That goes a long way when you're immersed in online dating.
DAY TWO
9 a.m. There's a gift waiting for me at reception this morning. Roses from Alan!
Noon Spend a few hours working from my room. I work for a fashion designer, and Fashion Week is coming up. I hate Fashion Week, and I have to stay caught up on work even though I'm off. My boss is a monster, and I'm scared of her.
5 p.m. Back-to-back dates tonight. First is Rufus — he's a divorced London guy who looks cute in photos but smiles without his teeth. Then I have Liam, who is here from Ireland for work.
6 p.m. Rufus is basically toothless. Toothless Rufus. I don't even bother with a cocktail. Sorry, bud!
8 p.m. I walk to a nearby pub to meet Liam. He arrives a bit late, and I think he might already be drunk — I smell alcohol on him when we hug hello. But let me tell you, Liam is a babe. He's tall, and the accent is to die for. We order food, and the conversation is light and fun.
10 p.m. Liam is ready to meet up with some friends. I'm hitting a wall. I have a Zoom with my boss tomorrow and don't want to be hung-over. We part ways but not before Liam sticks his tongue down my throat outside the pub. I'd see him again, even though I'd be nervous about dating someone that gorgeous and suave.
DAY THREE
9 a.m. Coffee and room service to prepare for my call. My boss has a habit of telling me I'm ugly and stupid. She'll say things like, "Don't wear that. Everyone will hate you if you look like that." Or, "What's with your makeup? You look scary. You're scaring me." She comments on my weight and lack of expensive clothes. I feel like Portia on White Lotus, though my boss is far less charming than Tanya.
2 p.m. The Zoom is happening. My boss seems really annoyed that I'm in London even though this vacation was cleared months ago.
5 p.m. I try to shake my bad mood for my date tonight.
6 p.m. Liam invites me to drinks with his friends. Should I bail on this random guy? Yes. Yes, I should.
8 p.m. Getting drunk with Liam and his friends. They're all cute and hilarious. I'm the only girl. They love hearing about American culture, especially American dating culture. Liam is getting closer and closer, his arm around my waist, his hand on my ass. I love posing as his girl for the night.
11 p.m. Back at my hotel room. Liam is going down on me. He's phenomenal. And he won't stop. It seems like he's been down there for 30 minutes. I've already come, and he knows it, so I don't know — maybe he's trying to make me come twice?
I pull him up and start sucking his dick. It's not the biggest penis in the world, but it's strong and hard as a rock. I give him a really committed blowjob and he comes and I swallow it. I never swallow.
DAY FOUR
10 a.m. I'm taking a train to Paris today. It's a last-minute thing. I've never been to Paris, but I speak a bit of French because I took it in high school.
Noon On the train, I message a bit with Alan and Liam. There is no way I can see bloated Alan again after being naked with dreamy Liam. Poor Alan!
2 p.m. Paris is amazing but overwhelming. I should have done more research because I'm not really sure where I should be. I walk and walk and walk …
3 p.m. Treat myself to an epic late lunch at a restaurant Bon Appétit vouches for. It's easily the best meal of my life. I'm reading a great book so I don't mind eating alone. I promise myself to remember this meal forever.
6 p.m. More walking. Getting tired. I stop for a drink and debate going online to meet a guy, but it feels wrong to just stare at my phone. I decide to take the day off from my sex search.
7 p.m. Get on a train back to London, exhausted but inspired. I'm so glad I did that.
DAY FIVE
10 a.m. Lounge around all morning. My body is sore from all the walking yesterday.
2 p.m. Have a Zoom with my boss, who doesn't give a fuck that I went to Paris. She's completely insane over Fashion Week preparations. She asks if I can come home a few days early. This is my one and only vacation of the entire year, and I work 24/7 for her when I'm home. Fuck her.
4 p.m. I have some decisions to make: Hang with Liam, see Alan, or meet with the two new guys I have set up for tonight?
5 p.m. Decide to meet up with one of the guys, Andrew. He's a professor visiting from Boston. I have a feeling he's married — I did some research and found a wedding write-up. I mean, they could be divorced, but the wedding was only last year.
6 p.m. Andrew meets me in the lobby for a drink. The plan is to get some food nearby after this. He arrives, and he's okay. He's very boring. His clothes are boring. His face is boring. I'm too bored to even find out about the wife.
7 p.m. I'm about to bail on dinner when he comes out of left-field with this: "Why don't you take me upstairs and let me fuck you deep in the ass? Come on, I know you're a slut."
I'm not joking. He had a crazy look in his eyes when he said this. I consider slapping him, but I'm too stunned to move. Then he pretends he was kidding. So Andrew is a freak dressed as a snooze. I want nothing to do with it. I tell him to go home, and he listens.
8 p.m. Recalibrating in my room. That was so weird and creepy. I text Alan to see if he wants to grab dinner. He says he's on a date, but he'll text me after — I love the transparency. I text Liam — he's home watching a movie if I want to come over. It's an expensive cab ride, and it's getting late, so I turn my phone off and go to bed.
10 p.m. Can't sleep, thinking about Andrew. Creep.
DAY SIX
9 a.m. I wake up and debate going back to Paris, but there's a text from Alan inviting me to his place for a party. That sounds fun, so I decide to laze around and spend the day shopping.
1 p.m. I spend most of the day walking around and thinking about what to do with my life.
3 p.m. Call my family to catch them up on my trip, minus all the fucking and sucking.
6 p.m. I pick up some Champagne and grab a cab to Alan's flat. When I pull up, I'm amazed at how beautiful it is. It's a townhouse right out of Notting Hill. He must be loaded!
8 p.m. Alan's friends are mostly married and all very cool. Everyone is nice to me. They seem excited that Alan has a girl here. It makes me wonder if he's the pathetic one of the bunch. Alan is kind to me the whole night. I'm having flashes of his huge and mighty cock.
10 p.m. Everyone is drunk. I ask Alan to show me something in his room and proceed to fuck him quickly and feverishly on his bed with all his friends downstairs. It's another great romp. We both come at the same time with me riding Alan.
11:30 p.m. The party is ending. Alan wants me to sleep over, but I'd prefer to sleep at the hotel. I give him a kiss on the cheek and get in a car, which he orders for me and pays for.
DAY SEVEN 
9 a.m. I'm hung-over, but it's okay. All I have to do today is pack and shop for my family. I leave tomorrow.
Noon Take another long walk around London. I try to make some life decisions while doing this — I'm not sure what I want from my career or my love life.
3 p.m. Take a nap to rid myself of the last of my hangover.
7 p.m. For my last night, I decide to sit at an outdoor café and just relax and think. I want to come home feeling as whole as possible. I send texts to Alan and Liam saying how thankful I am that I met them and that I'll never forget them.
8 p.m. Turn my phone off and finish reading my book.
The Sex Diaries column, which began in 2007, is the basis of a new docuseries on HBO.
Want to submit a sex diary? Email sexdiaries@nymag.com and tell us a little about yourself (and read our submission terms here.)