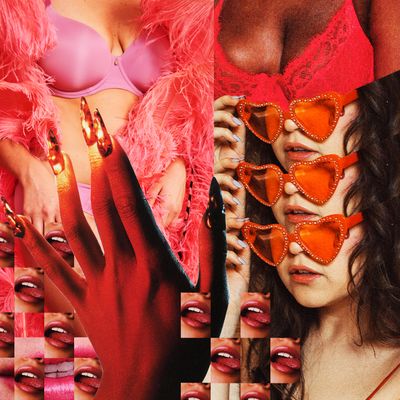 Illustration: by Marylu E. Herrera
This week, a woman has six orgasms in a row while waiting out the writers' strike: 25, single, Los Angeles. 
DAY ONE
8:45 a.m. I wake up and check Feeld before I'm even out of bed. I made a profile about a month ago. I recently started having sex again after a five-year dry spell that was partly due to the pandemic and partly due to getting herpes from my ex. Until about a month ago, I wasn't comfortable telling anyone I had it, but was inspired after reading things online about people who had herpes and had made peace with it. I knew the Feeld would be a safe space for me, so I joined.
10 a.m. Get a text from Spencer, a musician I've been hooking up with since the day I downloaded Feeld. So far he's the only person I've met up with from the app. The sex is amazing and he was cool when I told him about herpes. He just said, "Thanks for letting me know — I appreciate it," and that was it.
12 p.m. Texting Spencer quickly turns to sexting. I'm extremely horny when my phone chimes to let me know I have a Zoom call in 30 minutes.
12:30 p.m. On the Zoom. I work for a film-production company, so things have been slow since the WGA strike began in May. I'm an assistant to an exec and have a few calls a day around non-WGA projects — book projects, development calls around other source materials, things like that. I don't have a lot on my plate and lately I've had a lot of down time to swipe and sext during my work day.
4 p.m. Spencer and I make plans. He's going to leave the keys to his place in the mailbox then get in the shower when I'm leaving my apartment so I can let myself in and join him. We're both turned on by this domestic "coming home" scenario.
6 p.m. I drive over to Spencer's, let myself in, undress, and join him in the shower. We make out as he rubs himself against me, and then he turns me around and kneels down to eat my ass.
6:20 p.m. We dry off and head to the living room. He sits on the couch, then pulls me onto his lap and starts to kiss my neck. I turn around and can feel him getting hard as we make out. We start fucking, and I ride him until he cums. I don't move off him and he doesn't pull out. After a few minutes of slow kissing and catching our breath, I start moving my hips against him. We both cum again. About 20 minutes later we move to the bed, where he fucks me until I cum again, then we cuddle, then we fuck again until I cum, yet again.
10:15 p.m. We're both hungry but none of the good nearby restaurants are open. He says he has some charcuterie-type food in the fridge, and we decide on a girl dinner.
11 p.m. We fuck again. I cum again.
12 a.m. I kiss him on the cheek and say I should let him get some sleep. I stand up and put my underwear back on. As I'm putting my shirt on, he says, "Come back here." I return to the bed and straddle him. We fuck again. I cum — for a sixth time!
1:37 a.m. That was a lot of orgasms, and I'm in a haze. We talk about how insane our stamina together is and how insatiable we are. I've had multiple orgasms before but with Spencer the sex is on another level. I finally go home.
2 a.m. I pee immediately after I get home and see a few drops of bright red blood. I've never had a UTI before, but it was bound to happen. I take two cranberry-supplement capsules and down an entire glass of water before I go to sleep.
DAY TWO
9 am: I wake up and realize after peeing again that the blood was coming from my vagina and it was just spotting, not a UTI, which is a relief. I get back in bed.
10:30 a.m. I let myself sleep in because I don't have any work meetings today.
11 a.m. Spencer texts to ask how my body is holding up. I tell him not great, but that I don't mind. We exchange horny texts and I want him to invite me over again, but I genuinely don't think our bodies could handle it.
5 p.m. In the checkout line at Target buying Epsom salt and red wine. I get a text from Charlie, a guy I started talking to on Seeking, formerly known as Seeking Arrangements. It's technically rebranded as a regular dating site, but people still use it to find sugar babies or daddies. There are some younger guys on it, but most of my messages are from men in their 50s or 60s looking to pay for sex or romantic companionship. I was on the site for a few months in college but never met up with anyone. I just got back on it a few weeks ago.
Charlie is only 32, really cute, and new to the site. I told him I didn't want to be paid per meeting or an allowance, which is traditionally how this works. I just want him to take me to outrageously expensive restaurants!
9 p.m. In the bath drinking wine and eating brownies. Charlie and I have a boring conversation about our respective plans for the weekend. I wonder if I'll ever actually meet him or if this conversation will fizzle out. I don't really care either way.
DAY THREE
10 a.m. Work calls.
1 p.m. Get a message on Seeking from a guy in his mid-40s who looks hot. He's straightforward and invites me over to have sex. He also tells me straight up how much he wants to pay me. I ask for a little more money, and he agrees. Usually I wouldn't meet someone the day they message me, but something about his directness turns me on.
5 p.m. He and I have been texting all day. We confirm we'll use a condom and that he'll send an Uber to pick me up. He lives in Calabasas, which is a 45-minute drive away.
6:45 p.m. I jump in the shower. I shaved my whole body two days ago, thankfully, so that saves me time. I put on a full face of makeup, which I never do for Feeld or Hinge guys, but it makes me feel hot and a little older than I am.
8 p.m. The Uber driver talks to me the whole way there, which isn't what I thought I wanted but keeps me from getting too nervous.
8:35 p.m. He opens the door to his house, which is huge and fancy. He, however, is much shorter than I expected, but his voice is incredibly sexy. The conversation is immediately comfortable and casual. I meet his dog, we drink bourbon, and he tells me about his job. I tell him a little about myself. Surprisingly, everything I tell him is true.
9 p.m. He kisses me with a lot of tongue in the kitchen. We move to the couch. I straddle him and we make out. We're both all tongue and roaming hands. I tug on his shirt as he pulls the hem of my dress above my waist. I stand and we both strip off all of our clothes. He sits back down on the couch and I suck his dick. Eventually he pulls me up and leads me to the bedroom.
Once we get to his bed he leans me over it and fingers me. It's exactly what I want. Then we fuck and he cums quickly. He's not embarrassed about it, which I like. We both know we'll go another round, and we do. The sex is great the second time around.
12:30 a.m. I get in the Uber home and wonder if the driver can tell by my hair that I just got fucked.
DAY FOUR
7:15 a.m. I wake up before my alarm, which almost never happens. I'm exhausted but can't fall back asleep.
9 a.m. I'm still tired when I log on for work. I need to minimize these weeknight romps.
1 p.m. I get a message on Feeld out of the blue from Elliot, a hot guy I matched with over a week ago.
3 p.m. Elliot wants to sext. He compliments one of my photos and says I have an amazing body. I ask if he wants to see more and send him a nude I have banked. After a while I get bored and stop responding.
7 p.m. Swipe while eating dinner and match with a cute girl my age, which is exciting but also nerve-racking because I don't think I'm good at flirting with girls. I decide to send the first message anyway.
9 p.m. I do a face mask and start the extended version of my night routine. It's nice to indulge after doing the bare minimum for the past few nights.
10:30 p.m. I get into bed and set my alarm for 7:30 a.m. because I have to work from the office tomorrow.
DAY FIVE
10 a.m. Check Feeld while in the bathroom at work. I have a message from Nash, a guy I've been sexting, that says "I'm fantasizing about breeding you." What does that even mean?! Well, he's ridiculously hot, so I go along with it. I haven't told him I have herpes yet.
11 a.m. Nash and I are on our way to making concrete plans, so I tell him I have herpes. I have a pretty standardized message by now that I send to people: I say that sex is safe with me since I'm on suppression meds, but that I understand it can be a dealbreaker for a lot of people. To my surprise, most people I've talked to have been fine with it. Nash is one of those people. He says: "It's ok I understand :) and I still want to cum inside you." I like the message but don't respond.
12 p.m. My team has a meeting about what we will do if the strikes drag into next year. I'm lucky to still be working, but my anxiety over whether we might get furloughed gets worse every day.
8 p.m. I message Nash. He leaves me on read.
9 p.m. Since I'm not having sex tonight I decide to really lean into a single girl's night in. I order delivery: pretzel balls and a slice of cheesecake from the Cheesecake Factory that take 45 minutes to arrive. Then I watch a movie. It feels nice to just eat and enjoy my own company. But I'm still horny.
11 p.m. I check Feeld again and realize Nash unmatched me and ended the chat. I don't know whether it's offensive or funny. Maybe it's both.
DAY SIX
9 a.m. I'm a little behind on work from this past week and decide to work a few hours even though it's the weekend. I sit on the couch and open my work email.
12 p.m. I wake up on the couch then accidentally fall back asleep.
2 p.m. I listen to an audiobook my company is considering developing into a TV show while I run errands.
3 p.m. A guy I matched with on Feeld a week ago asks if I want to get coffee. He doesn't drink. He's also 42. He's one of three guys I messaged "hi is that your dog" while wine drunk last week.
7 p.m. We make plans that I know I'll cancel.
DAY SEVEN
10 a.m. It's Sunday and I know I have to do all the things I've been putting off, like grocery shopping, laundry, and cleaning my apartment.
11 a.m. Spencer texts and asks what I have planned for the day. I tell him that I want to close all the curtains in my bedroom and touch myself until I cum, but I have other things I have to get done.
1 p.m. The apartment is mostly clean. My laundry is in progress, and I just ordered groceries on Instacart. I lie on my couch and check the apps. I also check Seeking and reply to a few messages. There is one guy who seems promising.
2:30 p.m. Texting my friend, who is also on Feeld. I say: "I want to get fucked by someone new tonight but realistically it will probably be Spencer." She says I've inspired her to start swiping again. We exchange outrageous screenshots, including one guy who mentions creampies in his bio but has a picture of his daughter in his profile. It is horrifying and hilarious.
5:30 p.m. I'm swiping on Feeld and match with a guy named Kyle. He asks what I'm up to, and I say: "it's that time of day when I'm deciding whether I'm in for the night or making plans." Kyle says "the night is young" and invites me over. I ask which part of L.A. he's in; it's not far.
9 p.m. Spencer texts "come here," and I am up and on the way. Kyle is forgotten.
9:15 p.m. Get to Spencer's. He tells me his anxiety is bad today and that he wasn't able to get any work done. We talk, make out, and eventually take each other's clothes off. Our kisses are soft and tender. I reach for his dick and he grinds against me. We're fucking in no time.
10:40 p.m. We both came. Now I'm under the covers and he's sitting on top of them, playing his guitar naked. He is humming softly. There is a moment of something, but then I reach for my clothes. This is still just great sex and a little crush.
The Sex Diaries column, which began in 2007, is the basis of a new docuseries on HBO.
Want to submit a sex diary? Email sexdiaries@nymag.com and tell us a little about yourself (and read our submission terms here.)