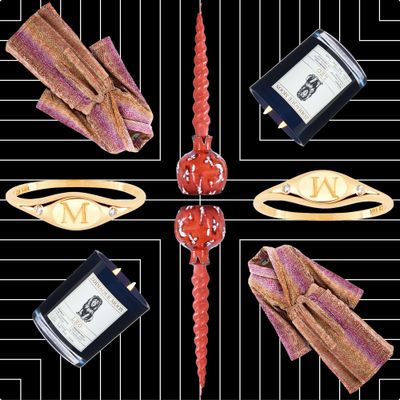 Photo-Illustration: by The Cut; Photos: Retailers
For more of the Cut's favorite fashion, beauty, and home finds, sign up for the weekly Cut Shop Newsletter.
Generic gift-guide Google searches can only help you so much this holiday season. If you have too many tabs to properly curate every gift you're trying to purchase this year, why not turn to the cosmos? Yes, the stars can help us find the perfect gift for the picky person in your life, your employee, the Gen-Zer, and even your dad. As an astrologer, I've done the work for you. From mercurial Gemini to intuitive Pisces, I've rounded up unique gifts for each of the sign's unique attributes.
Aries
Being the first sign of the zodiac means that Aries are full of energy and constantly on the move. Therefore, they require a gift that helps them decompress and relax, like a reiki session. If you are looking for an additional stocking stuffer for your favorite ram, consider purchasing a set of reusable bags to carry everything they need, whether it's their workout outerwear or sunglasses.
Taurus
The bull is known for their decadent nature. They always lean into embracing their earthy palette. From rose-scented perfume to hearty pasta and a good martini, Tauruses know how to indulge in the finer things in life and won't settle for anything less. Consider gifting them items that will bring out their creative side in the kitchen.
Gemini
Due to their mercurial nature, Geminis take pleasure in using their words. A designer band for their smartwatch will help them communicate with their loved ones. Plus, if the twin star sign is constantly communicating via text, they have to keep their nails in check, so a nail-polish kit makes an essential gift.
Cancer
Cancers have a nostalgic component to them. They find pleasure in sitting with loved ones, sipping coffee, and playing a board game while taking a stroll down memory lane.
Leo
The perfect gift for Leo is a custom mirror that allows them to appreciate their favorite performer (a.k.a. themselves). Another great option is a fragrant candle for them to add ambience to their cozy homes.
Virgo
Virgos love gifts that calm and center their analytical minds. They are also very picky. A safe bet this holiday season is to gift them interior-décor accents like coasters that will complement their very curated aesthetic.
Libra
Since Libras are connoisseurs, a party game about fine wine or any specific area of interest is a great way to get their soirées started or for a low-key night in with themselves or a significant other.
Scorpio
Scorpio's passionate persona allows them to evolve and progress through time. Due to the many changes in their lifetime, wellness gifts are the best to help with their growing pains, like a massage whether IRL or with a device.
Sagittarius
The archer uses its fiery vigor to seek knowledge in the worldly. Luggage is a great gift for the globe-trotting sign to set them off on their next journey — plus, a book to accompany them in their journey. However, a pair of candlestick holders is also a nice gift to remind them to constantly seek adventure even when they are stuck at home.
Capricorn
The hardworking sign prefers simpler gifts, since their birthdays are close to the holidays. Ideal presents include a gold signet ring with an initial engraved on it, a bag that can be worn all over town and to any venue, or a scarf to keep warm.
Aquarius
The Water Bearers of the zodiac are extremely ardent about their personal and political beliefs. Aquarius represents astrology, so you might find this air sign stargazing with healing crystals. Gifts that include these aspects of their personality are best for Aquarius, who's grateful to be thought of by others during the holidays.
Pisces
The mystical water sign is known for its intuition, tender heart, and imagination. These sweet fishies like to get comfy under winter skies by the fireplace with a throw blanket, revving up the music for company while inventing music on their turntable, or using their sentiments and spiritual connection to give tarot readings to friends. Add a heartfelt note with the gift, because Pisces holds onto them.
Our expert: