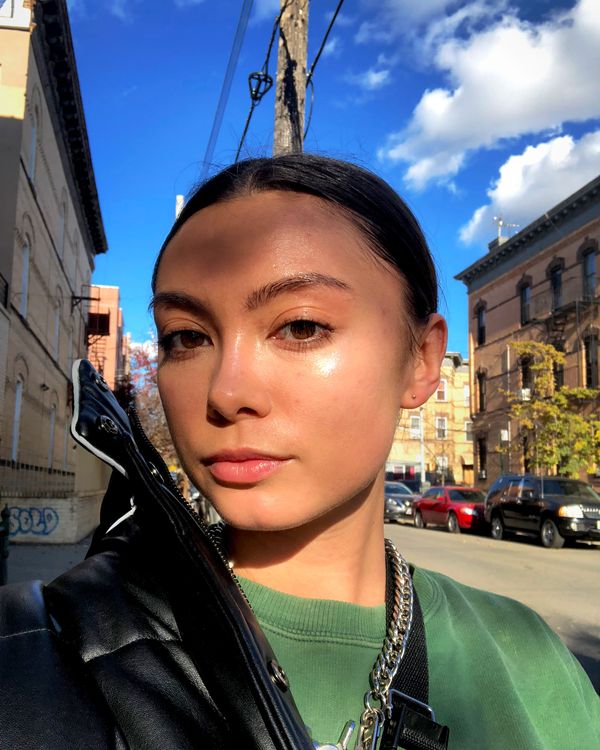 Want more skin care? Join our Facebook Group, the Beauty of It All.
"Any of my longtime friends know that since middle school, my skin has been unspeakably and tragically unfortunate, and I just recovered two years ago," says Raquel Undheim, the self-described "candi rAt pop" producer, artist, and DJ working under the name Asukal. "My hormone levels were going above and beyond to supply me with enough emotional trauma to haunt me. I had every skin concern from oily large pores to cystic acne, the kind that lives underneath your skin for like two weeks that you can't even pop."
Undheim's road to now-great skin involved, like so many others not blessed with good skin genes, an intense, six-month round of Accutane. It was only then that she made her routine a priority and started taking note of the ingredients she was putting on her face. Alcohol, for one, has no room in the 25-year-old's routine. She adds, "Food wise, I try to avoid dairy and greasy foods. I can't always go cold turkey, but if I'm getting a coffee, I'll seek alternative dairy options like almond or oat milk."
Now, her main concern is getting enough hydration during the winter months, which is why she looks for ingredients like hyaluronic acid to retain moisture. She's also more than willing to splurge on essences, or as she calls them, an "expensive drop of water that comes in a witch's frosty potion bottle." Below, a look into her morning routine.
"I've used the Cetaphil cleanser every morning now since the day I started Accutane a while back and haven't used anything else since. I feel like I don't need an expensive cleanser in the morning because it's on my face for only a couple seconds and I'm not aggressively taking off any eye make up or anything. This is really simple, softening, and doesn't break the bank."
"I only started using a toner last year when I got judged for not including it in my routine by someone at Sephora. They could visibly see my acne scars and asked if I use a toner and I said no. They were like Oh, ok. That's why … I ended up sheepishly getting persuaded into buying one after they convinced me that my dark acne scars would fade. I honestly have zero scars left after continued use of this toner. It really helps with cell turnover and exfoliates dead skin and has lactic acid and AHAs to combat dullness and give me a nice healthy glow and even complexion. I use this morning and night right after cleansing my skin. It helps take off anything else a cleanser might have missed. It's a really light refreshing watery texture that every so often will sting a little bit, but that's just from the acids."
"After using a toner it's important to give your skin extra hydration. I used to question why would I need to buy an expensive drop of water that comes in a witch's frosty potion bottle but let me tell you, it makes me feel like my skin has drank from a pure glacial stream untouched by human hands. Essence is really how you retain the most moisture possible giving you firm, plump skin."
"I'm typically pretty frugal and Good Genes is a little bit of a splurge, but it's worth it. I think this is what has transformed my skin the most and is the main reason why people ask me what my routine is. My co-worker and I always talk about all the products we use and hear about that work, and we discussed this one for awhile before I decided to give it a go. I just didn't know how to give my skin a consistent glow and struggled with dullness and hyperpigmentation, but ever since I started using this, I've gotten instant and long-term radiance. My skin is bright with an even skin tone, and I've seen lines under my eyes disappear within the same day. This solution really fills in lines and plumps my skin. I'll use it maybe four to five days a week."
"I have really sensitive skin that gets red even if you just caress it once and the blue tansy and chamomile oils in this treatment really calm the redness. I use the oil at night to combat pores, roughness, dullness, and premature wrinkles and wake up with infant skin."
"My friend that works at IT introduced me to the line two years ago and I was amazed at how healthy it made my skin look. I've gone through so many jars of this moisturizer, it's anti-aging, has hyaluronic acid to help seal in moisture, and helps me keep a youthful look. I let the Luna oil seep deep into my skin and set for five minutes after applying and then I'll layer this moisturizer over it."
"I don't wear foundation at all thanks to this CC cream that acts as a full coverage tinted moisturizer with SPF 50. It's so important to use SPF especially when using AHAs because they make your skin more sun sensitive. I love this CC cream because it gives me a nice, dewy finish. The IT slogan couldn't be truer — 'Your skin but better.' It's not thick or heavy, it sinks right in, doesn't crease, and is infused with collagen, antioxidants, and vitamins. I typically take a few pumps and apply right over the moisturizer."
If you buy something through our links, New York may earn an affiliate commission.