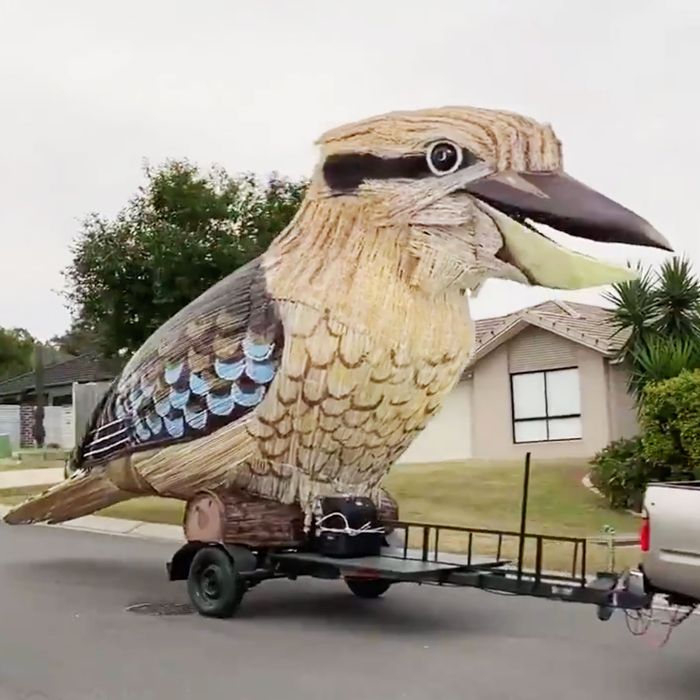 Many of us have experimented with creative pastimes while practicing social distancing. We've knit blankets, we've baked bread, we've made papier-mâché versions of our own heads. This is all very good, but I must let you know that there are some out there who are truly inspired, some who are truly making good use of their time. Yes, there is at least one who has built a 13-foot-tall electronic kookaburra sculpture and who is now spending time driving it around on the back of his truck as it laughs loudly and somewhat menacingly for all of his neighbors to hear.
And isn't that nice?
Farvardin Daliri's kookaburra weighs 1,600 pounds and, as he explained on Twitter, is made from steel, fiberglass, bamboo, and ply boards. The technique, he said, "took decades of practice." And it's not the first time he's made a gigantic thing — last year he made a 1,500-pound koala.
"I started making it during Christmas," Daliri told the Guardian. "Then the design was altered and I decided to have it laughing, with movement and stuff. It didn't get completed. But when the lockdown started, I had time to basically make it laugh."
"They say — why?" Daliri told Seven News, responding to a question about why he's spent half a year making a giant kookaburra. "Why not, you know?" And indeed I do.
The sculpture is to be shown at Australia's upcoming Townsville Cultural Festival, which celebrates multiculturalism. (Last year's koala was built for the same purpose.) "It's a work of love," Daliri, who was born in Iran and studied in India before moving to Australia, told the Guardian. "Native animals and birds, we relate to all of them in the same way. It is a point of transition — from 'I'm a migrant' to 'I've arrived'. These totems make us feel like we've arrived."
"This is the common ground," he said, "the land and habitat, owned by indigenous people for thousands of years. That's what it is. In this land, birds laugh at us."
Now, if you can use this time to make your knitted blanket laugh — that might really be something.