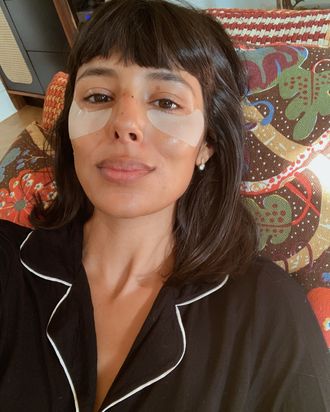 Photo: Courtesy of Babba Canales Rivera
Babba Canales Rivera knows skin care can be an expensive hobby. It was for this exact reason that the executive, who founded brand-marketing agency bybabba, didn't develop a skin-care routine until pretty late in life. Also, "it's not always easy to find what works for you — trial and error is part of it. That's partly why I didn't pick this up until later in life, when I could actually afford it."
Rivera now looks for products that will help her achieve a glow even when she's in a rush, which means efficacy is her top priority. "I generally like products with activated and natural ingredients that will truly give you results," she explains, adding that Tata Harper is one of her go-to brands.
Currently, she's set aside most of her activated products as she deals with dermatitis, or skin irritation, around her mouth. Instead Rivera's focusing her attention on gentler ingredients like carrot-seed oil. Read on for the hydration masks she stocks for long-haul flights, her favorite oil cleanser that also doubles as a spot treatment, and her travel-friendly LED light.
The Cleanser
"Tulura's a local NYC brand, founded by Eileen [Feighny] and her husband. I discovered the brand after visiting Eileen for a facial and became obsessed with her approach to skin care. She advocates for natural skin care while also using modern technology in her practice. I love the mix of natural and tech! She started with a serum and a face oil as her own products and has since expanded the product offering a bit.
I love this oil cleanser because it functions as both a makeup remover and a gentle cleanser in one. I've realized that for me to stick to a beauty routine, it needs to be streamlined and not include too many steps. The key ingredient in this cleanser is tea-tree oil, which helps to remove makeup as well as pollutants and impurities. It leaves my skin moisturized without an oily feeling. It also includes 2 percent salicylic acid, a powerful anti-inflammatory ingredient that helps to keep breakouts at bay. Many oil cleansers are sticky or hard to wash off. This cleanser rinses clean with water. Plus, it's excellent for spot treatment, and you can leave it overnight on breakouts."
The Serums
"This serum is a killer. It's filled with amazing all-natural ingredients and truly gets into your skin. My skin is very dry, and this serum goes into my skin deeply and hydrates. I've been using it for a long time, and it helps my skin recover from stress and sun and provides a nourishing effect. The serum is a blend of five botanical extracts and four peptides. It also contains vitamin C, ferulic acid, and exfoliating AHA lactic acids, without any synthetic preservatives or chemicals. The low amount of lactic acid helps to target hyperpigmentation in the skin, too. Not to mention it can also double as an excellent eye serum."
"While this product is labeled as a serum, I use it as an oil because it works more like it. This a product with great natural ingredients that are easily absorbed and really kind to your skin. This oil has been great for my dry yet sensitive skin. I apply it together with the Tulura serum, mixing both on my fingertips and massaging it in together. I also use this oil after the clotrimazole cream I am currently using around my mouth for my dermatitis breakout."
The LED Device
"During bad-skin times, I also use a handheld LED light to help avoid blemishes and help with collagen production. It's a super-easy device to use. I even travel with it and use it morning and evening for three-minute treatments in the affected area. I use red light, not just for the purpose of acne but also for collagen production."
The Mist
"Pollution is basically dirt clogging your pores, and NYC is one of the worst cities when it comes to pollution. I use this spray at the end of my skin-care routine as a protective shield. This mist allegedly prevents pollutant metals and gases from penetrating the skin and gives an extra shield to keep dryness, irritation, and wrinkles away."
The Masks
"Another go-to product for me. These eye masks are such an easy product to use in the morning while eating breakfast or brushing your teeth. After just ten minutes, they make your skin around your eyes look more luminous and provide a calm feeling and rested look. I also use these when traveling. It's the perfect product for in-air beauty. I usually put them on when we are about to land."
"Another travel favorite for long-haul flights is the Verso Skincare Deep Hydration Mask. They use hydrogel technology, which provides an intense and lasting facial hydration, which is so needed after eight hours on a flight when I go to Europe. I usually do these in-air. Yes, I am that person who sits with a sheet mask next to strangers. Sometimes I feel like sheet masks don't really do much, they end up on the surface only, and Verso is the first one I've used that actually feels like it hydrates from within. It's also gentle for some of the more sensitive areas on my face."