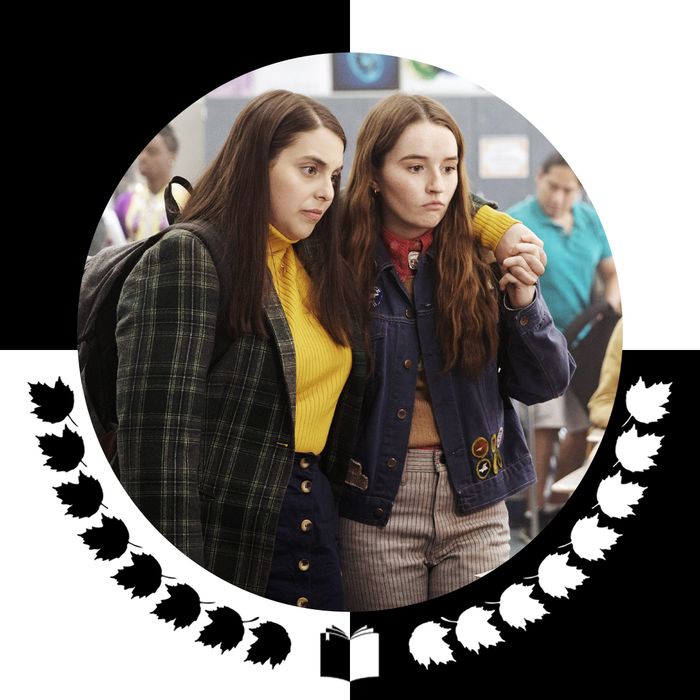 Photo-Illustration: The Cut; Photos: Everett Collection
Whether you're heading back to school, sending your kids off, or thanking God that you never have to study algebra ever again, you have to admit that there's just something about the start of a new school year, right? The smell of brand-new school supplies? Cozy! It's finally time to say good-bye to long days of excessive heat and hello to sweater weather, Friday Night Lights, and lots of teenage drama. And even better now that you don't have to experience any of the said drama firsthand and get to enjoy watching it all unfold from the comfort of your adult couch! Below, 12 of the best movies to watch when you're avoiding homework usher in the start of the fall semester whether you're a student or not.
Election (1999)
Remember when elections were fun and not anxiety-inducing? Or was that only reserved for high school? For high-achieving student Tracy Flick (Reese Witherspoon), anxiety-inducing elections have always been the case, and the 1999 spunky comedy centers on the rivalry between her and high-school teacher Jim McAllister (Matthew Broderick) during the school's presidential election. It might just be Witherspoon at her best.
Available to stream on Max, Hulu, or Amazon Prime Video.
School of Rock (2003)
A classic written by the beloved Mike White, School of Rock is basically any young kid's dream come true: A strange substitute teacher shows up in your school and teaches you how to be a rock star. Be warned — this might make you want to take up a new hobby, like learning the guitar … or, uh, posing as a substitute teacher, as Jack Black's character did.
Available to stream on Paramount+ or Pluto TV.
Booksmart (2019)
Beanie Feldstein and Kaitlyn Dever lead an all-star cast (Jessica Williams, Jason Sudeikis, Billie Lourd, Molly Gordon, Skyler Gisondo, and more) as two nerdy best friends who get to the end of senior year only to realize they should have spent more time partying and less time studying when they learn that all of their peers also got into good colleges. Determined to make up for it all, they have one epic night of adventure.
Available to stream on Peacock or rent on Apple TV and Amazon Prime Video.
Never Been Kissed (1999)
A personal favorite for many reasons, Drew Barrymore being one, this film revolves around Barrymore's character posing as a high-school student to investigate teenager culture for the Chicago Sun-Times. While she sets off to infiltrate the popular group of kids at a local high school, her lack of romantic experience gets in the way of her work (cue the chorus of "Josie Grossie").
Available to stream on Hulu, Amazon Prime Video, or the Roku Channel.
Eighth Grade (2018)
Bo Burnham's directorial debut is not for the faint of heart (as in, if you have significant middle-school trauma, this will trigger it). Starring Elsie Fisher as Kayla, an awkward eighth-grader just trying to get through her last week of middle school, this will definitely make you laugh and cringe and cry at the same time.
Available to stream on Max, Hulu, or Amazon Prime Video.
Akeelah and the Bee (2006)
We're big Keke Palmer fans over here, so nothing feels more right than throwing it all the way back to one of her first films. Following Palmer's character, Akeelah, as she discovers a talent for spelling and works alongside a teacher to get to the national spelling bee, this feel-good will have you smiling ear to ear when you're done.
Available to stream on Amazon Prime Video.
Dazed and Confused (1993)
While this is technically about the last day of school, the first day of school is infamously just as chaotic, no? Set in a small Texas town, all hell breaks loose as the incoming freshman class avoids hazing, football players are asked to avoid drugs, and an already graduated Matthew McConaughey delivers his iconic "All right, all right, all right."
Available to stream on Peacock.
Ferris Bueller's Day Off (1986)
One of those late-'80s classics, Ferris Bueller's Day Off is perfect for any senior needing a little "ditch day" inspiration. This one also stars Broderick, this time playing the student at the center of a rivalry with his teacher, Principal Rooney (Jeffrey Jones), who is determined to catch him skipping class.
Available to stream on Netflix.
The Perks of Being a Wallflower (2012)
Maybe one of the sadder high-school movies out there, but it's too damn good not to include. Based on a book of the same name, The Perks of Being a Wallflower follows Charlie (Logan Lerman) as he timidly enters high school and befriends two outgoing seniors who help him deal with his traumatic past.
Available to stream on Tubi or Amazon Prime Video.
Bring It On (2000)
If I'm watching a movie about cheerleaders that's not But I'm a Cheerleader, then it has to be Bring It On. As the newly elected cheer captain of Rancho Carne High School, Torrance (Kirsten Dunst) learns that her prior captain stole their routine from the Clovers, a squad from a high school in East Compton. This unleashes a rivalry between Torrance and the Clovers' captain, Isis (Gabrielle Union), as they compete for the cheerleading-national-championship trophy.
Available to rent from Apple TV or Amazon Prime Video.
 
Napoleon Dynamite (2004)
Think of awkward teen Napoleon as the walking/dancing embodiment of what not to do in high school. The film features some of the most quoted and notable scenes in cinematic history — like "Vote for Pedro" — and may have a familiar face or two … yes, I'm talking about Uncle Rico (if you know, you know).
Available to stream on Max or Hulu.
Easy A (2010)
Hoping to help stop her best friend, Brandon, from being bullied about being gay, Olive (Emma Stone) pretends to have sex with him at a party. Her reputation quickly plummets in response as more boys eager to have fake sex ask her for her help. Witty and using The Scarlet Letter as a backdrop, this is easily a classic and has a stellar cast including Amanda Bynes, Penn Badgley, Stanley Tucci, Lisa Kudrow, Patricia Clarkson, and more.
Available to stream on Netflix.