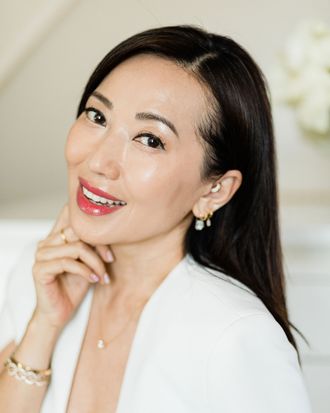 Photo: Danielle M. Sabol 2016 / Courtesy of Tina Craig
After many years of using way too many products, Tina Craig, the writer behind the popular fashion blog Bag Snob, decided to start a more streamlined beauty brand, U Beauty. "I knew there had to be a smarter, better way than being beholden to a 15-step routine, day and night," she says.
These days, Craig keeps it simple with what she calls "the four Cs:" cleanse, compound, cream, and cover. The main star of her routine comes in the form of U Beauty's Resurfacing Compound. "[It] replaces retinol, toner, exfoliator, vitamin C and other antioxidants, vitamin E, AHA, glycolic and both low- and high-chain hyaluronic acids in a single step," she explains, leaving room for some of her favorite gadgets, like her ReFA I Style Roller, which mimics the tapping of an esthetician's fingertips to tighten skin, and her TriPollar Stop X, a professional-grade gadget that delivers radio-frequency treatments at home.
Below, a full look at Craig's skin-care routine, including a cleanser that gently exfoliates, the moisturizer that causes her to panic when she runs out, and at-home gadgets worth investing in.
The Cleanser
"This cleanser rinses off better than most gel cleansers, and it also has a little exfoliator to remove dead-skin cells that may have built up over the course of the day. I only double cleanse if I've been wearing foundation, and in that case I'll use Tula's #NoMakeup Replenishing Cleansing Oil first, followed by this cleanser."
The Resurfacing Compound and Facial Roller
"I like to call U Beauty's Resurfacing Compound my skin's secret sauce. Designed to replace toner, vitamin C, hyaluronic acid, AHAs, physical exfoliants, antioxidant serums and retinol products, it has all the boosting ingredients you need and nothing you don't. Just one pump (two if I'm living it up!) after cleansing is all I need for healthy, glass-like skin.
We just launched a limited-edition collab with ReFa's I Style Roller, which I love. It mimics the rhythmic tapping of an esthetician's fingertips to tighten and firm the skin's appearance, while improving circulation and promoting lymphatic drainage. I like to roll on a damp face after washing, or when I'm watching TV to chill out."
The Face Cream
"One of my daily essentials, this is a deep-quenching moisturizer as rich as the name indicates. Honestly, I panic when I run out. That's how good it is.
Luckily, the Rich Cream is very hydrating, so a little goes a long way, making it worth the investment for your skin. The regular cream, on the other hand, isn't as quenching, as it's for especially oily skin and has higher levels of active ingredients in it."
The CBD Oil
"Made with full-spectrum hemp-flower oil concentrate, this CBD oil is made to make you feel calmer and less anxious, which is something we could all use a little more of lately. You drop it under your tongue. I like to take a drop before winding down for bed. I don't know if it's the oil or my nightly use of meditation apps, but I definitely feel calmer since I started taking it."
The At-Home Facial Device
"Once a week, I use this genius, professional-grade gadget for about 20 minutes. I bought it at SkinStore in New York back in December, but I've done radio-frequency treatments at the dermatologist's office for years. The heat generated during radio frequency treatments cause controlled damage to the skin's different layers, encouraging natural healing processes and collagen production, resulting in the reduction of wrinkles and rhytids. It's great for tightening the skin on a deep level and reducing the appearance of fine lines."
The Candle
"With notes of firewood, pine, and citrus, this French candle is equal parts refreshing and comforting. And with over 50 hours of burning time, it's the ideal accompaniment for an at-home spa session."
The Bone Broth
"Bone broth is one thing I always have on the stove. I have memories of being five-years-old and being fed chicken feet, butt, and bone broth. It might sound extreme, I know, but bone broth is insanely good for you. Packed with collagen and other nutrients, I call it 'the healing soup' on its own and it's a great base for other soups, too. You can find my recipe here."