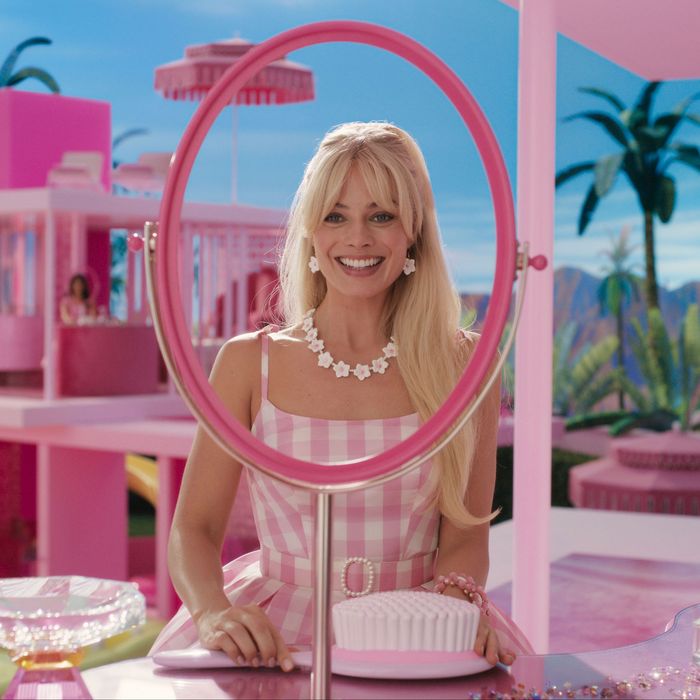 MLM Barbie?
Photo: Warner Brothers/Courtesy Warner Bros. Pictures
For the past year or so, we have been gearing up for Barbie, which is looking more and more likely to heal our weary bimbo souls. The movie, directed by Greta Gerwig, has an official release date of July 21. For the next two months, Barbie is everything and everything is Barbie.
In the first trailer, which was released in December, it became clear just how expansive this toy-to-screen adaptation would be. There was a brief history lesson on doll evolution, a glimpse at Barbie Land, and what appeared to be several choreographed dance numbers.
Two more trailers arrived this spring, offering further insight into all there is to love about Barbie. And boy is there a lot to love. Without spoiling too much, they include: multiple close-ups of Barbie's feet, examples of Ken's horrible flirting, and an incredible collection of doll-friendly resortwear. There's also a lot more footage of Barbie Land, which looks a little like Don't Worry Darling but with the exact opposite energy. Barbie Land is a utopia bathed in artificial sun, a never-ending beach, a giant heart-shaped expanse of land where sadness goes to die. I'm livid that I don't live here.
Until some enterprising young girlboss builds a real-life Barbie Land, we will have to settle for watching the movie. Here's what we know so far.
.

What's the plot?
While this movie could have absolutely zero story and still be a smash hit in my book, it does seem to have a pretty compelling arc. According to the movie description on Apple:
To live in Barbie Land is to be a perfect being in a perfect place. Unless you have a full-on existential crisis. Or you're a Ken.
… Which helps establish the general vibe and thesis statement of the movie, but not the plot, though a Vogue profile of Robbie did expound a bit more on said existential crisis. Here's a more descriptive summary from Letterboxd:
After being expelled from "Barbieland" for being a less-than-perfect doll, Barbie sets off for the human world to find true happiness.
The newest trailer does more heavy lifting in terms of laying out the plot. The existential crisis, it seems, is that Barbie starts to question the perfectness of the little Barbie bubble (perhaps she'll wonder why all her friends have the same name as her?), at which point her world starts to disintegrate and her feet — disaster! — suddenly become flat. To figure out what's going on, she must red-pill herself into the real world (namely by putting on a pair of Birkenstocks) and process the fact that she is a doll. Ken tags along, because he's Ken. There, they encounter misogyny, jail, high-school mean girls, and some well-meaning Mattel execs who want to put Barbie back in her box. Antics ensue!
.

Who's in it?
An astounding horde of talented entertainers parading around in tiny shorts, denim vests, and sequins. Just ahead of the second trailer drop, Warner Bros. shared posters for each and every one of them, which turns out to be a pretty helpful guide to navigating this sea of familiar faces. To help process the chaos, I've sorted the roles into Barbies, Kens, friends, and humans.
Barbies. As far as we know, there are 11 versions of the titular role, all named Barbie. Each of them got their own poster that lists their defining trait:
Ritu Arya (has a Pulitzer)

Ana Cruz Kayne (Supreme Court Justice)

Dua Lipa (mermaid)

Kate McKinnon (does the splits)

Emma Mackey (Nobel Prize in physics)

Hari Nef (doctor)

Sharon Rooney (lawyer)

Alexandra Shipp (celebrated author)

Nicola Coughlan (diplomat)

Issa Rae (president)

Margot Robbie (The main Barbie. According to her poster, "Barbie is everything." Correct.)
Kens. Absolutely no info is given on the five Kens beyond the fact that they are Kens. Frankly, no further info is needed.
Scott Evans

Kingsley Ben-Adir

Ncuti Gatwa

Simu Liu

Ryan Gosling
Best friends. I didn't know Barbie and Ken had friends with different names, but they are played by arguably the most intriguing members of the cast:
Michael Cera (Allan, Ken's best friend)

Emerald Fennell (Midge, Barbie's best friend)
Humans. Apparently a handful of Barbie's characters are real-world people born and raised outside Barbie Land (sad!). Given all the corporate attire, it feels fair to assume that most of them are executives at Mattel.
Connor Swindells (intern)

Jamie Demetriou (a suit)

America Ferrera (human)

Ariana Greenblatt (another human)

Will Ferrell (described only as "mother," but probably the CEO of Mattel)

Helen Mirren (narrator)
There are also several standout cast members who didn't get the poster treatment but will nonetheless make an appearance: Marisa Abuela, Rhea Perlman, and John Cena.
.

How did all those famouses prepare to Barbie?
Vogue's profile offered some incredible detail about just how the Barbie magic came together. Gerwig's scriptwriting process involved writing a "super abstract poem" that resembled the Apostles' Creed. She briefly went biblical, ruminating on the fact that Ken was created after and specifically in service of Barbie, a sort of reverse Adam and Eve. She also toured Mattel's HQ, during which this revelation came to her:
All of the dolls are [named] Barbie. All of them are Barbie, and Barbie is everywhere. Philosophically, I was, like, Well now that's interesting.
For Gerwig, this concept was an "expansive idea of self that we could all learn from." Indeed.
To execute her philosophical vision, Gerwig created what is basically a cross between Camp Barbie and Barbie University. She sent Robbie a podcast about a "woman who doesn't introspect" to help her get a grasp of Barbie's brain. Before filming, she threw a fancy hotel slumber party for all the Barbies where the Kens were allowed to stop by but not sleep over, clarifying for all who play Ken what their place in the Barbieverse would be. Perhaps sensing this, in lieu of his own person, Gosling sent a kilted Scotsman to play bagpipes and recite a Braveheart monologue.
From that point on, the whole cast and crew started going to "movie church," a weekly Sunday-morning screening of movies that inspired Barbie. Their curriculum included The Red Shoes and The Umbrellas of Cherbourg. Other cultural touch points Gerwig has mentioned while discussing what inspired her Barbie world include but are not limited to:
The Wizard of Oz

Technicolor musicals

Palm Springs

Wayne Thiebaud's pie paintings
Gene Kelly's apartment in An American in Paris
Reviving Ophelia, a 1994 parenting book about the pressures adolescent girls endure
Meanwhile, on a much more tangible level, Gosling claims to have waxed his body to emulate Ken's smooth plasticity. Also assisting him in his efforts to become one with Ken: Robbie left little surfing-themed gifts for him every day during production, which helped him understand and embrace the notion that Ken's job, per Gosling, is "just beach."
.

What exactly is Ken's deal?
Ken is a mere simulacrum of a person, an empty vessel in the shape of a denim vest, a man whose job is, again, "just beach." Per Robbie, he has no house, no car, no job, and no power, a status that eventually becomes "sort of unsustainable" in the movie.
No one has understood a character better than Gosling understands Ken, which is to say he has that Kenergy. (He has said this many times.) Actually, Gosling dislikes even talking about Ken because, as he told Vogue, "It would be very un-Ken of me to talk about Ken." Still, he can't help but revel in his utter Kenness, having declared at CinemaCon that Gerwig and Robbie "conjured this out of me" and the Kenergy "came on like a scarlet fever." In a GQ cover story, Gosling referred to himself as Ken's "representative" and cited a singularly inspiring story about seeing a Ken doll around the house (he has two young kids) that spurred him to play a plastic man. "I did see him, like, face down in the mud outside one day, next to a squished lemon," he said. "And it was like, This guy's story does need to be told, you know?" Hmmm, yes, I think I do know!
As Ken's self-proclaimed spokesperson, Gosling talks about him with a sort of circular logic that actually makes perfect sense to me, a human woman. For example: "If you ever really cared about Ken, you would know that nobody cared about Ken." True. Also, he argues, if you're pretending to care about who plays Ken, "your hypocrisy is exposed. This is why his story must be told." Yes!! Absolutely! What acting school can teach me to think like this?!
.

Tell me more about Barbie Land.
While I understand that Barbie Land will probably represent the unachievable standards set by evil Mattel suits, I still want to live there. There's an airport and a pristine public beach. The sky and mountains are, of course, not real, just a blissful hand-painted backdrop to offer the illusion of nature without the drawbacks of climate change, rain, and the like. Given that there are Supreme Court justice, diplomat, and president Barbies, Barbie Land's political structure seems both functional and robust. The main street features a candy store, a movie theater, and a hair salon called Perfect Hair. What more could I possibly need?
Barbie Land also has some covetable real estate. The movie's version of Barbie's Dreamhouse is, in the words of its designer, "very definitely a house for a single woman," which sounds ideal to me. It features a swimming pool in the living room, which you can enter via a two-story spiral slide. Also, it's apparently scaled to 23 percent smaller than human size, to make things feel all the more surreal and doll-like. This is a downside, to be sure, but in my fantasy Barbie life, I would not mind feeling perpetually slightly too big for my gorgeous pink home.
.

Okay, but what do the Barbies in the movie do?
Beyond "just beach," anything and everything. Here's a small sampling of the antics they get up to:
.

Will the movie come with any exciting real-world accoutrements?
Thankfully, you can immerse yourself in Barbie Land spiritually, visually, and sonically. The film will have a full original soundtrack, dubbed BARBIE: THE ALBUM, which will include music by Ken himself (a.k.a. Ryan Gosling), Nicki Minaj, Ice Spice, Lizzo, HAIM, Khalid, and Charli XCX. Dua Lipa, of course, will be heavily featured, and her main track came out with a music video showing Gerwig in a director's chair and snippets of one of Barbie's big choreo numbers between scenes of Dua dancing around various Barbie-related set pieces (pink Cadillac, life-size pink slipper, etc.) There's also a tiny snippet of Nicki Minaj's song, which seems to remix Aqua's "Barbie Girl," at the end of the newest trailer. This is sure to have significant impact on my Spotify Wrapped.
.

What else should we do to prepare for Barbie?
Invest in some patterned co-ords, get a tan, and maybe learn how to roller skate. Philosophically, at least.
This article has been updated.