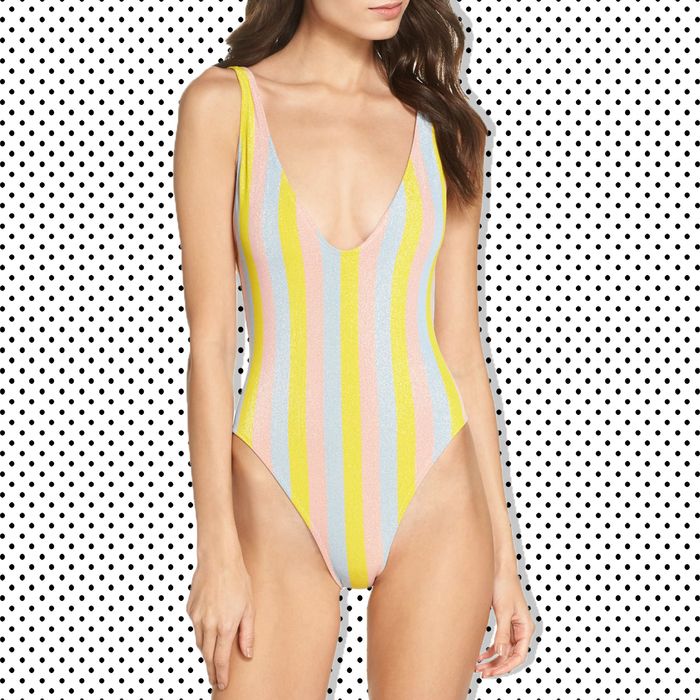 Photo: Courtesy of the Retailer
Technically, there are five more summer weekends before fall officially begins, and odds are it'll stay hot enough to swim even after that. But because of the traditional retail calendar, tons of summer clothes are currently on sale — especially swimwear. If you have access to a pool, a beach, a nice river bank, or a sunny spot of grass, celebrate your last month of summer in a marked-down swimsuit. We've rounded up 12 bathing suits on sale from some of our favorite brands, including Haight and Solid & Striped (official sponsor of Taylor Swift's infamous Fourth of July party).
The Not-So-Basic Black One-Piece
The black suit with a white belt recalls '50s Audrey Hepburn and Jackie Kennedy, but the multiple straps roughens up the sweetness.
Available in sizes M–6X.
The Safari-Appropriate Choice
This grassy print is a more feminine alternative to camouflage, if you really want an earth-toned bathing suit.
Available in sizes S–L.
The Status Brand
As mentioned earlier, Solid & Striped has quickly become the swimsuit brand for models and celebrities. For $100 total, this bikini is a steal.
Available in sizes XS–L.
The Girly Option
The structured bodice, the peplum, and the floral print make this bathing suit a no-brainer for anyone looking for a sweet suit.
Available in sizes M–6X.
The Party Piece
This one-piece can easily go from the beach to the club with a pair of jeans.
Available in sizes XS–L.
The Pretty Pink One
Would your 8-year-old self like this swimsuit as much as your adult self? The bow detail in the back of this suit says yes.
Available in sizes 0–16.
The Designer Steal
Given her prices, Stella McCartney's clothes are generally more aspirational. However, this eyelet swimsuit is seventy (70) percent off so … snatch. It. Up.
Available in sizes XS–L.
The '80s Option
The asymmetric top, the polka dots, the ruching — this bathing suit is undoubtedly '80s.
Available in sizes 16–28.
The Instagram-Friendly One-Piece
The cherry print is just begging to be put on the 'gram.
Available in sizes XS–L.
If You Want to Show Off Your Back
This silhouette is everywhere. We love it in a nice terra-cotta color.
Available in sizes S–L.
If You're Buying Into the Patchwork Trend
It's still too early and too hot to fully embrace the Western fall clothing seen on the runways. But if you can't wait to rock patchwork, this bikini is a good middle-ground.
Available in sizes 12–28.
The Not-Quite Red, White, and Blue Bikini
Red, white, and blue bikinis are a summer staple. But if you don't want to look too patriotic, mint, coral, and black is a more interesting color scheme.
Available in sizes 2–14.
If you buy something through our links, New York may earn an affiliate commission.