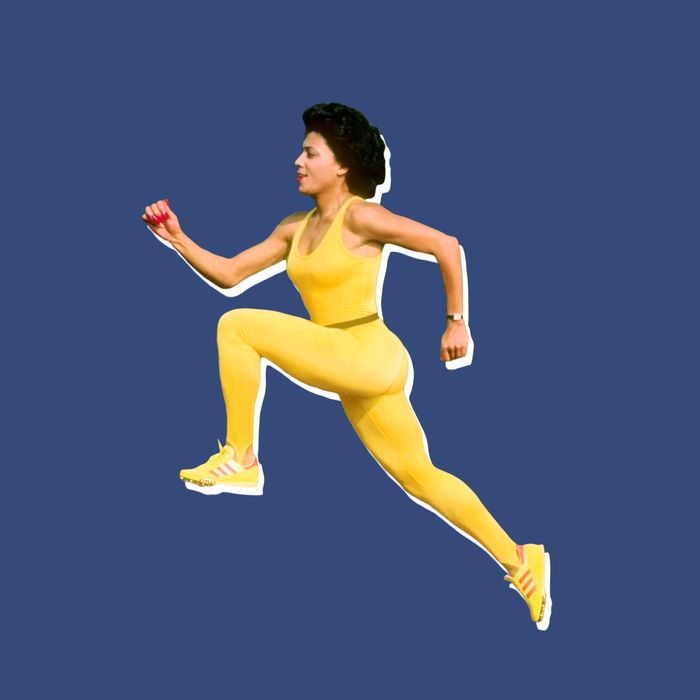 Photo: Tony Duffy/Getty Images
The employment market is increasingly competitive, robots are taking away our jobs, and getting ahead seems to take more hustle than ever before. But grinding out more and more hours of work is a recipe for catastrophic burnout. How can we work at our best, long-term, without exhausting ourselves? A new book — Peak Performance — claims to offer the recipe for success. Authors Steve Magness, a coach of top runners, and Brad Stulberg, who writes about the science of human performance (for Science of Us and elsewhere), lay out a number of principles they say are applicable across endeavors, whether you're trying to run a four-minute mile or get a promotion at work.
A central idea is reconsidering the role of rest as a key part of top performance. You don't get better at your job simply by pushing harder and harder, they say. You get better by taking on appropriate challenges and pairing them with smart rest periods throughout the day and the year. Resting well, they argue, is part of the work.
In an interview with Science of Us, Stulberg and Magness talked about dialing in the right amount of stress and rest, tapping into a bigger sense of purpose, and why taking a hike with friends is just about the best thing you can do for yourself.
The biggest part of your book is devoted to exploring this equation — stress + rest = growth — taken from athletics, that you then apply to other areas of life. Can you just briefly explain what this equation expresses?
Magness: Most people think to get better at anything — whether that's athletics or intellectual learning or whatever — you just need to work really hard. And what that equation demonstrates is the need for balance. Not only do I have to do really hard, deliberate work, but I don't get growth or adaptation or learning unless I have the other part of it, which is rest, recovery, stepping back and allowing that work to absorb so that I can improve on whatever it is I'm doing.
So let's take the first part of the equation: stress. Where do people go wrong when they think about stress and how to relate to it?
Stulberg: We use stress in a biological sense, as a stimulus that's being applied to the body or brain. So the next question becomes, how much of a stimulus is healthy? The very simple analogy is lifting weights: If you pick way too heavy a weight and you try to lift it, you're going to hurt yourself. The same goes for any kind of challenge. If you take on something that you're in so far over your head that you're feeling anxious about it, that's probably not a good growth-promoting kind of stress. The flip side is, if you're just constantly going through the motions — in the weight room it would be like lifting a two-pound weight — that's not going to elicit any kind of growth either.
So in the book we say the kind of sweet spot we're aiming for is what we call a just-manageable challenge. It's where you're somewhere in between going through the motions — so it's far more challenging than that — but you're not completely anxious.
The second element of the equation is rest, something that people also seem to misunderstand. Sleeping a lot is seen as lazy, and President Trump boasts that he only needs four hours a night. What do people, maybe including the president, get wrong about rest?
Magness: We have this myth of hard work, that if you work really hard, that's what's going to take you to the top. If I go into a weight room and I lift or I go and do a really hard workout on the track, during that workout my body is breaking down. I'm getting worse. The body doesn't adapt and grow and make the muscles grow stronger and bigger until we step away and give it time to repair and adapt.
If you look at sleep, for example, that's the time when we get all these growth hormones that start that repair process going. You're getting better the longer you sleep. The same thing happens with learning and even emotional development. What researchers have found is that when we sleep we process basically everything we learned. We clear out the stuff that doesn't really matter, that we don't need that much. And these memories, these learnings, we really deeply ingrain these. I think we have to reconceptualize sleep as part of the work.
And rest is not just sleep. You talk also about rest as taking smart breaks during your workday and longer periods of downtime, like a well-timed vacation.
Magness: Rest isn't just sleep or sitting around and being lazy. We have a misconception of it. The reality is that stepping away and shifting your focus, whether that's physical workload or mental workload, allows your brain and your body to take a slight step back and to get away from always pushing the edge, always working hard, always pushing forward. And by doing that, whether on a micro level by maybe taking a walk during the middle of your workday or stepping away for five minutes every hour — it's like running intervals on a track. I can go out and run an all-out mile, or I can go out and run 400-meter repeats. And I'm going to run faster if I give myself breaks.
The brain works the same exact way. If we can just step back and just give ourselves five minutes, ten minutes every hour or, on a bigger macro level, take a vacation or step away on the weekends, what it does is it allows our really hard stressful periods to be more productive.
Stulberg: There is a wealth of research on how creative thinking and effortful deep-focus work often draw on two different networks within the brain. There's a fair amount of research that it's almost like a zero-sum game. When you're deep in effortful thinking, the default mode network — the subconscious creative part of your brain — isn't online. So it's only when you step away from the deep effortful thinking that you have access to the more creative part in your brain. Which again explains why on a micro scale people tend to have these aha moments when they're in the shower or when they go on a walk. And on a macro scale, this is why sabbaticals, in theory, exist, is to give researchers, who spend so much of their time doing deep-focus effortful thinking, the chance to zone out. And oftentimes researchers come back from sabbatical with a whole bevy of ideas for new research.
In the book you write about research showing that not all break activities are equal. Taking a ten-minute break to click around online, for example, is not going to be as restorative as taking a walk, or being in nature, or hanging out with friends — social recovery. What's your favorite restorative-break technique that you came across?
Magness: My favorite one, as a coach of athletes, is the social recovery part. In the world of athletics we obsess over recovery like, Okay, we just worked really hard, do we jump in an ice bath or put on compression clothes or drink our protein shake? What do we do? And what I implemented, and what the research is starting to show, is the most overpowering one is that social impact. Once we stop a workout, it's not about running off to jump into our ice bath. It's about me setting things up so that the athletes have 20, 30 minutes where they're just hanging out together, shooting the shit and decompressing with each other. There's some fascinating research coming from the world of athletics where just that decompressing, social recovery part will shift the hormonal balance so that we go from a breakdown, stressed state where cortisol levels are high, to a much more productive state where we get increases of testosterone, which obviously is good for growth and repair.
So how can someone working in an office use this technique?Magness: Most people go from finishing work and it's straight into the car or straight onto the train and into their own world. That's not helpful. From a work standpoint, you have to have this transition, and that's what social recovery, hanging out with friends after work, provides — this decompression and transition phase to go from high stress to allowing your body to rest. If you don't have that, if you jump on the train without any social activity, what happens is that high cortisol level, those high stress loads, that slight anxiety, it'll just stay there and be under the current while you're driving home. And that's why a lot of people get in that grind and they'll do the same thing: Go home, flip on the TV or scroll through Twitter and not actually give themselves a chance to come down off that stress.
In the second section of the book, you write about peak performers who shape their routines and habits and environments to help them succeed. But for a lot of people, life seems too messy and unpredictable to create your perfect productivity bubble. Lots of people want to be the kind of person who gets up at 5 a.m. and goes straight to work and writes 2,000 words or cleans out their entire inbox before anyone else is up, or whatever it is. But few people can actually do that. What do you say to those people?
Magness: When you look at the habit-culture research, a lot of people say that, hey, this is the answer, you need to wake up, meditate for 15 minutes, go for a walk, drink your coffee with butter in it or whatever the recent hack is. But what we want to get across is it's not about some magic routine. It's creating the routine or the environment that works for you. It's about being able to step back and say, when am I at my best? Do I do my best writing at home in the office or does it sometimes take me going out to a coffee shop and doing it? Or do I do really well listening to music or completely shut off, phone in the other room or whatever. And I think for people who might say, oh, I can't organize my life in that way, it's not about being super strict on things or having some magic formula. It's about setting yourself up and being intentional about it. Saying, all right, for the next hour I'm working on this article and let's put myself in the best situation to do so.
But it's more than just what feels right, right? I might feel like I'm at my best eating a sleeve of Oreos on the couch and watching TV. What's the role of willpower, of forcing yourself to do something?
Stulberg: There's a lot of research that shows that shows that for sustainable, really fulfilling happiness, it is advantageous to take on meaningful things over pure pleasure. Anyone who's ever gone from not running to training for a marathon hates the first month, but then most of them fall in love with it because they're doing something challenging that's meaningful. If you're truly just in a rut where you're only finding happiness in pleasure, take on something a little more meaningful and know that the first little while is really hard, but there's a lot of — decades — of science that shows that meaning leads to a different kind of, and perhaps even more fulfilling, happiness.
Along these lines, the last section is about finding and articulating your purpose, and it kind of drives the rest of the book. You're not going to implement anything else in the book in a long-term way if you're not tuned in to your deeper motivation.
Magness: I think that's why that section is last in the book. We look at all these tools and tricks and what it means to be productive, but purpose is almost the the best performance-enhancing activity or idea that you can have. It supersedes everything. If you have a purpose or a reason for doing so, you're going to push further. We hear stories of moms lifting cars up so that their kid who's trapped under can get out and everyone kind of laughs those stories off but there are documented cases of those. In the research, they call those hysterical strength and the reason those happen is because that purpose, that meaning, is so strong that the body essentially goes, forget all our checks and balances on this, let's go, everything you've got. And to a smaller degree we can kind of tap into that in our everyday life. When motivation goes low, the thing that works consistently and continually is not thinking about, hey, if I do this I'm going to get a bonus or I'm going to get a reward. It's about coming back and reflecting on why you are doing this: I'm doing it so support my kid or put him through college or give him a better opportunity. Having that purpose to fall back on is incredible.
Let's go back to the original equation – stress + rest = growth. What does growth mean in a nonathletic, everyday context? What's the end goal here for the average person?
Stulberg: Growth for a nonathlete is working toward one's full potential in expressing your best self and feeling good about it. And I know it sounds very New Age–y and self-help-y but it's just something to look forward to and to feel good about — to know that you're pushing in a direction that is fulfilling, makes you feel good, and makes you feel like you're working at your best.