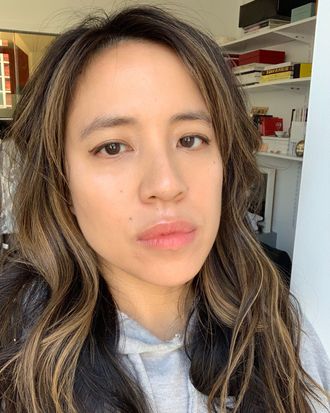 Photo: Courtesy of Kathleen Hou
Want more skin care? Join our Facebook Group, the Beauty of It All.
As the Cut's beauty director, Kathleen Hou is obsessed with quality. She won't recommend a product unless she's sure she can say that it really works. But she knows that her own favorite products won't be right for everyone.
"People talk to me about skin care all the time, but the thing about skin care and beauty is that it's different for everybody," she says. "A fight recently broke out on the Cut's Instagram when we posted a meme about the order in which you should apply your skin care routine, and suggested oil go on last. It's all okay, people! If it works for you, you do you." Her one nonnegotiable is sunscreen — she likes Make P:rem's Blue Ray Sun Gel.
Hou is particularly fond of Korean and Japanese products. "I feel like the markets there are so competitive that the products have to be well formulated and use cutting-edge technology," she explains. Read on for her current skin care routine, which features plenty of K-beauty and J-products, plus a booster that reminds her of Fast and Furious.
The Micellar Water
"If I'm wearing a full face of makeup and not feeling too lazy, I'll soak some cotton pads with micellar water to remove it all first. I've tried lots of brands and honestly, I don't notice that much of a difference between them. (But I also still wash my face afterward, so I'm not relying on it as my sole method of protection, if you know what I mean.) Garnier, Simple Skincare, and Bioderma (a little more expensive) all make good ones that don't leave your skin feeling sticky or parched dry afterward. I do this to make my cleansers work a little less hard, or if I've been testing stubborn mascara or anything long-lasting."
The Cleanser
"Two things have made the biggest difference in my skin-care routine. The first is the double cleanse. My mom told me for years that I should be double cleansing, but I thought this was just overprotective mom advice, like when she tells me to print out my boarding pass even though I have it on my phone. Like many things, it turns out she was right.
Once I started double cleansing, my skin (along with my pillows) was much cleaner and brighter. There's no point in spending money on fancy serums if you're going to put them on top of dirty skin. It's like wearing your shoes to bed. It doesn't take that much extra time to wash your face twice anyway, and if you're using nicely formulated cleansers, your skin won't feel dried out. I like to use Tatcha Camellia Oil Cleanser (my mom even likes this one) along with a balmy one with a silky texture, like Eve Lom's Morning Time Cleanser. Honorable mentions also go to the Then I Met You Cleanser, and for when I have had a real day and need to fall into a pillow immediately, the Sarah Chapman Skinesis Ultimate Cleanse. The Skinesis and Eve Lom original cleanser (the kind with a muslin cloth) are the only ones I feel comfortable doing a single cleanse with."
The Serum
"Usually, serum is used right before moisturizer. But lately, I've been testing these new serums that go on before everything else. This one, from Clé de Peau Beauté, is supposed to make your skin really glow. It contains a lot of different antioxidants and botanicals that allegedly help 'strengthen' your skin, but what I thought was interesting is that it contains a special form of bio-hyaluronic acid. Every good skin-care nerd knows that hyaluronic acid absorbs up to 1,000 times its weight in water. This is a special form that allegedly absorbs twice that. And the more hydrated skin is, the glowier it is. Honorable mention also goes to iS Clinical Active Serum."
The Toner
"I started using a softener (also known as a toner) because someone asked me, 'Do you want soft skin?' Always yes. This one from Shiseido is one of the best I've tried. Toner is a little difficult to understand because it gets into a larger discussion about pH, but basically, it helps your skin-care products absorb better and balances your skin. Your skin is like a dry sponge, as Charlotte Cho once explained to me. It can't absorb a thick cream right away; you need to prep it with a layer of hydration first, like wetting a sponge before you put on the soap. This one has a nice, thick, viscous texture so it feels like I'm really injecting my skin with hydration."
The Retinoid
"Retinoid really changed my skin. Like everyone else who has ever done this column, I had terrible hormonal acne in my early 20s — giant, cystic bumps that no cute pimple sticker would have covered. I suffered through the retinoid uglies with Differin, and I survived. I don't get hormonal breakouts anymore — although note, this is my personal acne story; everyone is different. Although Differin is over-the-counter, it is very strong. Lately I've been experimenting with Shani Darden's Retinol Serum instead to fade dark spots."
The Moisturizer
"My mom gave me a bottle of oil of Olay (the plain kind, not even Regenerist) when I was 16 and told me to start applying it every morning and night, from my neck to my forehead. That's how I got into moisturizing. I also remember my mom spending five to ten minutes every single night slathering and lightly 'slapping' (for circulation) an array of products on her face. I don't do the slapping, but I follow the rest of her advice.
I like moisturizers that make my skin look dewy and don't feel excessively creamy. I also like them to feel cooling, and never sticky or slimy. Since moisturizer is my last step before bed, it needs to have a good bed feel and not stick to my pillow. My most recent favorite was Tatcha's Dewy Cream, which I sadly ran out of. It consistently made my face look less gray and less tired, and made my cheekbones glisten like freshly steamed dim sum. Honorable mentions also go to Klairs Midnight Blue Calming Cream, Sunday Riley's Tidal Cream, and, if you want a rich relative to buy you something, Sisley's Black Rose Skin Infusion Cream."
The Booster
"If I want to give my moisturizer a little boost, I'll use these niacinamide drops from Paula's Choice. I add a few droppers to a moisturizer morning and night, and it's like when Paul Walker's character in the Fast and Furious adds nitro to his race car. It's a concentrated form of B3, which helps even out my skin tone and makes it look less shadowy and dull."
The Eye Cream
"My rules for eye cream are that it needs to be super creamy and spreadable. My mom always taught me to apply it with my ring finger, because it uses the least amount of pressure and the eye area is 'VERY DELICATE!' as she likes to emphasize. She's right — it's the only part of the body that doesn't produce any oil. I like this one because it has an almost gluey texture but a silky feel so it really clings to my under-eye area. I have a wrinkle under my eyes that I named Fred, and he comes and goes. He's around less often when I use this eye cream."