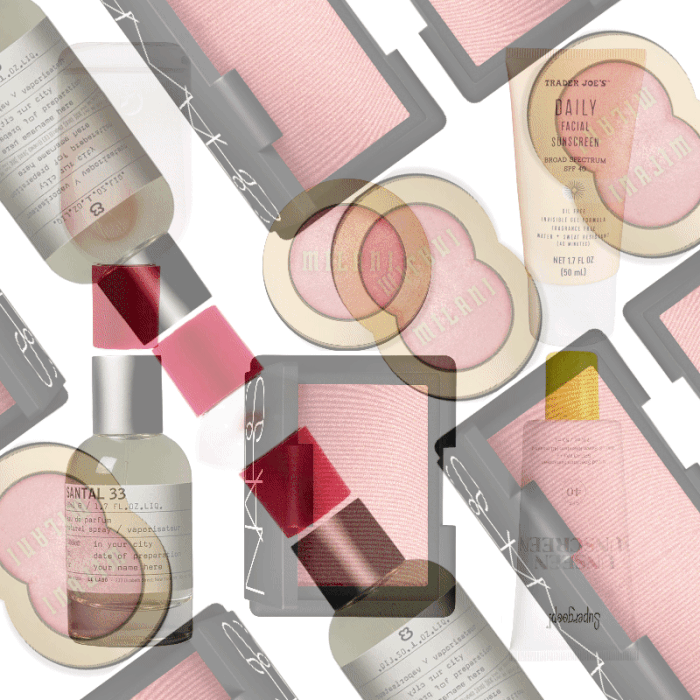 Photo-Illustration: the Cut; Product photos courtesy the retailers
"Peak Dupe" is a series about the end of authenticity as we know it.
The idea of a dupe first emerged from the cosmetics world back in the early 2000s. It was a time when there were far fewer makeup brands, and people wanted products that resembled sold-out, limited-edition, or discontinued products from M.A.C, which was the brand everyone was buying at the time. Today, you can't buy a product without getting marketed its dupe. So the Cut team tested 17 popular products — along with their dupes — to see if the dupes lived up to their name.
A dupe. Shopping writer Chinea Rodriguez tested both brow waxes by wearing them for a full day and found that although the textures are different (the e.l.f. one is slightly sticky when you use too much — you only have to use a little bit of each product), you'll get similarly laminated results. Both products gave her flake-free and residue-free brows that did not move. The Anastasia one has a short shelf life, and like many users, Rodriguez had to throw it away after a few months. Plus, the dupe is a fraction of the price.
A dupe. Senior shopping editor Bianca Nieves wore both primers under foundation for a full day. She even wore them side by side without any foundation and found they were highly similar, including the packaging, the brush, and the formula. The e.l.f. primer, however, only has eight shades, while the Charlotte Tilbury has 12. Both products also suffer from some of the same problems: They're never in stock and are prone to texture issues. E.l.f. can look cakey under foundation, while Charlotte Tilbury easily creases.
A dupe. Beauty director-at-large Maya Allen tested both for a full day and found that the laminated, finished look both of these products achieve is practically identical. You get more gel in the Refy gel, but the NYX gel has the same benefits. Both were similarly tricky to get the hang of: You must work quickly to avoid getting a flaky look. But once you get the technique down, the products offer similar superb hold and long-wear results. Pro tip: Allen suggests purchasing a separate laminated brow tool for shaping and brushing the hair, as this applicator spoolie brush is super-tiny and not the easiest to shape your hair with.
Not a dupe. Fashion writer Danya Issawi tried these blushes and found that they are simply two different blushes in two different shades. The Milani blush is matte and ultrapigmented, and the Nars is shimmery. The Milani blush could stand on its own if needed, but it does not create the same look as the Nars, which is on the lighter side. The Nars blush wore pretty well throughout the day, although it faded a bit, while the Milani one looked heavy at first and blended nicely.
Not a dupe. Rodriguez tried both throughout the day and found that although the Maybelline foundation is fine, the Armani one offers more dewiness and coverage. The Maybelline foundation also lacks shade ranges and undertones, while the Armani one has over 40 shades.
Not a dupe. Deputy style editor Joanna Nikas wore both mascaras for a full day and found that although both mascaras are great, they offer two different looks. The L'Oréal mascara comes with a thin wand that allows you to build at the base of the lash, offering additional length, but not as much additional volume, whereas the Dior mascara provides additional volume and some length. Neither gave raccoon eyes after a full day of wear — some minor flakes, but nothing a quick Q-tip couldn't fix.
Kind of a dupe. Beauty writer Asia Milia Ware found that these two concealers are pretty close, but the formulas differ. The Maybelline concealer comes in 14 shades, while the Nars concealer comes in 29, so darker skin tones cannot use the former. Both products blended into the skin nicely and didn't crease throughout the day. The Nars concealer offered more coverage (and, in fact, Ware didn't need to wear any foundation).
Not a dupe. Nikas wore both throughout the day and found that while both came off while eating, they offered very different color formulations. Neither lipsticks dried out her lips and both felt nice on application.
Kind of a dupe. Issawi, who has long and curly 3B hair, used both dryers to dry her hair and found that she got pretty similar results. She preferred using the Dyson because she liked how her hair looked more after using it, but the Laifen also did the trick. Plus, the Dyson cut down significantly on her blow-drying time (her hair was 85 percent dry in eight minutes, while the Laifen took about 15). The Dyson also offers more heat settings. However, both were easy to handle and quiet compared to regular blow-dryers.
Not a dupe. Nieves tested both and found that the K18 was more effective. Plus: The Revolution Haircare treatment was tedious and not as easy to use since you have to rinse it out. Nieves found that you can only use both products so much before your hair gets dry.
Not a dupe. Ware tested both and found that they are great body oils, but not comparable. Tata Harper is great for a luxurious look, feel, and smell, while Saltair is an excellent daily oil. Both smell great and hydrate the skin effectively.
A dupe. Besides these two products having the same active ingredients, with just a slight difference in percentages, they performed similarly. They were the same under makeup, had identical textures, and didn't leave a white cast.
Not a dupe. Nikas tested both over two days and found that these are very different products for different uses. The thick and pastelike consistency is similar, but how it spreads and blends into the skin differs. Both hydrate effectively, but the Nivea one feels like it sits on the skin rather than melts. Plus, the Nivea cream left a chalky finish, which got on her clothes. The price difference, though, is significant.
A dupe. Rodriguez tested both and found that the results were the same when it came to texture and how well they moisturize. She alternated using them both as a lip balm, and the number of times she had to reapply was the same. She used both as a highlighter and lip balm, and the amount of shine was equal. They have very different ingredients, so the long-term benefits might differ, but the immediate benefits are similar.
Not a dupe. Nieves tested both and found that the scents were very different. Both have cultivated cult followings (who remembers the Santal song?) and have cute packaging, but they offer very different products.
Not a dupe. Ware tested both and found that these fragrances don't share the same notes. They have notes that may be in the same family, but they're very different. They're fragrances with warm floral notes and hints of musk, but they are not dupes.
Not a dupe. Editorial assistant Tiana Randall tested both and found that these don't smell alike. The Febreze is fiery and woodsy, while the Tom Ford candle offers a nuanced smell profile with hints of vanilla and tobacco.