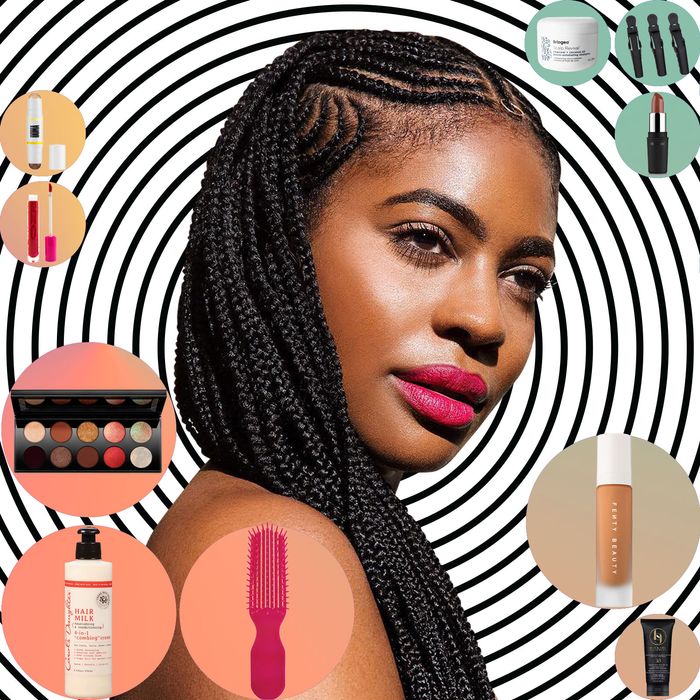 Photo: Courtesy of Maya Allen; Image by the Cut
On the Beauty Group, a Facebook community co-founded by the Cut and the Strategist, people chat all day long about the products they love — the ones so good they'll make you hit that little "auto-refill" box at checkout. Below, we asked one of our favorite beauty pros to share her own selections.
Growing up in Portland, Oregon, a city with a Black population of less than 6 percent, writer and editor Maya Allen says she was "always the only one in the room with kinky hair, dark skin, and a shapely figure." She sought refuge inside her mom's magazine collection, but even there, something was missing. Allen remembers, "Besides Black-centric magazines, which I read religiously growing up, no other stories in high-fashion magazines were being told by and for women who looked like me." This feeling, coupled with experiences like straightening her hair every day in an effort to fit in with her friends — which caused long-term heat damage she dealt with for years — drove her to work in beauty.
As Marie Claire's digital beauty editor, Allen covers everything from celebrity interviews, to her favorite Black-owned businesses. She's also held posts at Byrdie, Cosmopolitan, InStyle, and Essence, to name a few. "Diversifying the historically limiting lens of beauty is my mission," she says. "Celebrating the uniqueness and nuances of beauty is a superpower, and I'll never take that for granted. For so long, the industry rejected this notion and instead put one type of beauty standard on a pedestal. There is endless magic in our intrinsic differences, and I embrace that through storytelling."
Speaking on the United States' current racial reckoning, the editor wants to see more (and long-overdue) representation both on the front and back end of beauty. "Black people need to be in C-suite positions making the decisions and calling the shots," she urges. "Once the beauty industry builds a more diverse community internally, it will reflect externally, which will result in real, long-lasting change." This is why she's always considering brand's stories. "I support Black-owned brands and small beauty businesses because I honor the thoughtfulness and care that goes behind crafting each product."
"I preach the same skin-care sermon to my loved ones: Don't just put anything on your face. Study the ingredients, do patch tests, ease into testing new products, cater to your skin's ever-changing needs, and splurge if you have the means to," Allen advises, though she adds that a high price point doesn't necessarily equal high quality. In her own beauty collection, makeup and hair care are a "free-for-all" as long as she looks and feels good. Skin care is where she's most willing to invest "because acne is an old friend I don't want to make amends with." She counts Dr. Barbara Sturm's Darker Skin Tones Face Cream, Black Girl Sunscreen's Broad Spectrum SPF 30, Renée Rouleau's AHA/BHA Blemish Control Cleanser, and Joanna Vargas's Magic Glow Wand among her skin-care essentials.
From Uoma Beauty's Contour Stick ("The golden highlighter makes me look like a glazed goddess who just left vacation in the tropics") to Mented Cosmetics' Matte Lipstick ("After years of searching for the one, I've finally found a true nude that suits my skin tone"), below are the products Allen uses to the very last drop, half of which come from Black-owned businesses.
If you buy something through our links, New York may earn an affiliate commission.