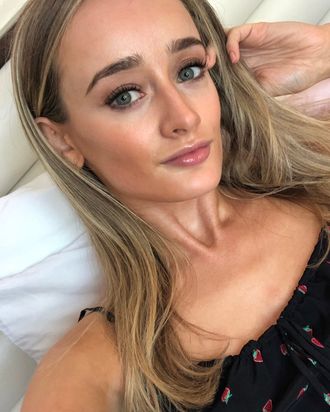 Photo: Courtesy of Daniela Morosini
Want more skin care? Join The Beauty Group.
Beauty journalist Daniela Morosini's skin-care goal is to look "juicy, dewy, and glowy" — a philosophy she extends beyond her face and onto her body. "I always think about that Nora Ephron essay where she writes, 'The face is the lie, the neck is the truth.' I don't want that to be me!" she explains. "All of my facial skin care goes down my décolletage, and I even do clay masks on my back and chest if I need it." Plus, once a week, she uses her BeautyBio Microneedling device on her entire body, finishing off the session by covering herself with the Sarah Chapman Skinesis Overnight Facial.
Morosini writes the "Dear Daniela" column at Refinery29. She's had bylines at publications like Vogue, Elle, and Harper's Bazaar and produced commercial work for brands like Space NK, which is also where she worked in college. "I essentially went from zero to 60 with skin care in about three seconds when I turned 18," she explains. "I didn't really have much of a routine as a teenager, but when I was at university, I got a job working at Space NK and suddenly was exposed to some of the most luxurious products in the world."
Half of the products Morosini was using then weren't really doing anything, she says. In her current routine, everything needs to have a purpose. "I don't want something that claims to be 'glow-boosting' or have a mysterious 'botanical complex' if you can't point to why it's doing that or what's in it," Morosini explains. "No smoke and mirrors in my routine, thank you." Instead, she focuses her attention on ingredients like peptides, hyaluronic acid, ceramides, and, "of course," retinol. She particularly relies on vitamin C and niacinamide for prevention. As she explains, "I spend most of the year either in London or New York, which are both swirling cesspits of pollution."
Below, a look at her preventative skin-care routine, which includes a serum with "drone delivery," a microneedling device with LED light, and a brightening face mask that's only $2.50.
The Micellar Water
"This micellar water is a bit pricier than some of the others on the market, but a little goes a long way. It doesn't sting, and it gets everything off. It also doesn't leave a greasy residue like some do, and it's so effective, you don't feel the need to really pull or scrub at your skin. A no-brainer."
The Cleanser
"This is just a great, no-nonsense gentle cleanser with lovely ceramides to keep your skin soft. Ceramides are the cement to the bricks that are your skin — they're fatty acids that hold in hydration and keep out dirt, placing a crucial role in your skin's barrier function. If I'm feeling oilier, I'll sub in SkinCeuticals Simply Clean, which has some enzymatic action to deal with that. I don't use this to remove my makeup, it's my second cleanse after doing that to remove oil and dirt from my skin — it doesn't really foam; it just sort of emulsifies. It doesn't leave my skin feeling tight or dry, just soft and supple."
The Exfoliant
"At this point, who in beauty isn't using these? Everyday use is a little much, but I use these about three times a week as my exfoliant of choice. They have AHAs, BHAs, and antioxidants, which makes for a really efficient exfoliation and skin treat in one, and they don't cause any peeling or shedding. I would say I have fairly sensitive skin, and these don't give me any redness, either."
The Serums
"Medik8 is a really brilliant British brand. I've met their chief product officer, Daniel Isaacs, a few times and he is a very, very smart guy. I use whatever he suggests. This peptide serum uses "drone delivery," which sounds very H.G Wells, but is basically a method of encapsulating certain ingredients (in this case, peptides) so that they only release where needed in your skin. Amino acid "markers" can be added to the ingredients, which makes them more likely to attach to certain cells in your skin, rather than maybe just breaking down on the surface. Hence, peptides where they're really needed, and happy plump skin!"
"I've used this for at least five years. It's lightweight, and it has niacinamide to help control oil production, minimize your pores, and stop early signs of photo-aging in their tracks. I always unscrew the top and cut the bottle open to get the last bits out! I definitely notice that my skin isn't as bright when I skip it, so I try not to miss a night."
The Eye Cream
"This was recommended to me by the dermatologist Dr. Justine Kluk. It's very brightening and hydrating, absorbs super quickly, and doesn't make me puffy. I've also had this one tube for like a year so you get plenty of bang for your buck. There's cucumber and green tea to help keep dark circles at bay, which is my primary under-eye concern."
The Face Masks
"What I like about this mask is that it doesn't fully dry like other masks, so it feels more gentle on my dry skin, and it also gives you a bit of a glow, rather than just sucking out all the oil and then leaving your skin kind of sore. It has red and white clay and botanical extracts, and it stays slightly creamy in texture and makes me feel soft. I use it about once a week, and I take it down to my shoulders and chest, too, because I work out a lot, and you can get breakouts there too from all the sweat if you're not careful. Obviously, I shower after exercise, but I feel that the more you sweat, the more care you should take to balance things out."
"These are like $2.50, but so good! It's the CVS spin-off of Peach & Lily, which is why they work. They brighten your skin so much and they're not oily, so I'd use one before a big event, and then save the leftover essence in the pouch for the next day."
"This is a very fancy sheet mask, but oh-so-wonderful. It's biocellulose so it feels really cooling, and it's like a big drink of water for your skin. I keep them in the fridge, then lie down, and put it on when my skin feels really dry. Then I just don't move for like 20 minutes."
The Tools
"Microneedling works for two reasons. One: It makes tiny superficial holes in the skin, which allows for better skin-care penetration. Two: Your body perceives the superficial holes as an injuries, so you get a flood of collagen and elastin to the skin as it tries to 'repair' itself.
This device — I have the face and body attachments — has tiny needles, which are safe for home use. It doesn't hurt at all — it maybe feels like using a very grainy scrub on thinner parts of the skin. The GloPro also has red LED light, which also boosts collagen for more healing.
I do it once a week, maybe twice, and it really makes my skin feel so plumped-up and healthy from top-to-toe. I start with my face, then switch the head to the body one and do that. Always sanitize the attachments fully after every use! It really can give you a lovely juicy complexion and firm the skin, and your skin drinks up anything you apply after."
"This face roller is very pleasingly robust. It's not gonna snap off in your hand. It's just very solid and firm and brilliant for removing puffiness and giving yourself a nice facial massage."