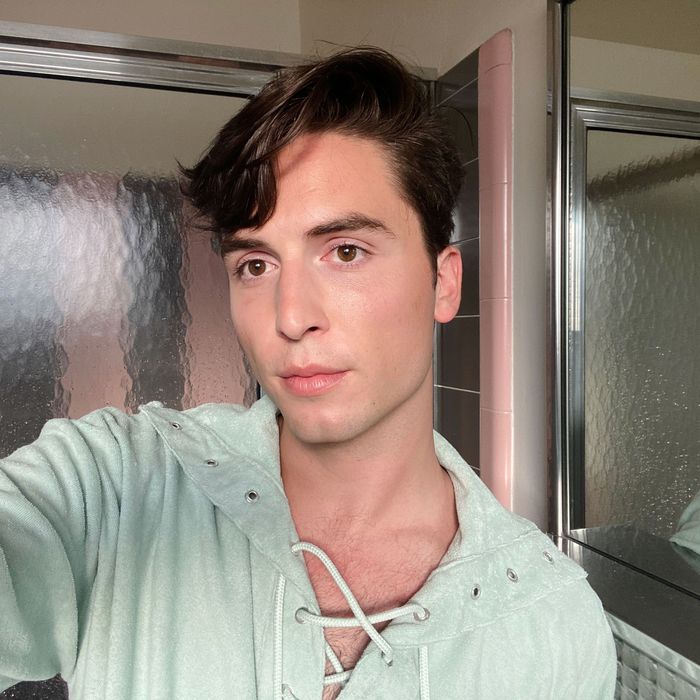 Photo: Courtesy of Benito Skinner
Want more skin care? Join the Beauty Group on Facebook.
Benito Skinner's philosophy of buying beauty products can be best explained by Joe Biden. "Guess what? It grows the economy," Biden said in a press conference. "Benefits everybody. Hurts nobody." Of course, the president of the United States was talking about an infrastructure plan, but the same principle applies here. "I do not tell anyone what to do with their money. Boost the economy, babe, do whatever you want for your skin," says the comedian, who is best known for his sketches and celebrity impersonations.
Skinner attributes his skin-care addiction to his job. He's constantly filming, and some of his characters (like Jenni the TMI hairstylist and Benita) call for a full beat, so his skin goes through a lot — and he's not willing to go back to his acne days. "I had acne in high school, and it sucked. I fixated on it," he says. "It feels like you're the only person experiencing it. Instagram had just started when I was a senior so I didn't even have all these people with perfect skin to look at all day, who by the way all literally have ring lights and have makeup on." Cystic acne popped up after his freshman year of college. "I didn't want to go anywhere," he says. "I didn't want to wear any of my clothes — I felt like it was a waste to wear a cute outfit because my skin ruined it."
So the comedian went on Accutane for six months. "It's the devil's drug," he says. "There's an alien baby on all the bottles of pills because they're like, 'You literally cannot get pregnant on this.'" It exacerbated his already dry skin, but it worked.
Now his daily struggle is perioral dermatitis. "I don't know what's worse," Skinner says. "At least with acne there are products and ingredients that are supposed to help, but with POD, it's like, 'Whatever works for you, babe.' It's hell." When it was particularly bad around his chin and nasolabial folds, NYC aesthetician Sofie Pavitt came to his rescue. "I was wearing all kinds of makeup all the time. I was filming so many videos in New York, kind of running around with my head cut off, and I saw the POD spots, and I immediately was like, 'I need to exfoliate more.' I was ripping off my skin," he admits. "And then I went to Sofie, who said, 'You're not allowed to exfoliate for a month.'" He only exfoliates three times a week maximum now, but the POD never goes away completely, so when he's working his way through a flare-up, he uses Avène Cicalfate+ Restorative Protective Cream.
Below, Skinner breaks down his full skin-care routine, including the oil-cleansing balm he discovered on a shoot, the expensive moisturizer worth the splurge, and the gentle $14 cleanser he used during his Accutane days.
The Water Filter
The Oil Cleanser
The Shaving Cream
The Gel Cleanser
The Toner
The Serum
The Barrier Cream
The Moisturizer
The Eye Cream
The Sunscreen
The Mist