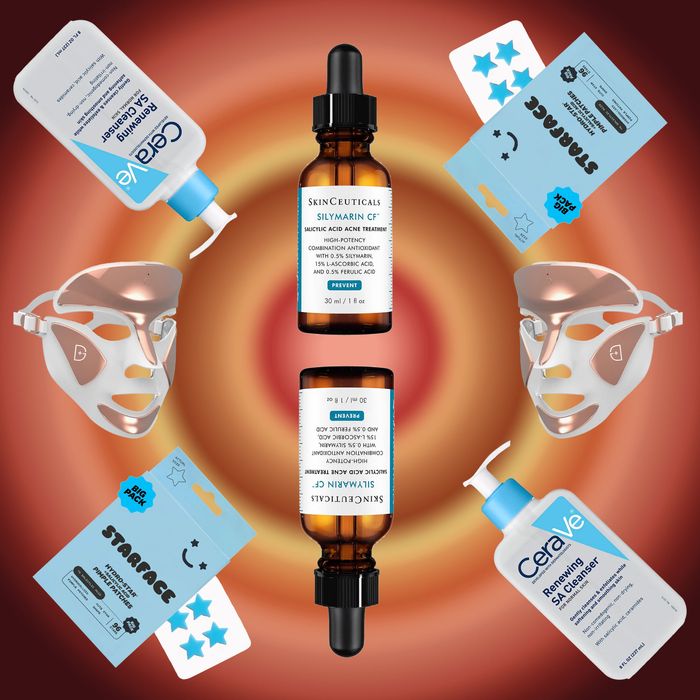 Photo-Illustration: by The Cut; Photos: Retailers
For more of the Cut's favorite fashion, beauty, and home finds, sign up for the weekly Cut Shop Newsletter.
Zits may be a rite of passage, but breakouts that bring you back to tween pimple-popping sessions get old as you get older. If you haven't locked in a solid routine for warding off (and fighting current) breakouts, starting from scratch every time a spot rears its puss-filled head is frustrating, exhausting, and expensive. To help you avoid hopeless breakouts, we spoke to dermatologists to find out what the best acne treatments actually are.
FAQs
How do you build a good acne skin-care routine?
"A good skin-care routine for acne should be gentle, cost-effective, and not overwhelming," says Dr. Brian Hibler, M.D., a board-certified dermatologist at Schweiger Dermatology Group in New York City.
You don't need to be a cosmetic chemist or have a Ph.D. in pimples to build a good foundation for your skin, but it does help to identify the ingredients that'll put in the work. Dr. Hadley King, M.D., a board-certified dermatologist based in New York City, says to focus on a three-part system: Combine acne-fighting ingredients (like benzoyl peroxide, retinoids, and salicylic acid) with skin-supporting (think humectants, emollients, and occlusives) and anti-inflammatory ingredients (often found in antioxidants) to ensure that you're tackling the problem holistically — and not inadvertently harming your skin in the process.
What's the best way to prevent acne from happening?
It doesn't have to be a whole ten-step routine: Dr. Hibler recommends simply using an anti-acne face wash (with benzoyl peroxide or salicylic acid) in the morning, then following up with a topical retinoid at night. He and Dr. King agree that the latter can help prevent blocked pores and improve the overall texture and tone of your skin.
What's the best way to stop current breakouts?
Dr. King says to look out for formulas containing benzoyl peroxide (a classic that she says has been used to treat acne for over 60 years), salicylic acid ("an excellent pore-clearing ingredient" and one that's great for people with oily skin), and adapalene (a retinoid). She adds that tea tree oil is less potent than other options, but could be best if you have sensitive skin.
What should you avoid when combatting acne?
You'll want to be gentle and patient with your skin, above all. "It's important to not be overly aggressive trying to get rid of a stubborn acne cyst or pimple," says Dr. Hibler. "If you are too aggressive, you can lead to further inflammation, skin discoloration, and even scarring." Oh, and stop popping your pimples. Dr. Hibler says if they rupture below the skin instead of popping out, you'll be worse off than before you started (say hello to longer healing time and scars and/or hyperpigmentation).
When should you see a professional for treating acne?
Dr. Hibler says many patients require prescription medication to get their acne under control and to help maintain the skin once things calm down. "We have so many wonderful treatment options for acne these days — please see your dermatologist, who can discuss not only topical options but also highly effective and safe oral options like spironolactone and Accutane, as well as new laser options," says Dr. King.
The Best Acne Cleansers
The foundation of any good acne routine is a gentle and effective cleanser. Dr. King is a fan of Peach Slices' entire acne system — which includes a salicylic-acid cleanser, toner, and moisturizer — since the brand includes skin–supportive ingredients like cica, allantoin, niacinamide, and hyaluronic acid. Similarly, CeraVe makes a trusted foamy cleanser that exfoliates and uses ceramides to boost your skin's barrier. If you have oily skin, you may be a fan of the longtime best seller from Neutrogena; if you lean dry and sensitive, Kate Somerville's gentle cleanser can help tackle hormonal and cystic acne without irritating your skin.
The Best Acne Serums
Those acne-fighting ingredients our experts referenced earlier? They don't stop at cleansers. Serums featuring azelaic acid (Dr. Hibler's favorite), mandelic acid, vitamin C, and lactic acid can help speed up cellular turnover, which renews your skin and can unearth a brighter, more even complexion over time.
Photo: Courtesy of the Vendor
The Best Pimple Patches and Spot Treatments
Whether you're more of a star or a splotch person, there are all kinds of targeted acne treatments that can get your pimples to show up and see themselves out. The cleanest and cutest of the bunch are pimple patches; Dr. King says hydrocolloid patches work by drawing excess fluid (and subsequently oil and dirt) away from the zit and are chiefly effective at stopping picking. This is good because "picking a pimple increases inflammation and healing time — and increases the risk for infection, discoloration, and scarring," per Dr. King and the better half of your conscience. Her favorite is Peach Slices' Acne Spot Dots and Eve Lom's Dynaspot for something more potent, but tread carefully when using spot treatments, as these concentrated formulas can be irritating for those with sensitive skin.
Photo: Ji Sang Chung/@essostudios
The Best Acne Skin-care Devices
There are plenty of topicals that you can use to combat acne, but skin-care devices souped up with acne-busting power can kick things into high gear. Our best advice would be to talk to a dermatologist and schedule an in-office treatment (it's clinical lasers that'll really deliver), but if you're a DIY person, an at-home LED light-therapy device may also help you in the battle against breakouts. Studies show blue and red wavelengths can zap bacteria-causing acne and heal hyperpigmentation long after pimples flatten out.
Our experts:
Brian Hibler, M.D., a board-certified dermatologist at Schweiger Dermatology Group in New York City
Hadley King, M.D., a board-certified dermatologist in New York City