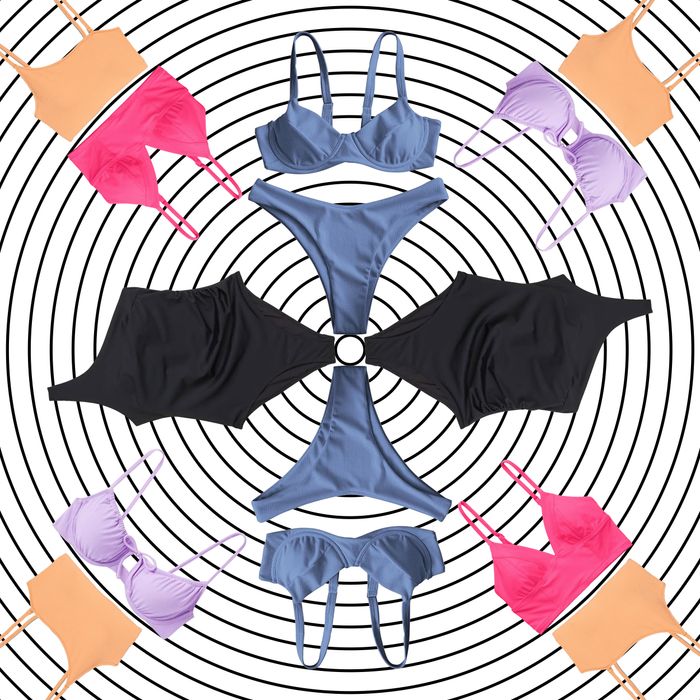 Photo-Illustration: by The Cut; Photos: Retailers
For more of the Cut's favorite fashion, beauty, and home finds, sign up for the weekly Cut Shop Newsletter.
Summer is here and so are the many opportunities to wear swimsuits. Maybe you've put all your vacation budget toward a fancy hotel with amenities, or maybe a beach or rooftop-pool invite was dropped last minute in the group chat. Regardless of the situation, sometimes you need an affordable swimsuit, and you need it fast.
However, we're skimping on fabric here, not quality. Well, sort of. Of course, in most cases, you get what you pay for. Knowing that, though, we've scoured reviews and awkwardly Photoshopped product photos to find the best of the best.
From strappy barely there bikinis to plus-size swimsuits that aren't boring, read on to see picks that seem promising — and even some we've actually tried and were pleasantly surprised by.
The Shaping One
For when you don't quite want a bikini or a one-piece, this cut-out suit offers light shaping and flattering support, according to reviewers. It would also look great worn with jeans.
Available in sizes S to XL.
Another Shaping Option
Since you don't want to wear Spanx to the beach, this is the next best thing. Offering light shaping at the stomach, this swimsuit comes in 13 solid shades. While it isn't a maternity swimsuit, expecting and postpartum moms in the reviews absolutely love it.
Available in sizes XS to XXL.
The Neon Option
This ribbed suit comes in three different shades of neon, so you can properly pick what bright color you're feeling for the day.
Available in sizes S-L.
The One With Underwire
While you're picking up sunscreen on your next Target run, throw this in your cart. The surprisingly cute swimsuit comes highly recommended by our deputy editor, Joanna Nikas, who did just that. Featuring underwire and removable cups, this top comes in plenty of cute colors and sizes.
Available in sizes XXS to 26W.
The One Moms Love
Reviewers are raving about how this set supports their "mom bods." The high waist offers light tummy support and coverage, and the adjustable top is fully lined and includes padding.
Available in sizes 4 to 18.
Another Underwire Option
High cut and slightly cheeky, this bikini has an underwire and a simple silhouette. It does tend to run small, so reviewers recommend sizing up.
Available in sizes S to XL.
The Not-Boring One-piece
Not too boring but also not over the top, this scalloped swimsuit is simple, pretty, and beloved by reviewers.
Available in sizes XS to XXL.
The Adjustable Option
The adjustable straps on this swimsuit are removable, so you can easily turn this into a bandeau. Outside of that, reviewers love how flattering it is; it also comes in 39 (!) different colors and patterns.
Available in sizes S to 3XL.
Available in sizes S to 3XL.
The Floral Underwire
Supportive and cute? You really can get the best of both worlds. Did we mention it's affordable? Even with the bottom sold separately, you still won't pay more than $50, even with shipping.
Available in sizes S-XL, and D/DD.
The One Made for Matching
This string-bikini set comes with a matching sheer coverup, as all bikinis should, honestly. Besides that, it's very cute. So much so that a reviewer even dubbed it the "hot-girl summer" suit.
Available in sizes XS to 4XL.
The Not-So-Basic Option
A not-so-basic basic bikini set that's just a little cheeky and comes in 33 color options. The thousands of reviewers love the color options and the style. We picked it because it has the potential to become your favorite whenever you need a trusty bikini.
Available in sizes S to XL.
The Strappy Option
You can grab this in the simple set pictured or opt for the strappier option. Despite less than 1,000 reviews, the vast majority agree it is flattering and very cheeky. So if you like the silhouette but want a bit more coverage, consider sizing up.
Available in sizes XS to XL.
The Monokini
The monokini offers the benefits of the bikini with the coverage of a one-piece swimsuit. This is a favorite with reviewers for its cut and comfort, even on bigger cup sizes. They also recommend sizing up.
Available in sizes S to XL.
The Plus-Size Option With Options
This comes in a mix of prints and colors, which is pretty standard for Amazon. Reviewers love the flattering fit and how comfortable it is, but they do note that it's not as high-waisted as they prefer.
Available in sizes XL to 4XL.
Another Strappy Option
If you're willing to deal with the weird tan lines this would give you, we highly suggest grabbing this top with removable cups.
Available in sizes XS to XL.
The Classic Option
If you want a swimsuit without all the extra straps and patterns, this one offers light support in the safest and most foolproof color: black. Plus, when you add the bottom to your cart the total is still under $30.
Available in sizes XS to 4X.
The Sporty Option
Swim that looks just as good off the beach as it does on, this was made for pairing with denim shorts. This features cross detailing on the back, so it looks more like your favorite body suit, and again, we highly suggest opting for a fun color like this one.
Available in sizes 24 to 40.
The Two-in-One
This swim top can be worn as either a one-shoulder or a double-strapped top and comes in four fun colors. But you know it's a winner when two out of the four colors are sold out. So act fast!
Available in sizes XS-4X.
The One to Mix and Match
Aerie offers a couple of tops in a few easy-to-match shades and a number of bikini bottoms to pair them with. The price is a little bit steeper, but you can usually count on the brand to have a sale.
Available in sizes XXS-XXL.
The Shaping Option for Minimalists
Simple, chic, and shaping, this H&M suit is one you can buy at the very last minute and trust that it will look good. We love the off-the-shoulder look since it doubles as a bodysuit in a pinch. The retailer also has a few more lively swim and shaping options, if that's what you're into.
Available in sizes XS-XL.
A Fun Option
There'll be plenty of poolside moments in this corset bikini. Featuring a a pretty pastel print, it's perfect for wearing to dinner and drinks after your pool day.
Available in sizes 12-26.