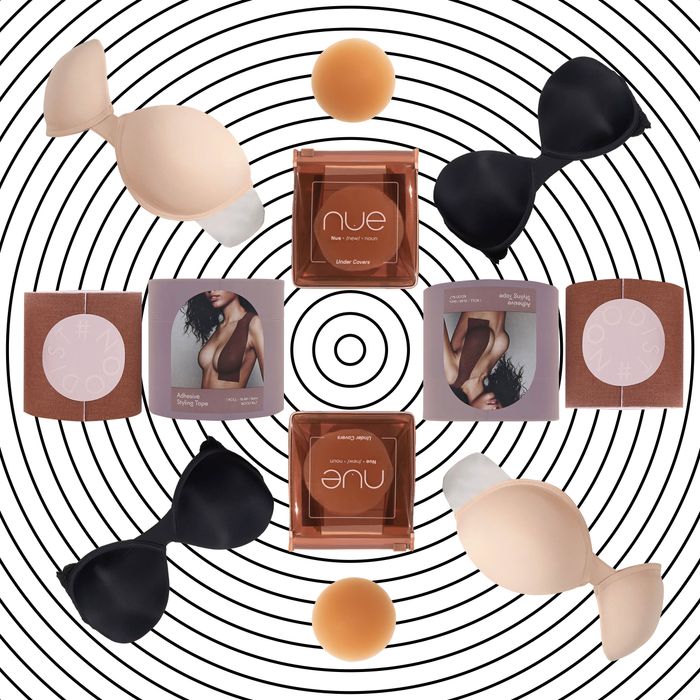 Photo-Illustration: Courtesy of the Retailer
For more of the Cut's favorite fashion, beauty, and home finds, sign up for the weekly Cut Shop Newsletter.
Our wardrobes are full of strappy tops and dresses that require the best backless bras, nipple covers, and boob tape on the market. But finding the right one is tricky — is it sticky enough? Supportive enough? Invisible enough?
You're not the only person looking to avoid a nip slip at your next event, so we talked to stylists, content creators, and product designers to find the best sticky-in-a-good-way solutions.
What's the criteria for a good backless bra?
Backless bras are the ones with adhesive butterfly cups that have a clasp in the middle. You can wear them with backless dresses and strappy tops, but if you have anything with a plunging V-neck, keep moving. They're not the best for larger busts, but you still may be able to make them work; New York–based stylist Alexandra DeRosa tells us, "A combination of adhesive bras and chest tape can be exceptionally effective. The bra structure provides shape; the tape provides support. Don't be afraid to get creative and come up with a combo that works best for you."
Fit tip: When applying, lean forward slightly, then scoop, lift, and lay. That way, you get as much surface area against the adhesive as possible without air bubbles ruining your night.
The Bestselling Backless Bra
Can you think of anything worse than your "invisible" bra slipping out from under your dress and flopping onto the dance floor? Didn't think so. These are super sticky, yes, but more importantly, they're lightweight, with over 10,000 five-star reviews to back them up.
Available sizes A–G.
The Small-Cup Wonder
If you're buying a bra for a one-night-only dress, fly on the wings of love. These are under $20, have rave reviews, and come in a slew of colors. While they're listed up to sizes E and F, they really work best for people with smaller chest sizes (before the shape of the cups starts looking wonky).
Available sizes A–E.
The Crowd Pleaser
This is the bra that sticks well, lifts, and is comfortable under any backless dress. Notably, reviewers write that it retains its hold even if you're sweaty, which can't be said for many backless bras. It also has a wider array of nude colors compared to most brands.
Available sizes A–E.
The Supportive One
According to reviewers, these molded foam cups with underwire will give you the shape you need, while the adhesive will stick all day. Customers recommend going one size down for the most comfortable fit.
Available sizes A–D.
The Full Cup Wonder
Not only is this bra wireless for maximum comfort, but it also goes up to size H: a frustratingly difficult find in the backless-bra department! Contour cups will help define your shape, while the adhesive strips along the upper cup and back wings will keep your bra in place all day long.
Available sizes B–H.
The One That'll Give You a Lift
Sitting somewhere between a sticky bra, boob tape, and pasties is this bunny-shaped "invisible lifting bra" that does exactly what it says it will. "[It's] great because it provides support and creates a really nice symmetrical look," says DeRosa.
Available sizes S–XL.
What's the criteria for good nipple covers and silicone pasties?
Whether you're buying breast petals or silicone nipple covers, these are the most reliable of the no-nip-slip bunch. One potential pitfall? Finding the right shade of nude since you may be wearing these with a sheer or semi-sheer fabric. When in doubt, DeRosa suggests going a shade darker instead of lighter: "Too light of a shade will show through under dark tones, and when worn with white, it will create that "white-on-white" effect, which is even brighter and therefore more noticeable."
Fit tip: "Hold the skin taut!" when removing, says DeRosa. You can thank her later.
The Expert Pick
"I prefer silicone nipple covers over sticker-style pasties," says DeRosa. "They're seamless and look natural under clothing." Her favorite are these by Nood since the scalloped edges contour more closely to the shape of your boobs and lay that much flatter.
Available in one size.
The Best-Selling Nipple Cover
There are so many reasons why these are a tried-and-true favorite: Nippies offer five shades of nude (from Creme to Espresso) and two diameter sizes depending on what kind of areola coverage you need. If you, like the other 20,000-plus five-star raters, are already convinced, you may also want to check out Nippies' other adhesive silicone pasties that are extra. There are the Nippies Skin Extra, which are a little thicker and darker to cover perkier nipples, and Nippies Skin Lift, which give a little push-up effect.
Available in small (A–C) and large (D+).
The One for Sensitive Nips
If your nipples are sensitive (read: dry or easily chafe), these nipple covers may be the answer to your prayers. They come in four shades, are large enough to accommodate a range of areolae sizes, and best of all, have an optional mesh insert to protect your nipples from the adhesive.
Available in one size.
The Budget Buy
Considering you can wear these pasties up to 25 times, the cost per wear is about 50 cents. You'll be hard-pressed to find anything as well liked for less. And once you're done wearing them for their intended purpose, "silicone nipple covers as 'blister protectors' are such a hack," says DeRosa. "They wrap right around your heel and are oftentimes a better skin match than Band-Aids. Sounds crazy, but it works!" 
Available in small (A–C) and large (DD+).
If You Want More Shape and Definition
What's the criteria for good boob tape?
Sure, they look kind of like a DIY project, but once you've mastered the art of boob tape, you might never want to go back to regular bras. Jessica Pfister, vice-president of Le Mystère lingerie, and DeRosa both recommend breast tape for fuller busts: "Tape can be manipulated as needed to properly support your breast tissue," says Pfister. Think about it this way: You're simply not confined to a product's width with boob tape, so it more naturally accommodates larger busts.
Fit tip: "Practice makes perfect. Map it out before peeling off the paper backing; make a plan before everything starts sticking," says DeRosa. "And layers! Build on it for sturdier support."
The Best Shade Range
"I love that there's a wide shade range," Anthony Ortez, a content creator in Los Angeles, says about Nue (which he has shot for previously). "The tape is able to be used by a variety of women — and I love that a Latina is making strides in the lingerie space."
The Sweatproof Sticky
Photo: Courtesy of the Retailer
Something waterproof and sweat resistant is a nonnegotiable in the spring and summer. This adhesive bra functions more like a pastie–boob-tape hybrid with a hold that's activated by your body heat to help lift and keep it in place. 
Available in sizes A-B, C-D, and DD+. 
The Full Bust Favorite
This tape supports busts from A to DDD+. If that weren't enough, it's sweatproof, waterproof, and comes in four skin-tone shades. The tape is so sticky (not in a scary way) that you can get super creative with what you're wearing and it'll still be undetectable. 
What's the criteria for a good convertible bra?
Here's a bonus round for you since all our experts swear by convertible bras and extenders. "Convertible bras are a woman's secret weapon," Pfister says. "They're created to convert as needed, to accommodate a plethora of different tops and dresses."
Fit tip: Pfister recommends looking for a strapless bra that comes with two sets of straps (clear and matching) and multiple loops on the inside of the bra, near the cup and on the wing. She says those little loops are what allow you to convert the bra from strapless to the standard strap, halter, crisscross, wide set, and a one-strap situation.
The Extenders
"When possible, I find the most success when working with a bra I already own — you already know the fit works for you!" says DeRosa. She says these low-back bra converters are far from flimsy ("They stay put!") and have three hooks for extra support.
The Budget Bra
Willy Mrasek, creative director at Felina, says this strapless bra is perfect for people with fuller busts on a budget. He says, "The strapless pad is mitered at the neckline to lie flat, making it virtually invisible under clothes."
Available sizes 34C–42DD.
The Classic Convertible
Gabby Kern is the boutique sales manager at Skarlett Blue, so she knows her way around bra fittings. "You want a firm band and a deep cup," says Kern. "[That way] there's no spillage when you use the conversions." She loves recommending the Goddess since it's as comfortable as a T-shirt bra but also has easy-to-adjust plastic fasteners to convert to whatever you need.
Available in sizes 30A–36DDD.
The Full-Bust Convertible
"[This is] an amazing full-coverage, full-support, convertible bra that stays in place!" says Pfister. She recommends these for all busts, but especially fuller busts, since the bra has firm foam cups and a stabilizing center that'll bat away any worry of slippage.
Available sizes 32B–40G.
Our Experts:
Anthony Ortez, Los Angeles–based content creator and social-media manager
Alexandra DeRosa, New York–based stylist

Gabby Kern, boutique sales manager at Skarlett Blue

Jessica Pfister, vice-president of Le Mystère lingerie

Willy Mrasek, creative director of Felina