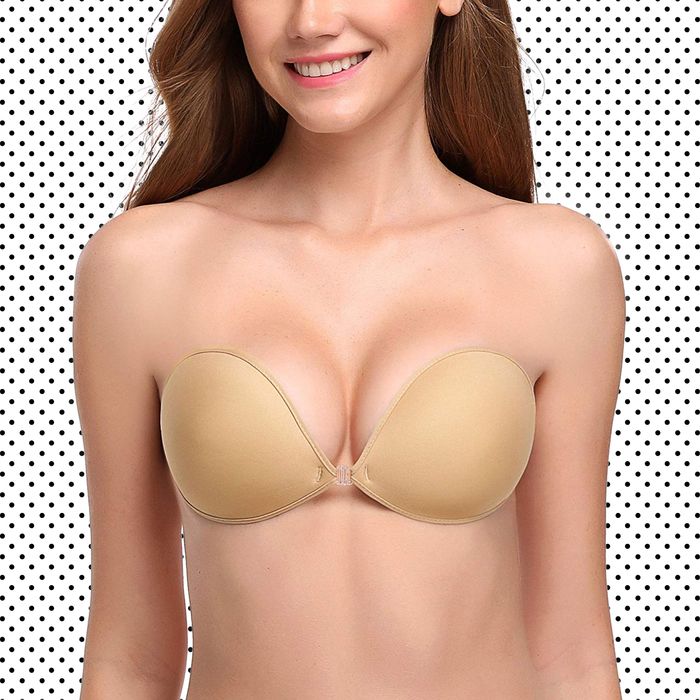 Photo: Courtesy of the Retailer
Summer is full of skimpy tops and dresses that require a good backless bra. But finding the right one is tricky — is it sticky enough? Supportive enough? Invisible enough? We've stepped in to help and combed through thousands of online reviews to find you the best options. While there's no such thing as the perfect one, we've found what works well for every size, skin tone and outfit. Scroll below to see the top picks.
"Holy boobage batman!" writes one of the hundreds of enthusiastic reviewers. She writes that she wore it for a seven-hour black-tie event and not only did it create cleavage for her small bust, but it didn't budge at all under her strapless dress.
Available sizes A–E.
If You Want a Slight Lift
This bra holds up, no pun intended. Reviewers say it stays up even through sweaty summer days. It also promises to give you a bit of a lift.
Available sizes A–F.
Unlike other adhesive bras, this one has a drawstring in the middle, which will lift your cleavage as much or as little as you want. Customers also write that it stays for long stretches of time without slipping or falling off.
Available sizes 30A–36B.
Because You Have a Fuller Bust
This plus-size bra comes in sizes up to 46 inches in circumference. It also has an adjustable front clasp that extends by 1.5 inches for women with wider rib cages. One passionate reviewer writes, "This thing holds my girls in a vice grip. Full and bubbly on top, but firm support underneath … Yes to deep plunging necklines!"
Available sizes plus 2–plus 5.
The All-Around Great Backless Bra
This is the bra that sticks well, lifts, and is comfortable under any backless dress. Notably, reviewers write that it retains its hold even if you're sweaty, which can't be said for many backless bras. It also has a wider array of nude colors compared to most brands, in addition to more fun colors like pink and purple.
Available sizes A–E.
When You Only Want Minimum Coverage
While these adhesive nipple covers are great for tops or dresses that show a lot of cleavage, hundreds of reviewers also use them as an alternative to the everyday bra. One reviewer, who expresses her aversion to bras, writes, "My adhesive Nippies have been worn at least ten times now and are still going strong! These little things fill me with joy."
Available sizes A–DD.
If You Want More Shape and Definition
According to reviewers, these molded foam cups with underwire will give you the shape you need, while the adhesive will stick all day. Customers recommend going one size up for the most comfortable fit.
Available sizes A–DD.
This adhesive bra also comes with underwire and molded cups for added definition, but reviewers mostly comment on how comfortable this bra is for long nights out.
Available sizes A–D.
The One That Goes Up to Size H
Not only is this bra wireless for maximum comfort, but it also goes up to size H: a surprisingly difficult find in the backless bra department! Contour cups will help define your shape, while the adhesive strips along the upper cup and back wings will keep your bra in place all day long.
Available sizes B–H.
The Most Popular Backless Bra
Sneaky Vaunt specializes in backless bras, which is obvious once you read the over 2,000 5-star reviews. The center drawstring gives you adjustable cleavage, while adhesive sticks for 40+ wears.
Available sizes A–DD.
If you buy something through our links, New York may earn an affiliate commission.