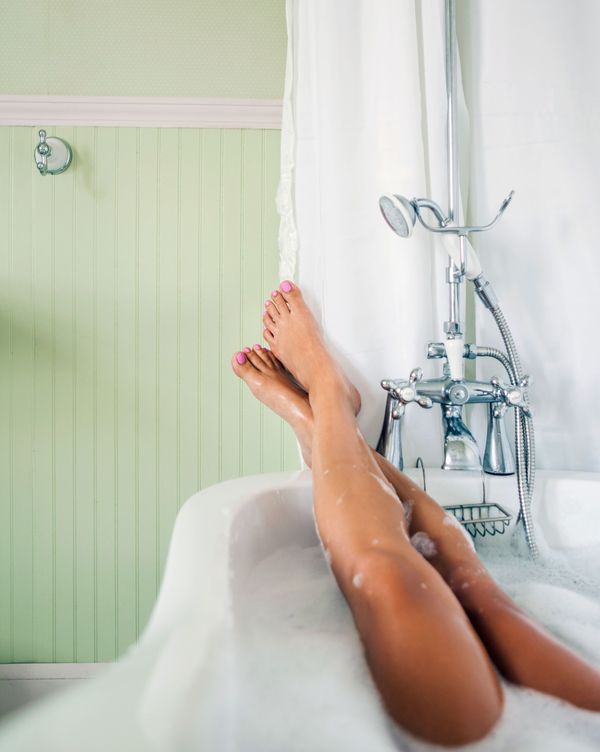 Photo: Suprijono Suharjoto/Getty Images/Tetra images RF
For more of the Cut's favorite fashion, beauty, and home finds, sign up for the weekly Cut Shop Newsletter.
I take at least two baths a day. I'm not proud of the carbon footprint it takes to deliver all that hot water, but if it means spending less time on airplanes to make up for it, I'm willing. I don't bathe for cleansing so much for comfort. The bath is my cocoon, like a liquid Snuggly.
Like all things in life, my strong attachment to the bath harks back to my childhood. Our house was always cold, and every morning, I'd scramble from my bed to the bathroom, where I'd sit in the bathtub, impatiently waiting for it to fill up and blanket me. We didn't have a fireplace, so the bath was the next best thing.
After a lifetime of taking baths, drawing one seems about as intuitive as eating, so when I was asked to write about my bath routine, I paused. But it is bath season, so here are my tips to achieving the perfect bath in your very own bathroom.
Step one: Clean the tub. Bathtubs are often gross, filled with everything from lingering shampoo residue to yucky rings left behind from past baths. Sprinkle a little baking soda on a wet sponge and have at it, then rinse thoroughly before proceeding.
The most important element needed to optimize the bath experience, other than a tub full of really warm water, is low lighting. Taking a bath in a brightly lit bathroom completely defeats the purpose. You want calm, warmth, serenity, hygge. If your light has no dimmer switch, use the shower curtain to block it, or turn the lights off entirely and light a candle.
Our tub rests against a wall, with 19 bath products standing along its edge. I use maybe two or three of them on a regular basis, but I like having them all around me, like a stuffed animal collection. Each bottle and jar has been vetted — for its scent (which should be subtle; a good bath product knows that the bath water is the star and its fragrance is merely a supporting player), texture and relationship with the bath water, as well as aftereffects on me and my tub (Goop, you make lovely bath salts, but they leave a mean ring). Read on for my favorites and the bath products beloved by Cut editors. — Jane Larkworthy
The Best Bubble Baths
Bubble baths aren't my thing — I prefer to see my water when I'm in there — but I respect their appeal. The sound of tiny bubbles bursting around you has the same calming effect as gently falling snow.
Photo: Kevin Lynch
This is a floral bubble bath that, appealingly, isn't too floral. The cult-favorite gardenia scent has a slightly creamy undertone that translates well into a relaxing bath, and the bubbles are also kind of mellow. — J.L.
Lavender is my favorite scent with this brand, but it's not too heavily scented. And it makes tons of bubbles! It's a good liquid–to–bubble bath pour ratio. — Kathleen Hou
I love that this is a drugstore bubble bath that's not cheesy or Mr. Bubbles, and the Epsom salts are a plus! — K.H.
Known bath aficionado Oprah has included this bubble bath on her list of "Favorite Things" seven times. It creates tiny, fluffy, floral-scented bubbles in packaging as fancy as a wine bottle. And you need to de-cork each package like a wine bottle too. — K.H.
The Best Bath Salts
Bath salts — especially ones that contain soothing minerals— are great if you've overextended your body, pulled a muscle, or pinched a nerve.
The bracing, outdoorsy birch aroma in these flakes inclines me to take deeper, longer breaths, but it's the comforting magnesium that my legs appreciate after I've been on my feet all day. — J.L.
There are 21 (!) essential minerals in these salts harvested from the Dead Sea. Together, they tackle muscle aches and moisturize skin. The mild, soothing lavender scent is a bonus. — J.L.
Just the pale-pink color alone is reassuring. You can thank Himalayan sea salts for that, and then thank the ylang-ylang essential oil for making it moisturizing as well. — J.L.
A blend of calming oils (lavender, patchouli, vetiver), as well as wild chamomile extract and sea salt, band together to slow the wheels of the mind down before bed. Fun fact: A former British Vogue beauty editor is behind this line. — J.L.
If it isn't abundantly clear by now, I can't get enough eucalyptus in my life. Mix it with some Epsom salts and my stiff neck doesn't stand a chance. — J.L.
Don't be scared off by this bath even if mustard is not your favorite condiment. Despite the name, the classic bath actually smells like a nose-tingling mix of wintergreen, eucalyptus, rosemary, and thyme, is only faintly yellow, and won't stain your tub. Amazon reviewers, including massage therapists and naturopaths, praise it for flu and cold symptom relief and for helping to alleviate muscle aches and pains. Some even say it can help with a broken heart. — K.H.
I think your entire body deserves some soothing skin-care milk, not just your face. This soak pairs its detoxifying salts with a dose of softening coconut-milk powder that leaves your skin feeling so nourished and moisturized, you could probably skip the lotion once you're back on dry land. — Erica Smith
Besides having the cutest name ever, these bath bombs feature luxurious oils and aromas like rose and jasmine for the ultimate relaxing bath. Jojoba, safflower, and hempseed oil all help to moisturize and support the skin without clogging pores. — Brooke LaMantia
The Best Bath Oils
Bath oils are excellent this time of year when your skin is begging for moisture. Don't expect your bath to become a grease pit when you use these, though — their textures are less like olive oil and more like maple syrup without the stickiness.
This is the bath version of fancy lingerie. I don't use it that often, but it's so good at moisturizing, now might be time to make it part of the regular circuit. — J.L.
Forest Bathing is a big thing in Japan. The term means, essentially, taking a walk in the woods. This blend of evergreen pink pepper, cypress, and juniper berry gets you there without having to travel to Japan, or even take a walk, for that matter. — J.L.
Yes, this isn't cheap, but it's enormous and lasts forever. If the sprig of rosemary inside this bottle doesn't send a clear enough message, this oil is like walking through an herb garden in full bloom (do herb gardens bloom?). Kaufmann wisely poured this fan favorite into a jumbo-size bottle back in 2018, and she's found it hard to keep it on the shelves since. — J.L.
If you want to transport back to the '90s, pop a couple of these bath beads. Unlike the gelatin-cased ones of yore, these are encased with seaweed and contain the brand's signature skin-and-pube-softening Fur Oil. You'll emerge from the tub feeling silky soft on the outside and extra-relaxed on the inside. — E.S.
If I could only pick one bath product, this would be the one. I love how its deep teal color (it's food-grade safe!) turns my bath into a blue lagoon, and its warming, slightly menthol-ish aroma practically commands me to calm down. — J.L.
Photo: Pixelate
This bath oil smells like roses, but not overly so. The smell is a little floral, but also lemon-y and almond-y, creating a sweet floral-fresh smell that I can't get enough of. The oil also emulsifies in the water to become silky without being slimy. — K.H.
This uplifting blend of jasmine, gardenia, rose geranium, and citrus-y bergamot and sweet orange instantly puts you in a good mood, if not a considerably better one. I periodically sniff it throughout my day when I need a boost, but for the full experience, add a capful or two into your tub when you're feeling a bit gloomy, and this will help brighten things up. — E.S.
The Best CBD Bath Products
CBD is in everything these days, but in bath products, its soothing and anti-inflammatory properties make perfect sense.
I like the square shape (odd for a bath bomb), and I like how it's not overly fragrant or overly fizzy like some bath bombs can be. But what I really like is how the meadow foam and camphor manage to soften not just my skin but the bath water surrounding it. And no, I was not high when I noticed this. — J.L.
If I've had a day where my sensitivity buttons were pushed, I'll reach for a scoop of this. Its scent (sorry, terpenes) is subtle, but it calms my nerves nevertheless and it's really softening to skin. — J.L.
While the Dead Sea salts, Epsom salts, magnesium, and sulfur work on sore limbs, your nose enjoys a cocktail of lavender, clary sage, and ginger essential oils. When I open this pack, I'm hit with a burst of lemongrass, which, to me, smells undeniably optimistic. — J.L.
This bath bomb is a great pick-me-up thanks to its fun ginger and grapefruit scent. The cocoa butter and coconut oil combo also leaves the driest of legs (mine) feeling extra-moisturized, and it's conveniently comprised of four break-apart cubes so you can dose your baths based on how stressful your day was. — E.S.
The Best Sampler
Let's say you're still not convinced that a bath can transport you, so you'd like some soak options. 100 Senses Mind/Body Soak Sampler contains six mini bottles aimed at different moods, from the green tea–based calming Intrinsic to the white tuberose Intoxicated, to my favorite, Spirit Guide, a foresty vetiver and agarwood blend. All the soaks get their foam from coconut-derived emulsifiers and contain arnica and magnesium sulfate, because sore muscles always appreciate some soothing, no matter how your mind is feeling. — J.L.
The Best Bath Candles
A candle is kind of mandatory, and despite my sensitivity to aroma, I tend to use scented ones. Bring your favorite into the bathroom; since you're accustomed to it, the scent won't feel overpowering. Where you place it is important, of course. You don't want to set fire to the curtains (shower or window), so bath edges and windowsills are out. I place mine on the tiled floor or atop the nearby toilet seat.
This presently sits next to the tub, and it's become my "night bath" candle. Why? I love its post-rainstorm scent, but I also find the way it flickers against the clear, pale-amber glass in the darkness of our bathroom very soothing. — J.L.
The bright, fresh, outdoorsy tomato scent of this candle is a pleasant wake-up in the morning, especially when it's not tomato season. — J.L.
I'm a Boy Smells fanatic, and this candle is one of my favorites. Born from a collaboration with the yoga brand Sky Ting, the scents of this candle are floral and earthy, meant to transport you to a relaxing mind-set. Think notes of Sichuan pepper, angelica seed, and uplifting jasmine in the ultimate sensory pairing for any bath. — B.L.
And a Word About Time
It's not about the amount of time you spend in the bath, but the quality of it. I'm rarely in mine more than 15 minutes because, frankly, I get bored. I don't read, but sometimes I scroll. I don't play music, but that does sound soothing. For me, it's all about sinking into the water and letting it envelop me. I wash my face, I sink in. I cleanse my limbs with a body scrub, then sink again. I take some deep breaths, look around at the cocoon I've created, then sink few more times. Once out, I'm ready for the day — at least, until it's time for the next bath. — J.L.