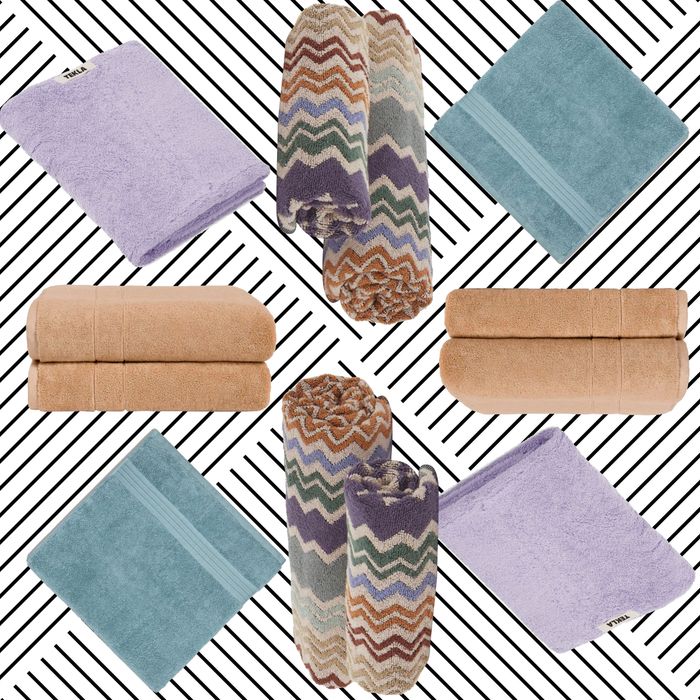 Photo-Illustration: by The Cut; Photos: Retailers
For more of the Cut's favorite fashion, beauty, and home finds, sign up for the weekly Cut Shop Newsletter.
Towels can make themselves the infamous star of your routine; frayed threads sliding across kneecaps, elongated loops finding their way around your pinky, small pools of water gathering at your feet. But you don't have to spend a fortune to upgrade your shower situation — and you don't have to agonize over what a rectangle-size, colored cloth says about you as a person. For that, you have the Cut Shop and our interior-design-minded friends. (Unless it's a beach towel, of course).
What to consider when buying bath towels
There are plenty of technical ways to shop for a bath towel, which tracks because it's as utilitarian as your razor. The difference is these are usually on display.
Material: The most common textile is terry cotton, which is highly absorbent and can be a tad rough as a result. Softer (but typically less absorbent) options include loosely woven waffle and lightweight Turkish towels.
Size: Will you go with a bath towel or a bath sheet? Towels are the smaller standard and bath sheets are larger and more comfortable for the bigger and taller among us.
GSM: Stands for grams of fabric per square meter. The higher the number, the higher the absorbency.
Aesthetics: Last but not least, even if you just want a literal sheet of terry cloth, you still have to decide on a color.
The best bath towels
The Target flex
"These are my go-to daily bath towels," says Lena Bedoyan, a New York– and Los Angeles–based interior stylist and artist. She says they're ridiculously absorbent, but also dry off very quickly. "They also truly get softer and softer with every wash. Plus, the price is great!" If that weren't convincing enough, the towels also carry some of the same certifications as other higher-priced items for a fraction of the price.
Material: 100% cotton terry | GSM: 550–800 | Size: 30" x 56" | Certifications: Made in Green, Oeko-Tex Standard 100 certified
The life of the party
"In my opinion, there is no such thing as stripe overload," says Briana Feigon, head of consumer communications at Shopify. "The bright, chunky lines wake me up after my morning shower and they are the perfect statement piece in my bathroom." We can attest that they don't just look like happiness in a towel; they also function remarkably well. If you don't want to splurge on a set of bath towels, Dusen Dusen's hand towels and washcloths will make a big impact in your space for less coin.
Material: 100% cotton terry | GSM: 700 | Size: 30" x 56" | Certifications: Oeko-Tex Standard 100 certified

The crowd-pleaser
"These Brooklinen Super-Plush bath sheets are so incredibly soft and absorbent, and the size is great for taller people like me!" says Bedoyan. The short members of the Cut Shop team also love swimming in these (which, for the record, are many inches larger than the typical bath sheet), so the appeal is wide. Their pillow-like nature means they don't dry as quickly, but since you can only buy them in pairs, everyone wins.
Material: 100% cotton terry | GSM: 700 | Size: 40" x 65" | Certifications: Oeko-Tex Standard 100 certified

The luxe pick
"I love my towels colorful, as I think a pop of color does wonders for your energy and start to the day," says Sara Ramén, a model and creative based between London and Paris. She likes these Missoni bath towels, which are in a muted tone of the fashion house's signature zigzag, making them versatile enough for sprightly or moody bathroom styles. Either way, they'll give you and your space a boost: "They bring so much life to your bathroom!"
Material: 100% cotton terry | Size: 24" x 39" 

The feathery favorite
"If you like a waffle-style towel as opposed to a plush terry, these are great," says Bedoyan. "They come in a variety of cool colors and get softer with each wash." If the ticket is too steep, the brand also makes great hand towels — after all, people remember how you made them feel, right?
Material: 100% cotton | GSM: 370 | Size: 32" x 59" | Certifications: Oeko-Tex Standard 100 certified

The organic option
If you want a minimalist option with a little spice, Tekla is a Cut Shop favorite. Not only are these made of ultrasoft organic cotton, but the brand has somehow designed particularly beautiful slices of humble terry cotton. And since you and your guests will confront your towels multiple times of the day, consider jumping for a memorable color, like fresh mint or serene lavender.
Material: 100% cotton | GSM: 600 | Size: 27.5" x 55" | Certifications: Oeko-Tex Standard 100 certified
The envy-inducing bundle
If you're familiar with Parachute's popular bedsheets, it may not surprise you that the brand also makes luscious towels that it can hardly keep in stock. Ideal for those who want a spa-like bathroom, these Cut Shop faves are a unique ribbed cotton that may ruin all other terry towels for you.
Material: 100% cotton | GSM: 370 | Size: 32" x 59" | Certifications: Oeko-Tex Standard 100 certified