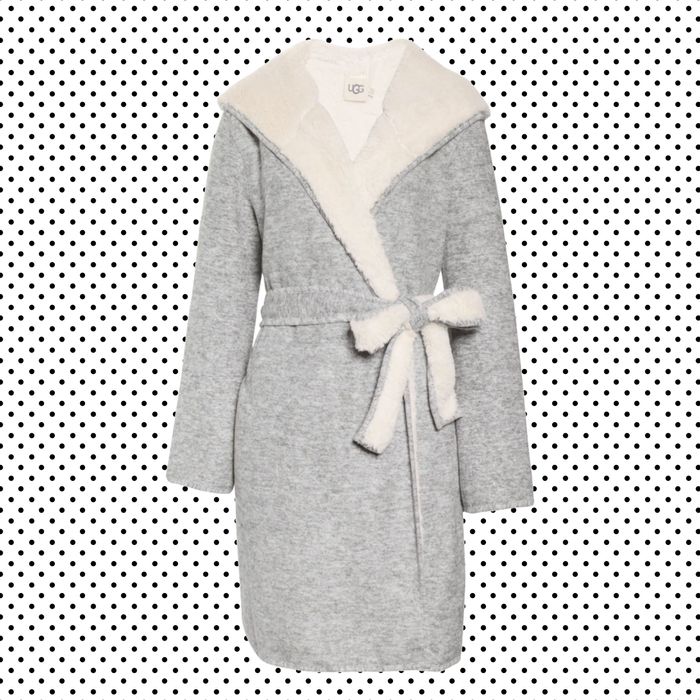 Photo: Courtesy of the retailer.
If you can't be naked around your house, a robe is the next best thing. A great one should feel loose, breathable, and, depending on the time of year, either light as a breeze or cozy as a blanket. We've combed the internet to find the best bathrobes out there for every type of person and in every material from linen to satin. Scroll down for our full list of recommendations.
The Best Affordable Robe
Photo: Courtesy of the Retailer
Made out of a plush velour fabric but cut above the knee, this is the robe equivalent of sticking one leg outside the comforter.
Available in sizes XS–3X.
The Fun Patterned Robe
The 1920s inspired crane print stands out in a world full of flower-print dressing gowns.
Available in sizes S–XL.
The Sexy Satin Robe
Photo: Courtesy of the Retailer
Luxurious, silky, available in 11 different colors — and only $23.
Available in sizes 1X–4X.
The Robe With a Cult Following
People get obsessive about Parachute's soft, lightweight waffle robe. Made from 100 percent Turkish cotton, it'll make feel like you just rolled out of your fancy hotel bed.
Available sizes S–L.
The Super-Plush Robe
If you want to feel like you're wrapped in a blanket, this long fleece robe is the one for you.
Available in sizes S–XL.
The Light, Breezy Robe
This is more of a "throw it on to answer the door" robe than a "keeps you cozy on frigid wintry nights" robe. It's ideal for warmer climes or anyone who naturally runs hot.
Available in sizes S–XXL.
The Cute Reversible Robe
Can't decide if you want jersey or fleece? You can wear this hooded robe with either side facing out.
Available in sizes XS–XL.
The Best-Selling Flannel Robe
This robe is the warmest of the warm. Just heed the reviews and go down a size.
Available in sizes XS–3XL.
The Cool Ecofriendly Robe
This waffle-knit robe looks a lot like the popular Parachute option, but it's made with 100 percent organic cotton and Oeko-Tex certified (which means it's free of harmful chemicals).
Available in sizes XS–L.
The All-Purpose Robe
Reviewers say this robe is comfy, soft, lightweight, and perfect for every season.
Available in sizes XS–XL.
The Incredibly Soft Robe
Maybe you know about the Barefoot Dreams blanket, which is famous for being wildly soft. This is that blanket, with sleeves.
Available in size 1, 2, and 3.
The Floral-Print Robe
The big bursts of flowers make this robe especially pretty.
Available in sizes 1X–4X.
The Snuggly Cocoon Robe
Made from fleece, this sweatshirt-esque cocoon is ideal for staying in and lounging around.
Available in sizes XS–XL.
The Fluffy Hooded Robe
The hood makes this the perfect robe for even the coldest days.
Available in sizes S–4X.
The Simple Yet Luxurious Robe
A long white terrycloth bathrobe is a staple. Treat yourself to one that's super high-quality.
Available in sizes XS–XL.
If you buy something through our links, New York may earn an affiliate commission.