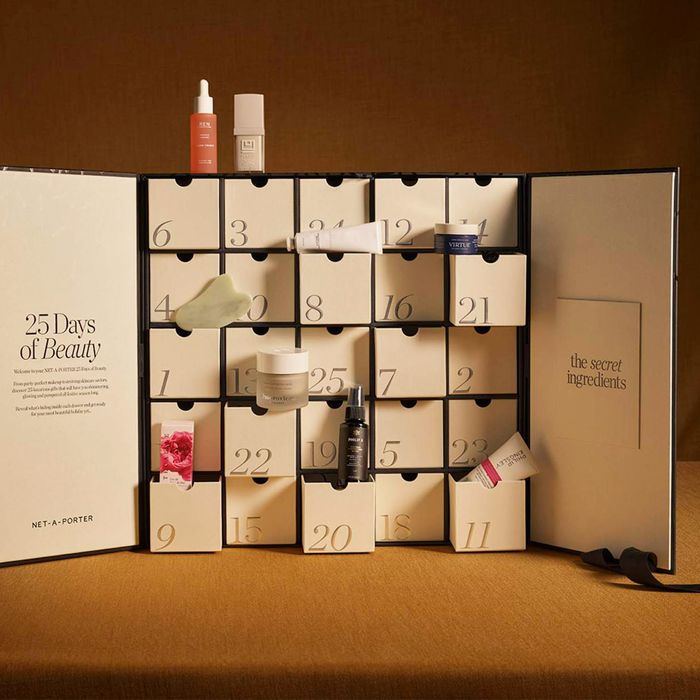 Photo: Courtesy of the retailer.
You may have noticed some posts from our friends at the Strategist on the Cut. They'll be dropping in every now and again, sharing their expertise on the basics you don't have time to research and the weird and wonderful things you don't yet know you need.
The appeal of a giant makeup or skin-care advent calendar as a holiday gift is twofold: There's a little something for everyone, even if you don't know the recipient's taste, and it's almost always a bargain once you account for the retail price of every item individually. "What's great about beauty advent calendars is that behind every door there's something new to try," says Emma Chiu, the global director of trend-forecasting company Wunderman Thompson Intelligence, which is why they make great gifts for curious beauty lovers who are always on the hunt for their next favorite product. The pandemic — and the type of high-touch shopping it has all but stopped — makes 2020 an even better year to consider giving a beauty advent calendar, according to Jenni Middleton, the director of beauty at trend-forecasting agency WGSN. "With shoppers just not experiencing stores in the same way, and therefore not discovering brands and products the way they traditionally would, the advent calendar is a safe way to discover and try launches or established brands," she explains.
Before we get into which brands' advent calendars the pros recommend buying (while you can) this season, after several years in a row of reporting on them, we wanted to look a bit more into why these meticulously packaged collections of products are so covetable. While advent calendars have been popular since the Victorian era, the beauty advent calendar craze is relatively recent and originated in the U.K., according to one London-based expert we're very inclined to trust. "The catalyst for luxury advent calendars (specifically beauty ones) was in 2014, when department store Liberty released a calendar to coincide with the relaunch of its beauty hall," explains Ailbhe Malone, the senior editor over at Strategist U.K. Beauty writer Daniela Morosini, who also lives in the U.K., agrees. "People would queue around the block to get them — I remember seeing endless lines outside Liberty as early as 6 a.m." Morosini adds that "the boom of beauty influencers then brought what was a kind of niche product to a much wider audience." Now, most beauty brands and retailers offer advent calendars for the holiday shopping season, both here and across the pond. "It's kind of like the sneakerhead or hypebeast community. People will wait all year for the drop and want to be first in line," adds Morosini, which is why they tend to sell out fast.
With most of this year's calendars now on store shelves (and some already selling out), we asked Middleton, Chiu, Morosini, Malone, and a few of our own (including Strategist's in-house beauty gurus Rio Viera-Newton and Tembe Denton-Hurst) about the best advent calendars you can still get right now. We'll continue to check in with our experts, too, so we can add any late arrivals that they think are worth the money. To ensure you don't miss out on any you like, we noted the availability of each beauty advent calendar in its corresponding blurb below.
Both Malone and Morosini say that ASOS is selling a couple of beauty advent calendars of note this year. This face-and-body one includes 24 products, 13 of which are full-size, from brands like Dr. Paw Paw, First Aid Beauty, and Sunday Riley, to name a few. "The brands are surprisingly good," says Malone. Morosini agrees, adding that this would make a great option for shoppers on a budget.
Availability: Now.
Morosini also told us about ASOS's Grooming Advent Calendar, which includes goodies from Harry's, Marvis, and the Ordinary, and would make a particularly great gift for any boyfriends or younger brothers looking to step up their skin-care or general hygiene routines. It contains half as many products as the calendar above, but 8 of its 12 things are full-size, with 4 coming in smaller, travel-size packaging.
Availability: Now.
Middleton says that the advent calendars from Rituals are annual best sellers in part due to their packaging, and this year's is no exception. Designed to look like a snow-covered streetscape, Middleton says the cherry-red calendar will "remind shoppers of happier and jollier times." Inside are 24 miniature beauty and home products, including four tiny candles in festive, soothing scents like wild fig and green cardamom.
Availability: Now.
There are a few super-fancy calendars further down on this list (including ones from Diptyque and Net-a-Porter), but this YSL Beauty calendar is the one that Denton-Hurst recommends if you're looking for pure luxury. It's filled with 24 of the brand's best, most beloved products, including versions of its Black Opium fragrance and cult favorite Touche Éclat illuminating concealer.
Availability: Now.
A far more reasonably priced calendar filled with beauty products is this one from Sephora. According to Chiu, "Sephora's Wild Wishes Advent Calendar is an affordable collection of beauty nuggets that includes fizzing bath stars for relaxation, as well as eyes, lips and nose masks for targeted skincare." The calendar features a mix of 24 mini and full-size products, and Chiu says it's especially "great for those wanting to explore the Sephora collection."
Availability: Now.
Middleton told us she saw luxury nail polishes "soar in the early stages of this pandemic." She chalks that up to "our video-call saturated lives," for which "we will use a nail color to add a splash of magic to our onscreen selves." She loves Ciate London's Mani Month calendar, which includes 22 mini nail polishes, one full-size version, and a mini watermelon lip oil, too. The polishes all feature Ciate's new formulation, which is infused with strengthening biotin, nourishing bamboo, and hydrating bakuchiol extract to keep nails strong and healthy. Plus, they're made with biodegradable glitter and are packaged in recyclable bottles.
Availability: Now.
L'Occitane, a brand that tends to be a hit with moms (and people who hoard hand creams to deal with handwashing-induced dryness), has an advent calendar packed with some of its best-selling products, from soaps to those creams. When you consider that a single hand cream from the brand typically runs for $12 a pop, the fact that you're getting a pocket-size medley of 24 goodies makes this a really nice set to invest in for yourself — or someone you're looking to impress. Middleton recommends it, noting that this advent calendar's packaging is as desirable as what's inside it. "Calendars that are decorative and make the home feel more festive will be popular, and L'Occitane's calendar fits the bill," she says.
Availability: Now.
The 12 miniature products within Benefit's advent calendar include sample-size tubes of three different mascaras — "They're Real" Lengthening & Volumizing Mascara, Bad Gal Bang! Mascara, and Roller Lash — from our list of the best mascaras, according to makeup artists. Strategist junior writer Chloe Anello told us about the calendar, which also contains fan-favorite products like the brand's Hoola Matte Bronzer. She says it would make a great gift for a tween or teen who is just getting into makeup because the affordably priced calendar and its selection of goodies are "youthful and fun."
Availability: Now.
Photo: Retailer
While this calendar's name suggests it would include products from Anthropologie's in-house beauty and décor line George & Viv, it actually contains none. Instead, it is full of stuff from other beauty brands we know and love a lot, including products from Lanolips, Marvis, Cocofloss, and Herbivore Botanicals (which makes skin-care and bath products that Denton-Hurst says always "live up to the hype)." Another of the 24 things inside the reasonably priced calendar is the Pai Light Work Rosehip Cleansing Oil, which Rio says has an "antioxidant- and omega-rich formula that ensures your skin is never stripped of moisture, while doing such a good job at gently removing all your sweat and makeup from the day." The charming illustrations that artist Emily Taylor created for the packaging, which is designed to recall a building and features interior drawers hiding the products, make the calendar even more giftable.
Availability: Now.
Photo: Retailers
As a whole, Middleton says that this year's beauty advent calendars "will be less about party makeup (because who's really going out to festive parties?) and more about relaxing, nourishing, and treating the face, hair, and body." She notes that the Elemis calendar exemplifies this with 25 skin-care products (more than double the amount in its 2019 calendar), including the brand's Pro-Collagen Marine Cream, Herbal Lavender Repair Mask, and more lotions and potions ideal for dry winter skin.
Availability: Now.
Photo: retailer
Middleton told us she is also impressed with Glossybox's advent calendar, which offers more than $550 worth of products for just $89 (for subscribers) — or a fifth of that price. Nonsubscribers only need to pay $10 more (or $99) to get all the stuff, which includes full sizes of Tarte Cosmetics's Micellar Magic Makeup Remover & Cleanser, 111Skin's Rose Gold Brightening Facial Treatment Mask, and Dr. PawPaw's Tinted Ultimate Red Balm.
Availability: Now.
Freedm Street's plastic-free calendar includes only cruelty-free and vegan products. According to Middleton, such "eco-calendars will do well with consumers who are concerned about their impact on the environment." The environmental aspect isn't the only thing that makes this advent calendar a little different: In addition to 17 beauty products, it contains lifestyle products (like home fragrances and clothing), snacks, and three doors that open to reveal a different charity Freedm Street has donated to in your name (the price of the calendar reflects the cost of these donations). What's more, the calendar is also customizable, allowing buyers to choose between dark and nude shades.
Availability: Now.
The advent calendars from skin-care brand Espa are always beloved for their range of self-care products, according to Middleton, who says this year's should be no exception. Among its goodies are the brand's Soothing Bath & Body Oil, Skin Rescue Balm, and Refining Skin Polish — three things we think sound particularly indulgent for anyone who loves a good spa day.
Availability: Now.
Chiu told us about British beauty store Feelunique's beauty advent calendar, which has sold out for five years running. "This year the calendar provides the ambiance of summer vacation with its mini Urban Apothecary Fig Tree Candle, and adds to the holiday glow with products such as the BeautyPro Thermotherapy Warming Gold Face Mask and Charlotte Tilbury's Magic Serum Deluxe," she says, naming just a few of the calendar's offerings. The packaging is also display-worthy: Designed by paper artist Lydia Shirreff, it depicts an abstract take on a Christmas wreath. And, this year, Feelunique has taken a page straight from Willy Wonka's playbook to make its calendar even more desirable: One of its advent calendars has a hidden golden gift card worth £1000 (or roughly $1,273) that you and a friend or family member of your choosing can spend at the retailer.
Availability: Now.
Photo: Retailer
According to Middleton, "scent has taken on a new purpose in the pandemic." When you're stuck inside most of the time, she explains, you'll be far happier when your home — or your body — smells pleasing. That's why she's predicting fragrance-filled calendars, like Acqua di Parma's, "will do well." The Italian brand's handsome calendar contains 25 products featuring a mix of its signature scents, like the citrusy Colonia and floral Le Nobili, all of which are made in Italy. The packaging is designed to look like a hatbox when closed; when open, it reveals a festive Italian-style home.
Availability: Now.
Jo Malone's is another fragrance-packed calendar. Middleton says it also nods to the importance of scent in people's quarantine lifestyles with many products "that are for scenting the home to create relaxed, cocooning spaces to chill out in." The calendar's 24 included perfumes and candles are each tucked inside a tiny-but-sturdy drawer — all of which are part of a nice-looking package that the brand says you can reuse for jewelry or makeup after you've opened everything inside.
Availability: Now.
For a more affordable advent calendar full of fragrances, Middleton directed us to this one from Atelier Cologne. It contains 19 mini-versions of the brand's signature perfumes, which run the gamut from fruity to floral to woody, making it a great idea for someone who's always on the hunt for their next signature scent. The calendar also includes a full-size of the brand's Clémentine California perfume, which has notes of clementine, juniper berries, and vetiver — and retails for $80 on its own.
Availability: Now.
The advent calendar that our experts say started it all is, as Middleton puts it, "as eagerly awaited as Santa with his sleigh, as every year it features a great value set of products." This year those products include 19 larger items and six sample-size ones (the larger items, according to Liberty London, include Diptyque's Baies candle, Augustinus Bader's The Rich Cream, and Le Labo's Santal 33 perfume). Those three products alone would normally retail for $204, so the $275 advent calendar, while not cheap, is definitely a good deal. And, for the second year in a row, Liberty is also offering a "men's" advent calendar, which includes brands like Frédéric Malle, Kiehl's, Malin + Goetz, and more.
Availability: Now.
"If you are shopping for a teen (or love a bath) Lush's calendars are sweet," says Malone. This year, its 12-product advent calendar offers limited-edition holiday offerings, like the brand's Yog Nog Shower Gel, alongside returning holiday favorites, like the Candy Cane Bubble Bar and Celebrate Body Milk. Malone does have one tip of sorts about this one, though. After doing a story on Lush's bathbomb factory a few years ago, she discovered that the products don't age as well as, say, a fine wine, and suggests anyone who buys this calendar do so with the intention of using its goodies as soon as they're able. "It's not a calendar I'd advise rationing, so I'd suggest buying this one to divvy up between housemates, or cousins (a thrifty Christmas gift would be to parse the calendar into separate presents)," she says.
Availability: Now.
Photo: retailer
For luxury beauty lovers, it doesn't get much fancier than Net-a-Porter's annual selection. The retailer is known for curating a mix of products that are often uniquely cult-y and expensive. Chiu calls it her favorite calendar this year because "it really taps into the mind of what beauty consumers want at the moment" by including "beauty products that emphasize self-care rituals." This year's calendar, for example, includes things from some of the Strategist's most beloved (and pricey) hair and skin-care brands, like Dr. Barbara Sturm's Hyaluronic Serum and Slip's Silk Scrunchies. "What I particularly like about this year's selection is the inclusion of long-lasting beauty tools, like the jade Beauty Restorer by Hayo'u — a facial massage tool — among the small testers" adds Chiu. While she says makeup is still part of the mix — the calendar includes Charlotte Tilbury's Matte Revolution Lipstick and Ambient Lighting Powder by Hourglass — "there is a smaller emphasis on this" compared to past years, she explains.
Availability: Now.
Photo: Retailers
Middleton says that Diptyque's advent calendar is another one full of "products that scent your space and make the home smell gorgeous." While $425 is a lot to spend on such a gift, the price seems more reasonable when you consider that the calendar contains both full-size and miniature surprises among its 25 products. (To put it in some perspective, the calendar costs a bit less than eight of the brand's regular-size candles.) Plus, when it comes to packaging, this calendar, which features illustrations by artist Ugo Gattoni, is hard to beat.
Availability: Now.
Denton-Hurst told us to keep an eye out for nail-care brand Olive & June's 2020 advent calendar because it's the first to be sold by the company. According to her, Olive & June "has gained something of a reputation for its crazy-long wear time." This calendar includes nine mini-polishes in the brand's most festive shades, along with two miniature versions of its signature ergonomic bottle handle, the Poppy, which you can use to top any bottle of nail polish. It also has other stuff you'll need for a professional-level manicure at home, including a cuticle serum, nail-art stickers, a nail file, a buffer, and more.
Availability: Preorder; releases on October 27.
The Strategist is designed to surface the most useful, expert recommendations for things to buy across the vast e-commerce landscape. Some of our latest conquests include the best acne treatments, rolling luggage, pillows for side sleepers, natural anxiety remedies, and bath towels. We update links when possible, but note that deals can expire and all prices are subject to change.
Every editorial product is independently selected. If you buy something through our links, New York may earn an affiliate commission.