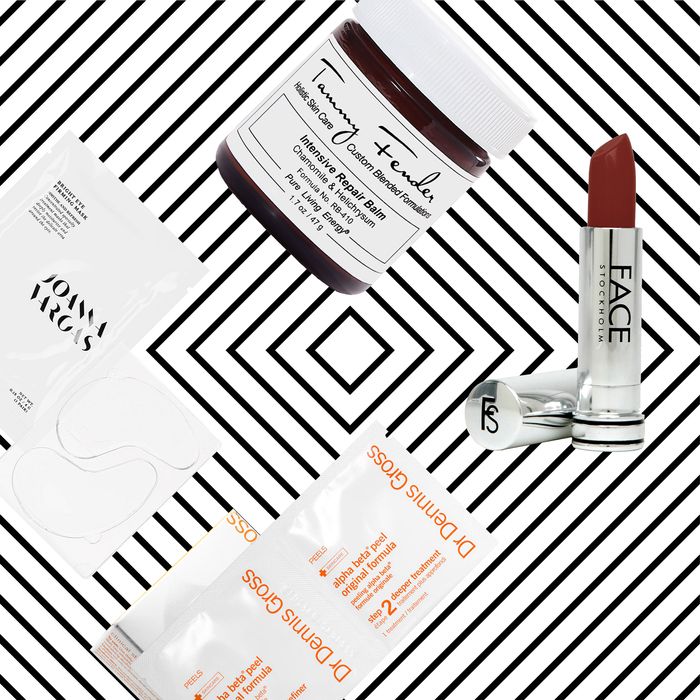 Dermstore's Black Friday and Cyber Monday sales.
The brands have outdone themselves this Thanksgiving shopping weekend, beginning with Dermstore, which is offering some serious deals. Starting now, almost all the brands in the store are 30 percent off (use code FRIDAY). Here are our picks for the best beauty stuff under $100 to snap up immediately, whether it's for gift-giving to others or yourself.
JFK Jr.–Approved Lipstick
This "wildly flattering" semi-sheer lipstick was allegedly worn by Carolyn Bessette Kennedy.
Original Price: $22
A Sunscreen Even 'Baywatch' Stars Love
This sunscreen is so popular that it's recommended by everyone from Zac Efron to Kourtney Kardashian to the cast of Baywatch. Dermatologists love it, too, because it contains moisturizing hyaluronic acid.
Original Price: $48
A Natural, Nice-Looking Deodorant
This is a natural deodorant with no arty-farty, hippie vibes. It doesn't contain GMO's, parabens, sulfates, aluminum, petroleum, or pesticides, but it comes in a stick, not a tub or jar like most natural deodorants. More importantly, I've tested it in multiple workout classes and it definitely blocks BO.
Original Price: $21
The Hair Towel That Dries Hair Faster
This turban isn't just for looking like you're part of Mario Testino's towel series — it'll dry your hair better, too. Made of microfibers finer than silk, it air-dries your hair quickly, without subjecting it to the frizz-causing friction that comes from even the fluffiest towel. It works for all hair types, but is particularly great for curly hair.
Original Price: $40
A Dry Shampoo for Dark Hair
If most dry shampoos make you look like you're wearing a barrister wig, consider this one, which is tinted a dark brown. Not only does it soak up oil, but it does such a great job volumizing that I use it as a texture spray on clean hair.
Original Price: $35
If you wear makeup, you really should double-cleanse your skin to ensure that you go to bed with a face free of grime, dirt, and bacteria (which can lead to pimples). Dermalogica's set comes with a pre-cleanse balm and a wash so that you can double-cleanse with ease.
Original Price: $18
Slowly but surely, everyone at the Cut is turning into a Paula's Choice junkie. Creator Paula Begoun has an appealingly scientific, no-fluff approach to skin care. This kit contains an essence, a treatment, and a mask for brighter, glowier skin.
Original Price: $79
For Impossibly Smooth Skin
It's also a great time to stock up on this chemical exfoliant, which sloughs away dead skin to destroy breakouts and reveal glowier skin.
Original Price: $29
The Actress-Approved Sheet Mask
These sheet masks by Sofia Coppola's aesthician, Joanna Vargas, are a favorite of Judy Greer and Haley Bennett. They make your skin look dewy, and better yet, they don't drip.
Original Price: $75
I send all my curly-haired friends to Devacurl, the best curly hair salon in the city. This set contains a best-of kit of their products, including two conditioners, two masks, and a scalp treatment. (The Strategist loves the brand's One Condition.)
Original Price: $48
It's the best-selling eye cream on Dermstore's site. Reviewers praise it as their favorite, claiming it's the only eye cream they ever use because "it does what it says." And dermatologists like it because it contains clinically proven moisturizing acids like hyaluronic and alpha hydroxy acids, along with antioxidants.
Original Price: $97
Highlight for the Holidays
This luminizer is single-handedly responsible for the glowiness in every J.Crew catalogue. It gives your cheekbones a subtle, believable sheen rather than a radioactive glare.
Original Price: $86
If You Treat "Mask" Like a Verb
Dermatologist Peter Thomas Roth's face masks have a cult following. This kit contains five of his best-sellers along with an applicator. The Black Moor Mud Mask is a particular favorite of ours because it sucks up oil and makes your pores look tiny. Beauty YouTubers testing it out report being "shook" by the instant effects.
Original Price: $75
A Moisturizer for Oily Skin
Photo: Ruben L. Vazquez/Ruben L. Vazquez
Tammy Fender is a Palm Beach–based aesthician who books out a year in advance, even for clients like Gwyneth Paltrow and Rod Stewart. People call her moisturizer a more natural alternative to La Mer. Online reviews are effusive for this gel-like balm full of botanicals which people credit with being able to moisturize and treat dark spots, even for those with acne-prone skin.
Original Price: $130
A Peel Pad That Won't Make You Look Peeled
Don't be scared: Acids are great for your face and prevent breakouts, exfoliate, and moisturize. This is dermatologist Dr. Dennis Gross's hero product that's won countless beauty awards. Each wipe contains five different types of acids to deliver skin that glows but doesn't feel irritated.
Original Price: $88
For people who say it's impossible to find an anti-aging and anti-acne serum, here's your unicorn. This serum is a great, non-creamy option for people with acneic skin. It contains natural forms of breakout-fighters like salicylic and lactic acid. It even treats dark spots or uneven skin tones with natural exfoliating acids that won't leave your face flaky and will clear up dry skin patches. Rosie Huntington-Whiteley and Brooklyn Decker, neither of whom is paid to endorse it, are fans.
Original Price: $135
A Way to Fake Thicker Hair
Did you know that some celebrities apply eye shadow to their hairlines? It's to trick the camera into believing you have a thicker head of hair, or so say Kim Kardashian's hairstylist and Victoria Beckham's hairstylist, who both told us about this trick. This is essentially makeup for your hairline. It comes in nine different shades, doesn't smudge, and easily washes out.
Original Price: $25
If you buy something through our links, New York may earn an affiliate commission.