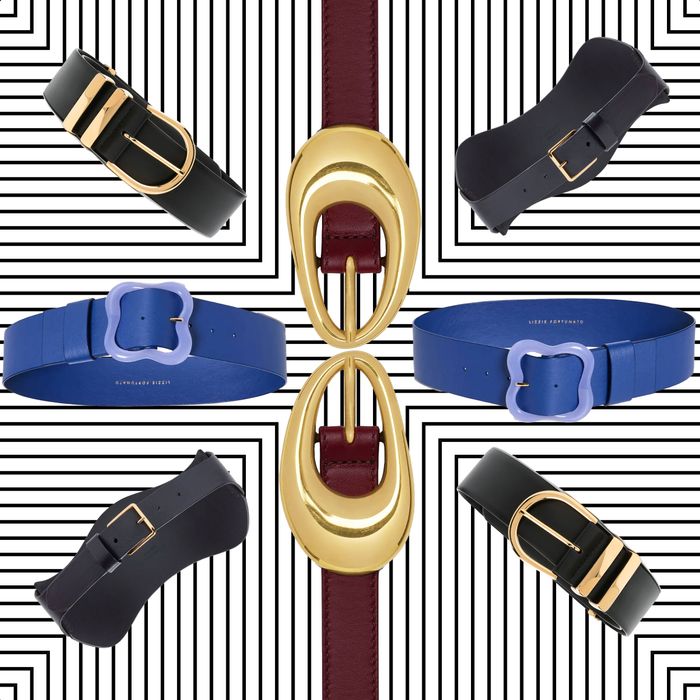 Photo-Illustration: by The Cut; Photos: Retailers
For more of the Cut's favorite fashion, beauty, and home finds, sign up for the weekly Cut Shop Newsletter.
As a fashion- and pop-culture-obsessed teen growing up in the early aughts, I spent a great deal of time emulating whatever Hilary Duff and Lindsay Lohan were wearing and getting outfit inspirations from shows like Lizzie McGuire and The O.C. (before graduating to Sex and the City, of course). Needless to say, there was a lot of overaccessorizing.
In the mélange of micro-minis, layered tank tops, kitten heels, newsboy caps, and belted everything, I remember being totally mesmerized by that Carrie Bradshaw look starring one very famous polka-dot belt — instead of wrapping it around her waist like the rest of us, Carrie wore the now-iconic belt around her rib cage. Why? I'll never know. But, despite the fact that there was no real rhyme or reason for Carrie to wear a belt around her amazingly chiseled abdomen, that Sex and the City fashion moment helped me define the meaning of a "waist belt." It also raised the question: Do belts really need to hold up our pants, or can they just be the cherry on top of a great outfit?
Long before Carrie's green belt, there was Dior's "New Look" in 1947. The revolutionary design marked the debut of the modern cinched waist and went on to inspire the belted silhouettes of the 1950s and '60s.
In the 1980s, belts — and thick belts, at that — transcended from beyond the waist to the hips. The trend reemerged in the early 2000s, and belts became a wardrobe staple for every young Hollywood "It" girl. If you weren't wearing a chunky waist belt that covered your midriff, you were most likely wearing a low-rise hobo belt that was just slouchy enough to look effortless (when, in reality, it was constantly sliding around and looked like a wardrobe malfunction rather than a trendy style choice). But I digress! What Mischa Barton as Marissa Cooper wore was automatically cool.
Last summer, Vogue declared that statement belts were having "a moment,"but maybe the concept of the "statement belt," or just belts in general, never really left. It's more about the statement you're setting out to make.
Today, there is still love for sophisticated belt styles, classic-designer logo belts, and simplistic staples, but belts have also evolved beyond their original purpose. From the wave of belted harness styles and overly belted shoes to dresses made completely of belts and even belted handbags, this once-backseat accessory is taking center stage as of late.
So, belts are indeed back (although the jury is still out on whether or not they actually left), which means it's time to cinch up your summer wardrobe with the internet's very best options.
Whether you're still holding on to the 2000s micro-mini trend with the Diesel skirt belt, looking for your definition of the perfect waist belt, or finding a new take on the classic Gucci Marmont, bring belts back to your wardrobe with our roundup of the best belts for women of 2023.
The Best Classic Belts
When it comes to logo belts, there's nothing more timeless than the Celine Triomphe. There are a few colors to choose from, but this light-brown belt with gold hardware is especially chic.
If you're not into logos around your waistline and would rather channel the quiet luxury aesthetic, this simplistic Khaite belt is for you. It's a favorite of Meghan Markle and has a weight to it that'll make you feel like royalty when you put it on.
Recently spotted on Gigi Hadid, this Nili Lotan accessory is another classic staple for anyone's wardrobe. The Italian-made leather and polished gold buckle make it a great go-to belt.
If you want a "western meets classic" style, this leather belt from Banana Republic is a stylish option that doesn't break the bank. It gives a cool vintage allure with its antique nickel hardware, and can be worn as a waist belt or around the hips.
The Best Statement Belts
Kate Cate founder, Caterina Ravaglia, says this is one of the first belts she ever designed. "I remember trying the paper model on all my friends and family to find the perfect shape that would enhance the waist," she says. The brown leather style is approved by everyone's favorite Barbie girl, Margot Robbie, who wore it over a gingham Maison Margiela shirt and fringe jacket for a cowgirl-inspired look in the May issue of Vogue. But you don't have to go full western to rock the Regina belt. "I love to wear it over men's shirts or beach cover-ups for aperitivo," Ravaglia adds.
Kick it back to the early 2000s with this boho-inspired segmented circle leather belt. The studded detail and large coin buckle make it a great festival accessory.
It's no secret that corsets are back in fashion and are being incorporated into everything from tops and dresses to belts. But this Altuzarra accessory features a more modern take on the corset concept with its wavelike sculptural design.
Lizzie Fortunato is beloved for colorful resin jewelry, and the brand uses the same material to create the eye-catching blue buckle on the Florence belt. It makes for the perfect pop of color.
Possibly more of an ornate jewelry piece than a typical belt, this AREA accessory — which features a crystal arrangement of drop gems and seashells — is a dazzling design you can pull out for extra-special occasions.
The Best Skinny Belts
Millennials who loved the slouchy belts worn by cool girls like Hilary Duff and Megan Fox back in the early 2000s will appreciate this Isabel Marant design. It gives off that same effortlessly cool, laid-back look, plus it's available in four colors.
Obsessed with the mermaidcore trend? This metallic faux-leather belt with delicate conch shells is the summer accessory you've been looking for. With the easy, shoestringlike ties, it can go way beyond a typical waist belt. Style it as a necklace or maybe even a hair tie. Sky's the limit!
For a skinny statement style, try this one from Bottega Veneta that mimics the design of the brand's iconic drop earrings. The Barolo color is a charming alternative to classic black and brown belt shades.
If you want something a bit more unexpected than the Hermès "H" buckle belt, consider this slim and sleek style featuring the designer's signature swinging padlock. It's sophisticated and reversible — so you can wear it not one, but two different ways.
Who knew that having a mirror attached to your belt would be so necessary? An innovative yet practical twist on the classic croc belt, this Tory Burch accessory (paired beautifully over the brand's jersey chiffon skirt) is sure to elevate the modernity of any look. Not to mention it will probably become everyone else's favorite accessible mirror.
For those who are fans of the classic crocodile belt but want something a little more dainty, we love this slender style from Anthropologie. It comes in yellow, pink, and taupe.