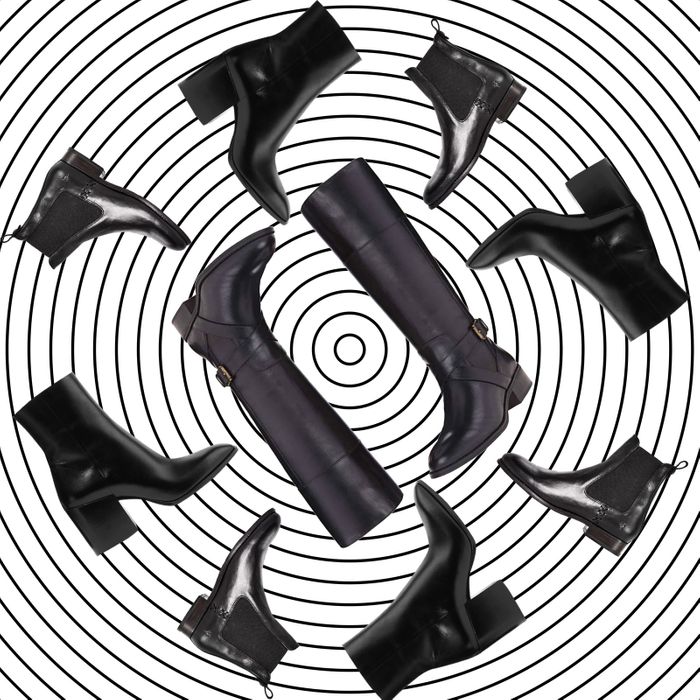 Photo: Courtesy of the Retailers
One indisputable staple of a fall/winter wardrobe is a good sturdy black boot. What qualifies as a "normal" boot? Glad you asked. Something that you can wear five days of the week without drawing any comment. A normal boot is unfussy, sturdy, and versatile. Consider it the ole faithful of your closet. But that doesn't mean there aren't opportunities to showcase your personal style. Maybe you like a bulky combat boot, or maybe you want something sleek and high-heeled. Your boot companion of choice may be tall, ready to be dressed up with a long pleated skirt, or ankle-length and rugged. Below, 24 pairs that are perfectly, wonderfully normal.
Blundstone boots are somewhat of a cult-favorite Chelsea boot. They're casual, heavy-duty, and comfortable enough to wear all day.
If your closet is almost all Everlane anyway, you may as well get your boots from them, right?
Nisolo prides itself on ethical production. It owns a factory in Peru, where it makes 89 percent of its goods, and says all workers work in Fair Trade conditions.
If you like something a bit chunky, and that can work for rain or shine, these are a good option.
The key design feature of this boot is the pointed toe. Which, if I remember correctly from watching What Not to Wear, means it'll make your legs look longer.
A classic Chelsea shape at an affordable price.
A riding boot is a bit preppier than a Chelsea boot, but equally wearable if that's your style.
R.M. Williams started out making boots for ranchers (so you know they're durable). But the brand is now a favorite in Australia for its sleek, elegant designs.
Ah, Dr. Martens — a classic wardrobe staple for anyone who likes an edgier look.
This boot is made of vegetable-tanned leather (which is better for the environment) and comes in extended calf sizes.
This boot has just a touch of gold hardware. Not enough to be flashy, just enough to make it look more like a city shoe than a true riding shoe.
If you're wearing a lot of wide-leg, cropped pants, boots with a higher shaft are your best bet for the winter. They'll keep your ankles from freezing.
Fashion people love Acne's well-made, supremely wearable boots.
These riding boots look a bit more cowboy than equestrian.
Frye makes a Chelsea boot that's slightly more rugged than some of the other, sleek ones on this list. Don't be afraid to bang them up a bit — they'll look better with age.
These block heels will be a bit more comfortable than stilettos.
The Stuart Weitzman 5050 boots look classic even though they're slightly over-the-knee. If you're torn between wanting to look normal and loving drama, these are the boots for you.
The metal tab and thin black laces make this boot look like a hybrid between a hiking boot and a loafer — great for the menswear enthusiast.
By Far is known for its Victorian boots, but it makes a killer plain black boot, too.
The little bow in the back and a 3-inch heel make these boots undeniably feminine.
Whereas if you want a boot that feels like a men's dress shoe, these are for you.
Common Projects' signature gold serial number is the only design feature on this otherwise minimal pull-on boot.
This R.M. Williams boot is a bit more designed, with a western-inspired insignia on the front.
Christian Louboutin makes a casual leather boot with a rubber sole. Who knew?
If you buy something through our links, New York may earn an affiliate commission.