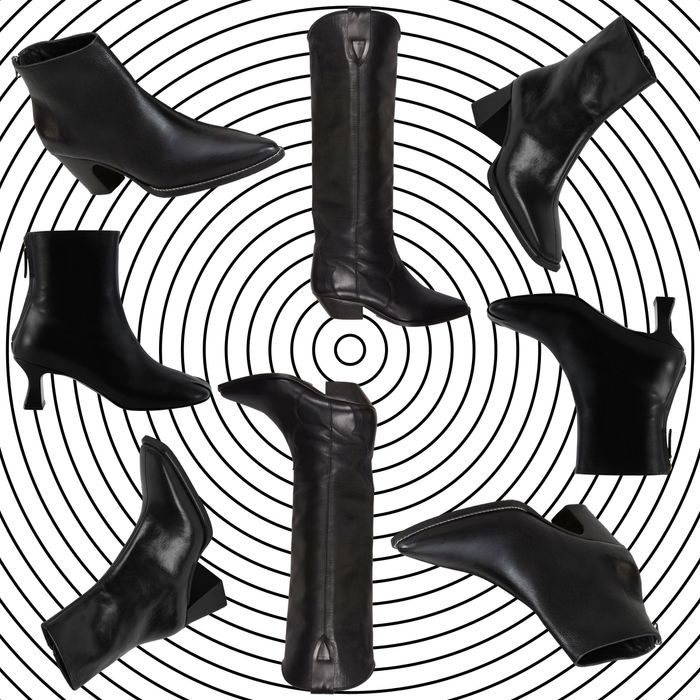 Photo-Illustration: The Cut
What makes a good black boot? It depends on whom you ask. A general rule of thumb, though: It has to be sturdy, reliable, and versatile. If you're going to invest in a pair, it should a pair you can wear with almost anything.
Now that sandal season is gone and boot season has arrived, we've rounded up the black boots the Cut Shop team swears by (and other great options). These are the boots we grab every season and wait impatiently to wear all year. Read on to see our picks.
Cut Shop Favorites | Under $200 | Under $500 | Under $800
Cut Shop Favorites
I've worn these bulky platform boots regularly since buying them four years ago. They have managed to withstand four winters in the city and are still intact.
Behold another pair in my rotation. These faux-leather boots from Shop Peche look far more expensive than they actually are.
Senior shopping editor Bianca Nieves swears by her Vagabond Shoemakers boots. She always brings her pairs (yes, multiple) out when fall arrives. The brand offers a wide range of footwear, but its selection of sturdy black-leather boots reigns supreme.
Another Cut Shop favorite reigns from South Korea. The brand Reike Nen offers great-quality boots that fall under the investment category. For example, if a chunky heel isn't for you, consider these, which have a smaller but still sturdy heel and are shy under $500.
For those of you who are not exactly ready to try cowboy boots, these subtle western-inspired boots are a favorite of senior fashion writer Emilia Petrarca.
Petrarca also speaks highly of Loeffler Randall's boots. If you're looking for a classic ankle boot, consider the brand's best-selling pair.
Fashion news writer Danya Issawi swears by another western-inspired pair from Isabel Marant. While you can shop this pair now, she also recommends adding them to your wishlist and checking back for sales. (That's how she got her pair!)
Because you need a good black boot for fancier occasions. Junior beauty writer Asia Milia Ware's favorite? These statement boots from Hanifa. Featuring a sculptural heel and detail on the square toe, this anything-but-basic pair is also wide-calf friendly.
Under $200
If you like something a bit chunky that can work for rain or shine, these are a good option.
Sam Edelman is always a good option for affordable leather boots. This ankle bootie has a heel that might look like a stiletto but is actually wider, meaning it's way comfier to walk in.
Blundstone boots are somewhat of a cult-favorite Chelsea boot. They're casual, heavy-duty, and comfortable enough to wear all day.
The key design feature of this boot is the pointed toe. Which, if I remember correctly from watching What Not to Wear, means it'll make your legs look longer.
Under $500
If you struggle to find wide-calf boots, that's kind of Duo's whole thing. The boot brand offers a variety of calf sizes and even a tool to measure your calves for the right fit.
Because a good pair of knee-high boots don't have to break the bank. This chic pair from Vince Camuto is just over $200, with a square toe and easy-to-walk-in chunky black heels. The boots have a looser fit on the calf for wearing over denim, and they also come in wide-calf sizes.
Pleated boots to match your pleated pants or skirts, of course. These leather boots from the sustainable brand are ideal if you want something with a little more edge than the classic knee-high boot. Even the heel features the pleated design!
R.M. Williams started out making boots for ranchers (so you know they're durable). But the brand is now a favorite in Australia for its sleek, elegant designs.
Made for wider calves, these riding boots look a bit more cowboy than equestrian. The brand is a favorite for its high-quality boots, meaning you'll get more than a few winters of wear out of these classic shoes.
Under $800
The Stuart Weitzman 5050 boots look classic even though they're slightly over-the-knee. If you're torn between wanting to look normal and loving drama, these are the boots for you.
If you're willing to tower above everyone, we recommend grabbing a good pair of platform boots, like these from Brother Vellies with a comfier rubber sole.
If you buy something through our links, New York may earn an affiliate commission.