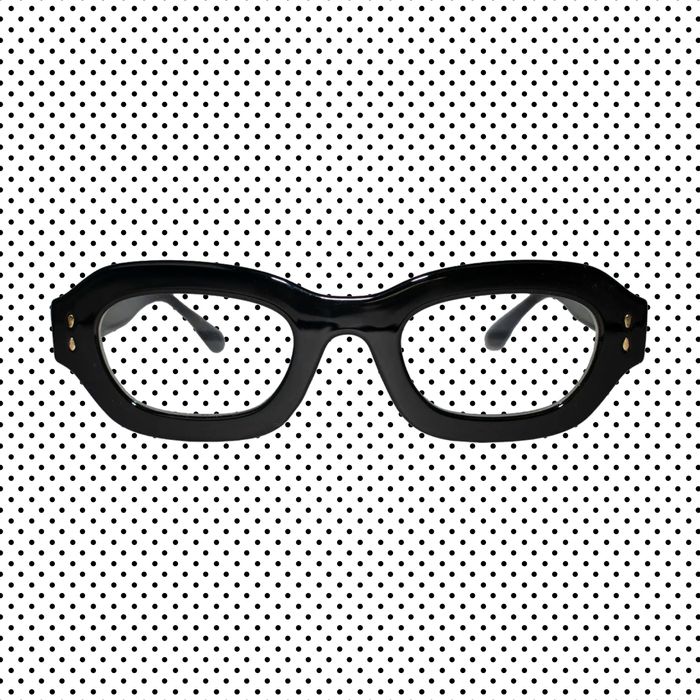 Photo-Illustration: Courtesy of the retailers.
How are your eyeballs lately? They're probably experiencing some intense digital eye strain. Even though we've started going into offices again, we're still finding ourselves spending an inflated amount of time (like, all day) staring at our big, medium, and little screens. According to the Vision Council, a group that represents eyeglasses manufacturers, individuals suffer from physical discomfort after screen use longer than just two hours (!!!) at a time — meaning your eyeballs need some TLC. Whether you've already invested in some blue-light glasses or still remain skeptical about them, we spoke with some experts to get all the details you need to find the right pair for you.
What even is blue light?
While it may sound very technical, blue light is just another form of light that we see. "Blue light is all around us. It's a high energy, short wavelength of light that comes primarily from the sun," says Dr. Julie Hively, a LensCrafters optometrist. "It's what makes the sky look blue." While this light is found in nature, its artificial counterpart is also emitted from digital devices.
So is blue light bad for you?
In general, no. We really need blue light. According to Dr. Inna Lazar, an optometrist based in Connecticut, [blue light] "helps regulate the circadian rhythm, which helps us wake up in the morning, stay awake throughout the day, and eventually go to sleep once it turns dark. In addition, it boosts alertness as well as memory and cognitive function."
How do blue-light glasses actually help?
Whether you wear prescription glasses or not, blue-light lenses can be found and added over most glasses. Christy Kimball, the owner of Framed Ewe Optical, says that these lenses can help protect your eyes by reducing the amount of blue light they're exposed to. 
However, Dr. Lazar notes that while "blue light from devices gets blamed for red, tired, irritated eyes and blurry vision, there's no evidence that blue light is what is causing those symptoms. Instead, that's digital eye strain, caused by extended time looking at screens."
To help with that, she suggests using the 20-20 rule — that every 20 minutes, you look away from the screen at an object about 20 feet away and blink your eyes. "Integrating that habit into your work routine can help your eyes from getting strained and dry," Dr. Lazar recommends. 
Can anyone wear blue-light glasses?
Anyone can wear blue-light glasses, but if you spend considerable time on screens late at night, Dr. Lazar recommends you make the switch.
If You Loose Things Easily
This inexpensive two-pack from Amazon gives you a backup pair in case you easily lose things or you like having options when it comes to having things to wear. However, these are not great if you already have a prescription since they come with only blank blue-light-blocking lenses. But with over 42,000 ratings on Amazon, they're a great option to have if you just need some blue-light protection.
If You Want Something Timeless
These simple, stylish readers are from Caddis, a self-proclaimed "anti-aging brand." Besides being very cute, all of its glasses block blue light with your choice of lens magnification for readers and the option to build your own if you need to add in your prescription.
An Update of a Classic Shape
You already know Warby Parker, but maybe you didn't know the company lets you add blue-light-blocking lenses to any of their styles. The Ames is a fresh take on the classic Clubmaster shape, with a bold brow line and rectangular lenses, and comes with the option of a medium or wide lens. 
If You Want All Eyes on You
These shatterproof, oversize aqua-green glasses from Target are the definition of statement eyewear. While they do not come with a case or the option for prescription lenses, they are a great option if you want to spend under $20 for some glasses to keep at your desk and to stand out on any Zoom call.
If You're the E-Bookish Type
Felix Gray helped popularize the idea of wearing blue-light-blocking glasses as an office accessory. These gold-rimmed frames make a smart statement without shouting, and they filter 40 percent of blue light.
For a Modern Take on the Cat's-eye
The glasses brand founded by Dan Levy features bold and big shapes ranging from prescription to sunglasses to blue-light filtering. One of DL Eyewear's best-selling frames is the Rose, a very modern take on the cat's-eye, which is ideal for anyone who wants a statement frame.
If You Love Oval Frames
If you're all about an oval frame, let us introduce you to these Oslo frames from Fifth & Ninth. The 48-mm.-wide glasses are the perfect in-between for a classic look and a bold statement pair of glasses. For under $50, they are an affordable option if you're looking to try out blue-light glasses.
If You're the Creative Type
Aviators are classic — they never seem to go out of style, blue light or not.
For the Vintage Lover
Being a vintage fanatic does not have to stop when it come to glasses. These St. Louis frames are sure to get a few compliments and plenty of "Where did you get those?"
If You Want a Funky Acetate Frame
Channel your inner Gucci model with some oversize frames. These hexagonal frames from Isabel Marant are the perfect twist on classic oversize frames.
If You Appreciate Ease
What's easier than shopping for glasses while you shop for every other piece of clothing? These clear frames from J.Crew are definitely worth it and under $10.
A Best-Selling Pair
Quay glasses are all the rage and for good reason: quality material, a fair price, and amazing designs. These hardwire frames are one of the brand's best-selling blue-light glasses and are sure to look good on anyone.
A Pair Made From Recycled Materials
These frames are made from 100 percent recycled material and have the option to be turned into readers. If you don't love a circle frame, they have other options that are made from recycled material as well.
If You Appreciate Options
These glasses come in 21 different colors and patterns and boast 25,000 ratings on Amazon. Upgrade the classic shape with a bright color or stick with a basic clear or black frame.
If You're All About Trends
Rectangle sunglasses are still trendy. So if you are looking to branch out of your comfort one, try them in a blue-light option.