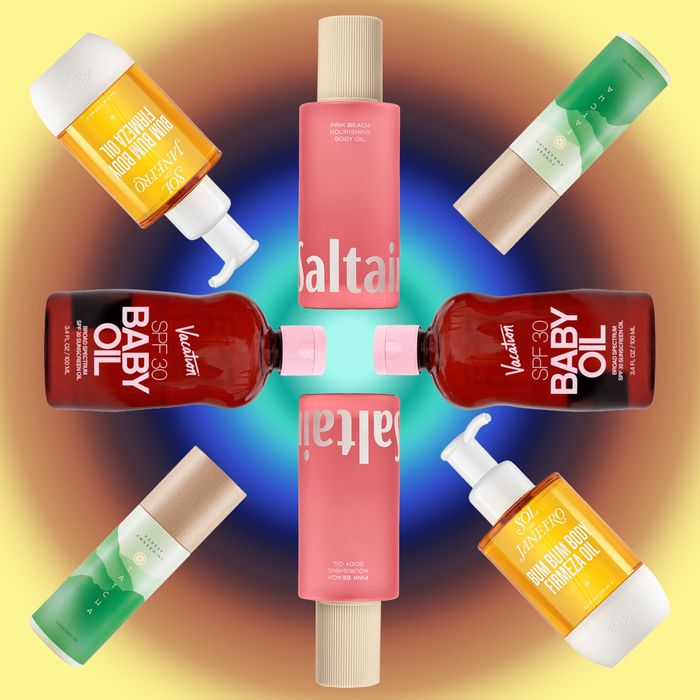 Photo-Illustration: by The Cut; Photos: Retailers
For more of the Cut's favorite fashion, beauty, and home finds, sign up for the weekly Cut Shop Newsletter.
There's something about the way the best body oils luxuriously ooze into the skin and leave it nourished. Most lotions wish they could achieve that level of sheen. Sure, body lotion could never be replaced (in our hearts and vanities) because it's a signature nourishment product, but oils are another great option to further moisturize your skin.
Like any beauty product, a good oil can be hard to come by when weighing all the factors that would make it the best. Is it non-greasy, nonstaining, and non-sticky? The good news is: I've tested my fair share and I can safely say there's a body oil for everyone.
The best part? Body oils are a year-round thing. The dewy look you want your legs to have poolside is the same nourishment your legs crave when the brutal winters hit.
From CBD body oils formulated to provide a bit of relief to strongly scented oils that'll layer under your perfume for a long-lasting aroma to glow oils that leave the skin pearlescent and sun-kissed, here are 23 I absolutely love and recommend.
The Luxury Option
And my current favorite! When you want a lingering scent throughout the day, pick up Chanel's body oil. The jojoba-infused oil nourishes the skin while the amber scent seeps into it. Lock it in by layering your favorite perfume over it, and you'll have the best-smelling and best-feeling skin all day long.
The Best-Smelling One
This oil smells so good that customers beg the brand to launch the scent in a perfume. With musky notes and hints of luscious jasmine, this oil will have you ditching your perfumes. It might be made with 14 essential oils, but it's lightweight and leaves the skin with an intense softness. Bonus point: It's multipurpose, so you can also use it as a hair oil to add the perfect shine.
The Cult Favorite
This seaweed blended oil from Osea is everyone's favorite because of how it richly nourishes the skin and leaves it with a long-lasting glow. It's nongreasy and doesn't stain, which is hard to find with an oil this thick.
The OG
Before all of these body oils and shimmers hit the market, we had good ol' Palmers. The cocoa-butter formula has been around for decades, and it does the job without being overly sticky or greasy.
The SPF Option
Supergoop's sunscreen has slowly become a favorite among the beauty community, but its glow oil is just as amazing. With SPF 50 and a quick absorbing formula, it leaves the skin glowing with a subtle shimmer.
The Best Oil in Balm Form
I've tried a lot of body butters that give my skin the nourishment oils do, but I've never experienced a balm like this. The second it hits the skin, it melts into an oil-like texture that effortlessly glides all over for a soothing feeling and a natural sheen.
The Dewy Option
I like to think of this body oil like a silky serum. Its blend of cold-pressed oils can transform even the driest skin into a dewier barrier.
The Best for Expecting Moms
Expecting moms love how soothing this is on their growing belly. Not only does it keep the skin smooth, but it also aids in reducing the appearance of stretch marks.
If You Want Want Something Firming
Peptides have been a trendy ingredient lately. Similar to collagen, it improves the elasticity of the skin. This body oil from Olehenriksen is one of the few that's blended with peptides to lock in moisture and ensure firmer skin.
The Melting One
Watching the way this oil melts into the skin is like watching a thirst-quenched person sip water. Your skin soaks this citrusy oil up, leaving it incredibly plush. It's a great post-shower oil that lasts all day and even longer when paired with the brand's body butter.
The Dry Option
Tocca is known for fragrance products like candles and perfumes, but this year the brand took its signature fragrance and bottled it up as a dry body oil that's lightly moisturizing. It's applied through a spritz applicator like a perfume, but the scent is deeply embedded into the oil. Layering a fragrance with similar notes over it is a great way to leave a lasting aroma wherever you go.
The One TikTok Will Make You Buy
This body oil has been the latest viral sensation, so viral that it's always sold out with a waitlist. The beloved oil is famous for it's coconut vanilla scent, it smells like a beach in a bottle and quickly absorbed into the skin for a dewy finish,
If You Like to Sparkle
Prepare the Twilight vampire-skin jokes because sparkle is an understatement for this body oil. The silky velvet texture glides across the skin and leaves it glistening.
The One You Pack for Vacation
Winnie Harlow's squalane-blend glow oil doesn't only lock in moisture to the skin, but it's also packed with SPF 30, so you get the best of both worlds for your vacation.
The Fast-Absorbing One
Augustinus Bader has some of the richest moisturizers on the market, and it also has a body oil. Similar to its skin-care products, this body oil will instantly soften your skin and leave it with a renewed barrier.
The Anti-aging One
Tata Harper isn't stopping at facial products for anti-aging. This body oil replenishes the skin with an abundance of vitamins and nutrients to leave it feeling smooth and youthful.
The Warm-Scented One
You'll want to pull this one out for your summer Fridays. Between its warm vanilla scent and glowing formula, you'll get tons of compliments.
The Best for Sensitive Skin
Whether your skin is stressed or just sensitive, this protective oil seeps in to leave the body soothed and restored thanks to its unique formulation of ingredients.
The Most Lightweight
Its lightness doesn't stop this Oui the People body oil from being deeply moisturizing. This serumlike body gloss hydrates and brightens while being fast-absorbing.
When You Need A Meditative Oil
If you use your body-care time to focus and unplug, then consider turning it into a meditative moment. Tatcha's oil is blended with a forest awakening essential oil, proven to reduce stress and improve well being. It also deeply smoothens out the skin's dry patches.
If You Love Baby Oil
Do you remember being lathered in baby oil as a kid? I do, and I hated it. However, something about baby oil being bottled up in an SPF packed formula that makes my skin glow like butter makes me love this oil. It hasn't left my beach bag since it launched.
If You Love the Bum Bum Cream
This oil depuffs and firms the skin while leaving it with Sol de Janeiro's signature warm scent. Paired with lymphatic-drainage massage, this oil can also work to decrease bloating. While the lymphatic drainage massage isn't included with your purchase, it's a good thing to know. You're welcome!
The Vitamin Packed One
Costa Brazil's oil is rich in vitamins, including vitamin E and magnesium to improve the elasticity and texture of the skin while locking in moisture.