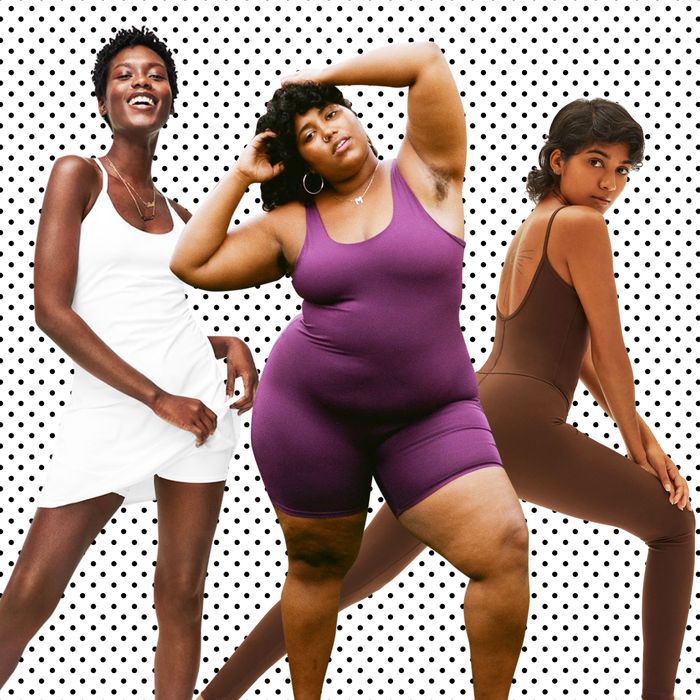 Photo-Illustration: by The Cut; Photos: Retailers
All I want to wear in spring is something comfortable and easy — the easier, the better. Maybe that's why I've gotten so into bodysuits and workout dresses lately.
I'll admit, I might be more obsessed with one-pieces than the average person. From the halter top unitard that I only wear to clean my house to the Monosuit catsuit with a face mask attached (yes, really), I've always found onesies to be versatile, effortless, and hot. It's the ease of going in to my closet and knowing that this one article of clothing will be my look today. If I have a Zoom meeting, I can just throw on a blazer and some jewelry.
While wearing a catsuit can be a bit frightening at times, I find that you just have trust that it's meant to love on your body in all the right places. Also, knowing that I can move around all day without having to adjust my top or pants gives me some peace. Read on for eight bodysuits, unitards, and exercise dresses for the one-and-done lifestyle.
The Booty-Enhancing Bodysuit
You know those famous TikTok leggings that give your booty a lift? This is the bodysuit version. One reviewer wrote, "I wasn't expecting much from this item, as these things tend not to fit well, but this one was an exception. The fit was great. The material feels good and looks good. The ruching on the backside compliments everything well, and the top covers just the way I wanted."
Available in sizes XS – XL.
The Best Shorts Unitard
A unitard like this is a closet staple. Wear it as-is on a bike ride, or add your favorite denim jacket to grab a matcha latte with a friend.
Available in sizes XXS – 6XL.
The Day-to-Night Bodysuit
Made of light-weight premium performance fabric, this skinny-strapped, low-back unitard will keep you from from getting armpit and back sweat stains, whether you're on the yoga mat or at your first post-vaxx rave.
Available in sizes XXS – XXL.
The Barely There Bodysuit
Made from sweat-wicking antimicrobial fabric developed by Universal Standard, this bodysuit is so soft that it creates a next-to-naked sensation when you move.
Available in sizes 4XS – 4XL.
The Sporty One-Piece With Amazing Reviews
I have this in green, navy, and pink; it's my go-to because it's perfect for working out and running errands. Even my mom is obsessed! The shorts attached underneath have a pocket which allows you to hold onto your keys, wallet, or phone.
Available in sizes XS – XL.
The High-Performance Unitard
For training at the gym or via the Nike training app, this unitard will keep you moving. You can also throw on a black leather coat over this with cowboy boots and turn it into a going-out look.
Available in sizes 0 – 14.
The Yogi Bodysuit
This bodysuit is perfect for low-impact workouts like yoga, pilates, barre, and dance. The breathable fabric allows air to move through the garment easily whether you're practicing an inversion or the Pilates 100.
Available in sizes M – L.
The Incredibly Supportive Bodysuit
This onesie's compression fabric will make you feel centered and grounded, whether you are on the mat or off.
Available in sizes XS - XXL.