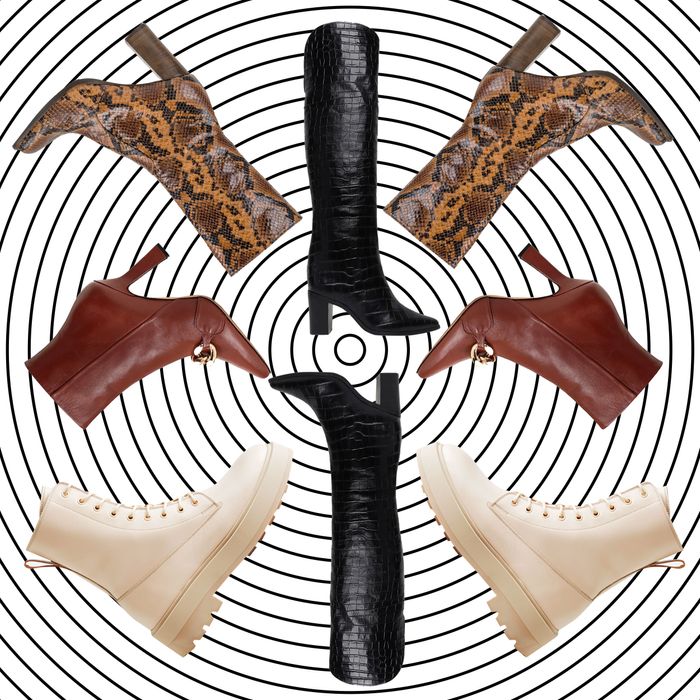 Photo: Courtesy of the Retailers
This year the ideal fall outfit consists of something comfy on the bottom (because who wears real pants?) and a stylish coat (because the only place to socialize is outside). But let's not forget about what you need to actually to step outside: shoes. Sure, you could wear your house shoes everywhere, but it's so satisfying to break out the boots once it gets cold. And this year, the fall 2020 runway shows had some very wearable trends like super-chunky-soled boots, ankle boots with interesting details, hiking boots, and, as always, more combat boots. So whether you're stepping out for a short walk around the block or meeting friends for a brisk outdoor dining experience, here are our top picks.
Chunky Sole Boots
For the maximalist who loves the spotlight (and being really tall), this year's biggest boot trend is for you. While they've popped up over the last few years, they were on just about every single runway for fall 2020, from Prada to Bottega Veneta. Whether it's a practical flatform Chelsea boot or a fun retro-inspired platform style, they're fashion forward while also being comfortable.
Ankle Boots
Yes, you probably have more than a few pairs of ankle boots in your closet. But because you probably wear them daily, it's worth picking up another pair. Consider something with a cool chunky chain detail or try a trendy square-toe block heel. And yes, UGGs are back if you want to go that route.
Combat Boots
Combat boots, which you can argue are a staple and never a trend, remain a cold weather favorite. But in recent years, they've turned into a runway mainstay: Prada paired them with moody florals, Dior used them to contrast flowy skirts, and The Row chose sleek ones to accent minimalist looks. However you choose to wear yours, here are five solid options.
Knee-High (and Up) Boots
One of the top trends that emerged last fall was a high boot worn with a midi skirt both on the runway and in real life. For when you're sick of sweatpants and looking to dress up, this combo is equally as easy and comfortable. With options ranging from animal print to sleek suede, to biker-inspired styles, they'll keep you warm and stylish.
Hiking Boots
This summer, social life looked very different as everyone rediscovered nature. This prompted the Cut's Maggie Lange to ask, "Are we all camp counselors now?" Obviously, most of us aren't actually camp counselors, and the most hiking we'll do in the coming months is trekking through the city — but hiking-inspired boots feel especially timely. Wear them with thick, cozy socks and sweatpants or to offset a flowy dress.
Fashion Boots
Thanks to brands like Prada and Bottega Veneta with their widely mimicked chunky-soled boots and Balenciaga with their current obsession with a square toe, you see different variations of these designs across tons of retailers. If you appreciate the finer things in life and have money to spare on the OG's, these are the boots for you.