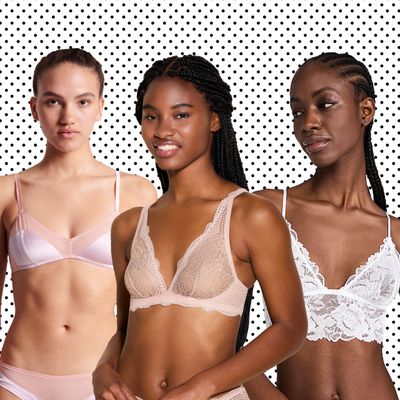 Photo-Illustration: by The Cut; Photos: Retailers
For more of the Cut's favorite fashion, beauty, and home finds, sign up for the weekly Cut Shop Newsletter.
Even the world's best bras don't have a reputation for comfort. More times than not, you're poked by underwires and squeezed in by padding and tight bands. Luckily for you, the lingerie industry is in the midst of a bralette renaissance, and it has never looked or felt better. The stretchy, often lacy alternative is the perfect way to replace your standard bras and maybe even your crop tops while still offering support.
And you don't have to have a smaller bust to become a bralette convert, either. Brands like Parade, Lively, and Spanx are making the space more inclusive and comfortable for those of us who are ample of chest. Read on for Cut Shop's list of the 23 best bralettes for all cup sizes.
What should you look for in a bralette?
First things first, your bralette sizing isn't always the same as your bra size. Shocker, we know. Knowing your underband and bust measurements when shopping for bralettes is key, says Angela Loucks, a Knix fit consultant.
Some other things (outside of comfort) that she also recommends are "level of support, type of cup coverage, and preference." Are you styling it for day or night? Do you prefer unlined, padded, or molded cups? Will you want to adjust the band and straps?
As with standard bras, the straps and bands are going to be just as important in a bralette, Loucks explains: "Bralettes with a wider strap and band that provide good support are comfortable and offer coverage and shape."
With all that in mind, now you can clear out your underwear drawer and scroll down to shop simple, silky, and stretchy options made for everyday wear.
The Expert Pick
This lacy bralette isn't just cute; it's extra supportive and one of Loucks's favorites from the brand. The adjustable straps and wide back offer the added support.
Available in sizes XS to 4XL.
The Everyday One
Yes, it lives up to the hype. It's so stretchy that you'll forget you're even wearing it.
Available in sizes XXS to 4X.
The Practical One If You're at Least a D Cup
If you like the feeling of extra support and coverage, here's a great option from Lively.
Available in sizes 1 (30DD) to 3 (40DD).
The One With Glowing Amazon Reviews
Reviewers especially love its comfort and removable cups, with many buying multiple colors.
Available in sizes XS to XL.
The '90s-Throwback One
Re-create your favorite fashion ads with the classic cotton bra. The skinny straps are sleek enough to wear under tees and tanks.
Available in sizes XS to XL.
The One With Convertible Straps
Raw hems and narrow straps mean it will stay hidden under your clothes.
Available in sizes XS to L.
The One That Feels Like a Second Skin
If you're a frequent wearer of racer-back tank tops, convertible straps are always a plus. You'll get all the extra support without the visible straps. Made of a stretchy nylon, this very soft bralette is almost comfy enough to wear around the house.
Available in sizes XS to 2X.
The Lace Option With Solid Support
A favorite of Cut Shop contributor Morgan Evans, this Cosabella bra elevates the lacy look with floral lace detailing and dainty scalloped edges. You'll feel flirty yet sophisticated. Plus, the style comes in various colors, including a bold hot pink that's very much giving Barbiecore.
Available in sizes S to L (32A to 36D).
The Perfect Plunge Bralette
This top-rated style that features adjustable straps may in fact be the bra of your dreams. The plunge bralette is a great option for everyday wear — it's airy and comfortable — and exactly what you need for those deep-V tops. Plus, it's made from the brand's extra-soft sustainable fabric composed of recycled yarns.
Available in sizes XS to 3XL (Cup sizes A to D) and 0+ to 3+ (Cup sizes DD to F).
The One That Feels Like Butter
If you're familiar with the nonexistent feeling of Commando's undergarments, then you know this buttery-smooth bra lives up to its name. Made from Commando's signature Butter Collection fabric that's equipped with four-way stretch, this bralette is an ultra-comfortable option with a sleek finish that'll make you forget you're wearing anything under your clothes at all.
Available in sizes XS to XL (Cup sizes A to D)
The Triangle Mesh Options
You can never have too many mesh bras, especially in the hot summer months. This classic triangle style is sheer, smooth, comfortable, and gives significant support. Along with buff and black, it comes in a variety of bold colors.
Available in sizes 0 to 5 (Cup sizes A to G)
The Jersey Sports Bra
If you're looking for something that can work for lounging or light activity, Filippa K's soft triangle bralette is the answer. It's easy to slip on and off and a great choice for watching Netflix or running errands, so it won't be long before this soft-stretch jersey style becomes your go-to bralette.
Available in sizes XS – XL. 
The One That Doubles As a Tank
Those who like to go from the Pilates studio to a coffee date and then to the grocery store without having to go home and change will love this high-neck bra by Alo Yoga. "The Seamless Delight high-neck bra provides all-day comfort with superior compression support," Abby Gordon, Alo's vice-president of design and merchandising, said. Paired with Pilates pants, jeans, or a tennis skirt, this is a great transitional option for anyone who's constantly on the go.
Available in sizes XS to XL.
The One With the Best Size Range
Leave it to Lizzo to create comfy shapewear in the best size range. While many Yitty pieces are meant to be seen, you can grab a few neutral-toned shaping bralettes.
Available in sizes XS to 6X.
The Affordable Lacy One
Lingerie enthusiasts will tell you that the more elaborate the lace, the bigger the price tag. But while fancier bralettes can set you back more than $200, this one is under $20 and just as seductive.
Available in sizes S to XL.
If Nude Bralettes Just Aren't for You
This bra comes in 16 colors including bright red and lavender so you can stock up on your favorite shades.
Available in sizes XS to L.
If You Enjoy Sleeping in Bras
Halle Berry wears one every night and if you want to do the same, this extra soft one will feel nice under your pajamas.
Available in sizes XS to XL.
The One to Show Off
With a few lacy details and a plunging V accent, this bralette is perfect for pairing with a low-necked top. The straps are adjustable, and the wide back band offers extra support.
Available in sizes XXS to XXL.
The Silky Option
Made of a mix of silk and chiffon, this very pretty bra is available in a range of colors that are meant to be seen. While you're splurging on this, feel free to grab the matching panty.
Available in sizes XXS to L.
The One for New Moms
Nursing bras don't have to be boring or ugly, and this bra is proof. Coming in a number of pretty, lacy shades, this bra allows easy access for nursing and lots of comfort and support, according to reviewers.
Available in sizes S to XL.
Another Very Pretty Option
Bralettes this nice shouldn't be set aside for special occasions, so opt for this lacy option made for lightweight everyday wear. It also comes in a few colors so you can set aside a few favorites for each day of the week.
Available in sizes XS to XL.
The One for Strapless Clothes
Everyone needs a good supportive bandeau and this one from Cosabella is
inexpensive enough to buy in multiples.
Available in sizes S to L.
The Seamless One for Bigger Cup Sizes
Sizes of this seamless bra range from S to XL, with XL being ideal for D cups.
Available in sizes XS to XL.
Our Experts: