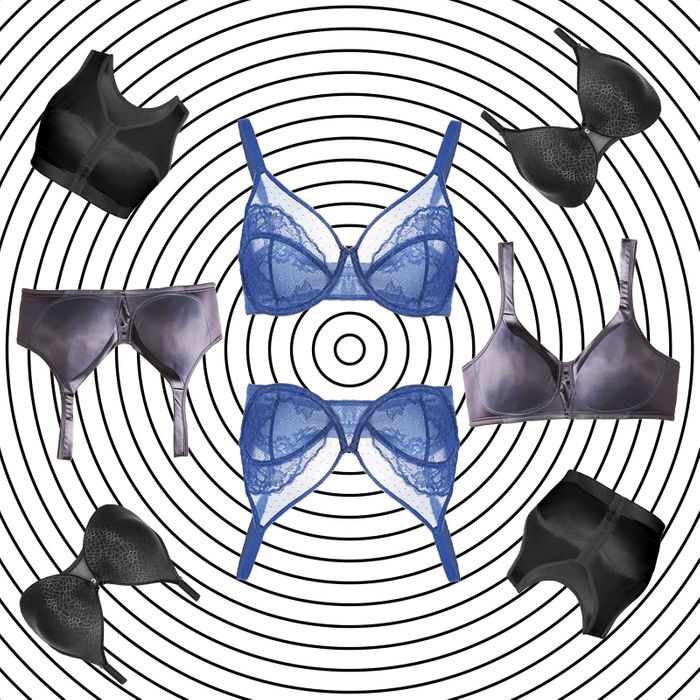 Photo: Courtesy of the Retailers
Shopping for bras can be a tedious and uncomfortable process, especially for women with big boobs. Despite what the diamond-studded fantasy bras of years past may tell us, bras can feel extremely unsexy to try on and purchase. And many American lingerie manufacturers cater to smaller cup and band sizes, leaving bustier consumers with ill-fitting or drab styles, if anything at all. To help you avoid the stress of buying a bra in-store, we searched through all the comments on Amazon to find the site's top-rated, best-reviewed bras.
The Best Smoothing Minimizer
Frequent Cut contributor Aude White has raved about Chantelle, a French brand that makes bras that are both well-fitting and sexy. This minimizer can reduce up to a cup and a half in size and has more than 250 positive reviews. Shoppers say that its sleek silhouette makes it ideal under T-shirts but that the material might not be well suited for hot days.
Available in sizes 32D to 44F.
The Size-Inclusive Favorite
As the 2,000+ reviews attest, customers love this bra — its sheer lace details, its wide and supportive straps, and its affordable price point. You'll also like the variety of shades, which include standard neutrals as well as pretty pastel hues of green and blue. The only downside is the bra tends to ride high up the sides, so you won't be able to wear it with certain tank tops.
Available in sizes 34B to 44H.
The Supercomfortable, Wire-Free One
Finally, a bra you won't want to sling across the room the moment you get home. This bra has almost 4,000 reviews (!!!) with more than 2,000 five-star reviews alone. Shoppers compliment its support and lift, and we especially like the satin details that add a minimalist touch of femininity. The only potential downside is the bra's high coverage might peek out from certain necklines.
Available in sizes 36B to 42DDD.
A Plunge-Neckline Option
Bras for bigger boobs often have a higher rise of fabric between the breasts, and that can peek out under V-necked shirts or dresses. Not so with this bra from Elomi. One reviewer says this bra was a rare find that provided both cleavage and support. Just be careful while making your size selection, as both U.S. and U.K. sizes are available.
Available in sizes 32H to 46D. 
The Best Strapless Style
A perfect strapless bra seems too good to be true, but according to the hundreds of customers who bought this one, Wacoal has done the impossible. The material is sturdy, and the bra features grippy silicone to keep it from sliding down throughout the day. One reviewer notes it has a minimizing effect as well.
Available in sizes 30D to 44G.
The Absolute Prettiest Minimizer
We've written about this minimizer before, and it's worth the hype. Reviewers say the bra is both extremely cozy and sexy, and it comes in great colors, including royal blue and Tibetan red. All that, and it's under $30.
Available in sizes 32C to 44DDD.
If You Like Bras That Close in Front
Customers love the thick straps on this lacy full-coverage bra, and the racer-back design helps prevent the straps from slipping off every five seconds. Some reviewers note that the fabric is lightweight and unpadded, so it's a good pick to wear under a sweater but not so much with thin T-shirts.
Available in sizes 34B to 48E.
Best High-Impact Sports Bra
This bra has 10 hook-and-eye closures to keep everything in place during the most intense workouts. One enthusiastic reviewer writes, "I'm a 34DD, and these changed my life. This bra made exercising enjoyable and made it possible for me to do a lot of things that were once painful. Now, whenever I see another large-breasted comrade run by, I wince at the sinusoidal motion of their boobs and I hope to myself that they are running to the store to get an Enell bra." The only con, another reviewer notes, is that "it takes an act of God and a willing partner to get into," so if you're doing mostly low-impact activities, this one might not be worth the effort.
Available in sizes 0-8. Enell uses its own measurement system, which can be found here. 
The Sexiest Performance Sports Bra
Serena Williams, the GOAT, wears sports bras only from Berlei. I'm sold!
Available in sizes 30D to 40C.
If you buy something through our links, New York may earn an affiliate commission.