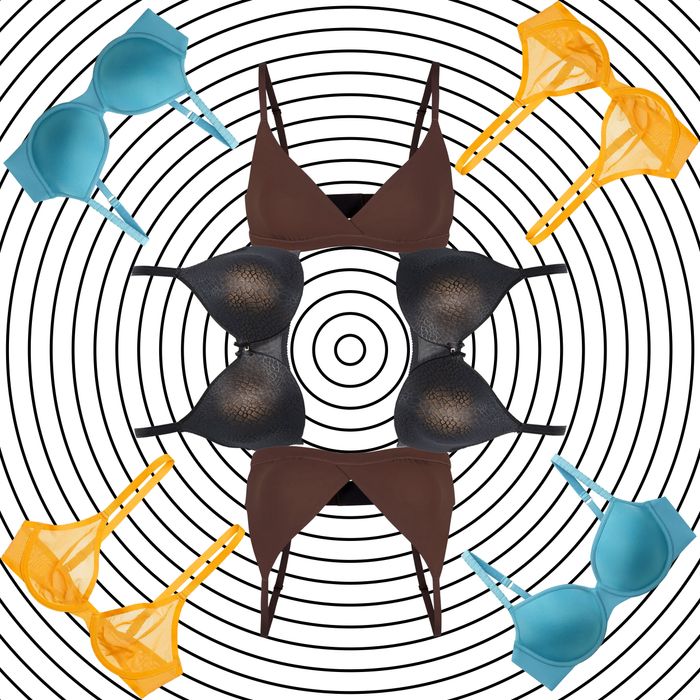 Photo-Illustration: by The Cut; Photos: Retailers
For more of the Cut's favorite fashion, beauty, and home finds, sign up for the weekly Cut Shop Newsletter.
If you have big boobs, you know all too well that shopping for bras can be a tedious and uncomfortable process. There are a myriad of things that can go wrong for something with so little fabric: A band that digs into your rib cage, underwire that pokes and prods, straps that constantly fall down — the list goes on. But despite all the pitfalls of shopping for one, everyone deserves a bra that fits! That's why we rounded up 25 of the best bras for bigger busts with recommendations from Cut junior fashion and beauty writer Asia Milia Ware, contributor Anne Cruz, content creator Taylor Jannotte, model Morgan Louise, and writer and former Fashionista editor-in-chief Tyler McCall.
The Versatile Favorite
If this bra is good enough for 3,000-plus five-star reviewers, it's good enough for you. With its sheer lace details, wide and supportive straps, variety of shades, and affordable price point, we can certainly see why. The only con is that it tends to ride high up the sides, so you won't be able to wear it with certain tank tops. Unless you're aiming for that Y2K aesthetic. —Anne Cruz
The Absolute Prettiest Minimizer
Cozy, sexy, and under $30? We've written about this minimizer before, and it's worth all the hype. —A.C.
The Best T-Shirt Bra
There's nothing like wearing your favorite T-shirt but having boob spillage plunging through it. Third Love's T-shirt bra combines smoothing fabric with an ideal cup fit for a breathable and everyday-wear bra under anything, but especially cotton tees. Not only is it comforting and smoothing, but it's also inclusive of all cup sizes up to a size H. —Asia Milia Ware
The Best Back-Smoothing Bra
This molded cup style might take up half of your lingerie drawer, but it will be one of the best bras in your collection because it smooths and lifts in all the right places. I have it in three colors and wear it with T-shirts, turtlenecks, and sweaters. It's a great full-coverage bra that doesn't feel like I have papier-mâché versions of my boobs under my shirt. —Taylor Jannotte 
The Best Everyday Bra
This is a perfect everyday bra. It's wire-free, so it feels as comfy as a bralette, but it still gives the support and shape of a traditional bra. It also has a 4.7-star rating out of 5 and more than 2,000 reviews saying how it fits perfectly without digging in. —Morgan Louise
The Best Everyday Bralette
I've gone through so many bras to find the right fit, and my absolute favorite one is the Harper Wilde Bliss Bralette. This bra especially came in clutch after I had my baby; it makes nursing and the new necessity of having to wear a bra overnight (because milk) painless. It's so comfortable and supportive that I don't feel like I'm wearing a bra at all. —Danika Daly
The Best Affordable Bra for Big Boobs
Finally, a bra you won't want to sling across the room the moment you get home. This bra has almost 4,000 five-star reviews (!!!) from customers saying it's the best bra they've ever had. The only potential downside is that the bra's high coverage might peek out from certain necklines. —A.C.
The Best Balconette Bra for Big Boobs
My favorite "regular" bra is the CUUP Balconette. It's so pretty, and CUUP does virtual fittings to help you choose the right size, ensuring comfort and a smooth fit. —D.D.
If You Like Bras That Close in Front
Customers love the thick straps on this lacy full-coverage bra, and the racerback design helps prevent the straps from slipping off every five seconds. Some reviewers note that the fabric is lightweight and unpadded, so it's a good pick to wear under a sweater, but not so much with thin T-shirts. —A.C.
The Best Minimizer Bra for Big Boobs
Frequent Cut contributor Aude White has raved about Chantelle, a French brand that makes bras that are both well fitting and sexy. This minimizer can reduce up to a cup and a half in size and has a 4.5-star rating out of 5. —A.C.
A Plunge-Neckline Option
Bras for bigger boobs often have too much fabric. Not this bra from Elomi, though. One reviewer says this bra was a rare find that provided both cleavage and support. Just be careful when making your size selection, as both U.S. and U.K. sizes are available. Morgan Louise loves Elomi bras. "Once you figure out your size (I had a fitting with an Elomi specialist, which I highly recommend), the fit is impeccable, and they have really beautiful and sexy designs which are pretty hard to find in large cup sizes," she says. —A.C.
The Sexiest Mesh Bra
There's something about mesh that instantly makes me feel sexy. But everything about this bra makes me feel sexy: the color, the plunge, the shape. I rave about it to all my friends who are in search of a new bra, especially one that fits great under tees (just wear the nude color so it doesn't show through). Writer Tyler McCall is also an avid fan of this bra. —A.M.W.
The Sexiest Performance Sports Bra
The Supercomfortable, Wire-Free One
I'm almost never the girl who reaches for a full-coverage bra, but when I absolutely need it, Felina is my go-to. Its bras are designed with a comfortable fit that shapes and supports breasts without any annoying underwire. While this bra is designed for a plunge fit, it still gives an ample amount of coverage and has zero spillage. —A.M.W
The Best Bralette for Big Boobs
I didn't know I could wear bralettes until I tried Skims. As someone with double Ds, I always thought bralettes were out of the question because they lacked coverage. But when quarantine ended and I started going out again, I found it really uncomfortable to go back to underwire bras, so I opted for Skims' bralette — and it's the best decision I've ever made. Not only does it feel comfortable all day long, but it gives me the perfect cleavage and has a soothing and flattering fit. —A.M.W.
The Best Adjustable Sports Bra for Big Boobs
You know those ads that won't stop popping up on Instagram but look too good to be true? That's what Shefit was for me. I saw its bras during my daily scrolls so often that I had to try one for myself — and I was amazed. I've tried a lot of high-impact sports bras, and this is in no way average. I love the fact that it has a zip front that's secured with an auto lock, because I've had sports bras slowly zip down on me. The best part by far is the adjustable straps. You can customize the shoulder straps and the bust band for the most compressible and supportive fit. Good-bye to the days of jumping boobies: My morning runs and HIIT workouts will never be the same. —A.M.W.
The Barely-There Option
Soma's designs are all about comfort. Its underwire options feel as if they were wireless, and they always provide the best support. —A.M.W.
The Best High-Impact Sports Bra for Big Boobs
Photo: retailer
With ten hook-and-eye closures, this bra keeps everything in place during the most intense workouts. The only con is that "it takes an act of God and a willing partner to get into," as one reviewer notes. —A.C.
The Best Strapless Style
Does the perfect strapless bra even exist? According to the hundreds of customers who bought this one, Wacoal has designed it. Its Red Carpet strapless bra features grippy silicone to keep it from sliding down throughout the day. —A.C.
The Best Triangle Bra
With cup sizes going up to DD and F, we highly recommend Parade's triangle bralette (that will even look great as a barely-there top). Plus, there are exciting color options that will encourage you to leave your beige-and-black comfort zone. Jannotte is also a fan of Parade and recommends the plunge design, which is very similar to the triangle bralette, but, like the name suggests, is better suited to wear with more low-cut tops. —A.M.W.
If You Hate Excessive Sweat
Nike sports bras can be hit or miss for women with bigger boobs, but this one is a star. It's designed with a chest overlay that minimizes bouncing and adds an extra layer of support. But the support isn't the best part of this bra for me: It's the Dri-Fit quality. I like to go from running to lifting weights without feeling like I'm drenched in sweat, and the moisture-wicking material in this bra soaks it all up. —A.M.W.
The Racerback
Bigger boobs deserve racerback bras that aren't limited to sports bras. With its slight boob-lifting effect and the velvety-smooth fabric, this bra is easily a go-to for daily wear. It is a personal favorite during the summer and for vacation under light tank tops. —A.M.W.
The Best Longline Bralette
You can never go wrong with a sultry longline bra; it's flattering to the waist and gives an instant and natural lift. This lace design is a nice treat for your lingerie drawer. —A.M.W. 
The Best Option for Backless Clothing
Misses Kisses' bra kit is here to save the day for all those backless pieces that big-boobed women usually just skim by. We were skeptical at first, but after seeing the many viral videos on TikTok, we had to do more research. The key to getting the perfect fit is to book a virtual consultation. Misses Kisses helps you pick the best pad size and wire, and you can extend the return policy beyond the usual 21 days so you have more time to test it out. Louise got her hands on this kit recently and was pleasantly surprised. "I didn't expect it to work for me, but I'm super-impressed with it!" —A.M.W.
Built-In Bra, Anyone?
Let's be honest: There are some days that you want to be 100 percent braless, but with a larger bust, it's not always that easy. Insert: Buzzoms, the brand that's creating wearable pieces with built-in bras that actually cater to larger breasts. This bodysuit effortlessly cups boobs with high support (yes, even with a one-shoulder design). It's a nicee going-out piece that still allows you to be comfortable, supported, and at ease. —A.M.W.
The Best Bandeau Bra
I've had this bra since high school, and I am telling you: Run, don't walk. This bra stays up all night even with some hard-core dancing — trust me, I've tested this more times than I can count. The key is that it's a wired bandeau-style bra, so the girls are tucked in without any real muffin-top boob action, which always makes the bra fall down. The silhouette doesn't work for all necklines, but when it does, I definitely recommend this bandeau style. —T.J. 
The Best Convertible Bra
This is definitely my favorite strapless bra that I've tried. Most of them lack support, but the construction on this bra is impressive. The convertible straps are there so you can wear it seven ways depending on the neckline of your outfit, and it has a push-up effect for extra lift. —M.L.
Our Experts