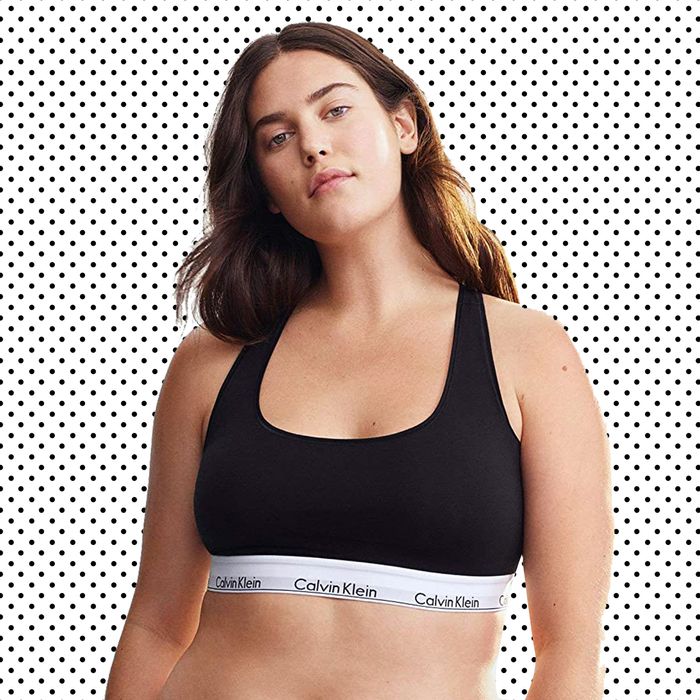 Bras are having a rough go of it these days, when so many of us are craving comfort from our clothes. Some at-home workers are choosing to forego them completely, but plenty of people still appreciate the support — not to mention the sense of "well, if nothing else, at least I got dressed today" that only a good bra can provide. Below, we've rounded up some of the best ones available with just a few clicks on Amazon. From a classic Calvin Klein bralette to sexy lacy lingerie, these bras come highly recommended by reviewers. Read on for our picks.
The Lounge Bra
With its light lining, just the right amount of coverage, and no VBL (visible bra line), this bra has a devoted following, with countless women raving about purchasing it in multiples. Whether it's a deep-V or fitted scoop-neck T-shirt, this is the bra you'll want underneath.
Available in sizes XS-3XL.
The T-Shirt Bra
Thousands of Amazon reviewers agree: This Fruit of the Loom bra can be trusted to look good under all of your T-shirts. It comes in a two-pack, and it's available in an array of neutral colors.
Available in sizes 34A-42DD.
The Push-Up Bra
There's no one bra that can satisfy all body types, but this one might come close. The size range is broad and inclusive ("Finally, a plus size push up bra that is functional, comfortable, and cute!" writes one fan), and it comes in enough colorways to satisfy even the pickiest shopper. The padding adds a natural-looking lift, while still offering support and comfort. And maybe best of all, it can survive a ride through the washing machine, according to reviewers.
Available in sizes 32B-48DDD. 
The Bralette
If you're looking for something pretty and luxe-feeling but want to spend under $20, this bralette is for you. The velvet flocking on the mesh fabric is romantic and a little bit unexpected. Reviewers note that it doesn't offer much support, but add that it's so comfortable you can sleep in it.
Available in sizes XS-XL.
The One That Holds Your Phone
This medium-support sports bra comes in many colors and has a back pocket for your phone. Reviewers say it offers enough compression for workouts, but you could also wear it for lounging — or other pursuits. One fan who lives on a horse farm tried it out for a round of chores: "I could feel [my phone] if it buzzed, and the little fold kept it secure as I fed horses, tossed hay, and then jumped on my bike for my morning ride. So I bought two more and threw my old ones out … Yeehaw!"
Available in sizes XS-XXL.
The Unlined Bra
This is the definition of a sexy, but simple bra. A minimalist design in mesh, it comes in several colors and prints and costs only $16. "I honestly cannot believe a bra this nice is so inexpensive," says one five-star review. "I was on the hunt for a nice sheer sexy bra and this delivers. It is supremely comfortable and gives the sheerness I wanted."
Available in sizes 34B-42DD. 
The Strapless Bra
This Vanity Fair strapless bra will be perfectly smooth under any strappy or off-the-shoulder tops or dresses. Available in several neutrals, it offers a light lift and a lot of support. It also comes with multi-way straps, so it can be worn with even the most complicated of tops. Reviewers note that it's the rare strapless bra that really works for bigger boobs.
Available in sizes 32A-40D.
The Lace Bra
This one looks a whole lot more expensive than it is. The lacey balconette style has a playful and sexy feel. Reviewers agree: "This is the most beautiful bra I've ever worn," said one fan.
Available in sizes 32A-48H.
If you buy something through our links, New York may earn an affiliate commission.