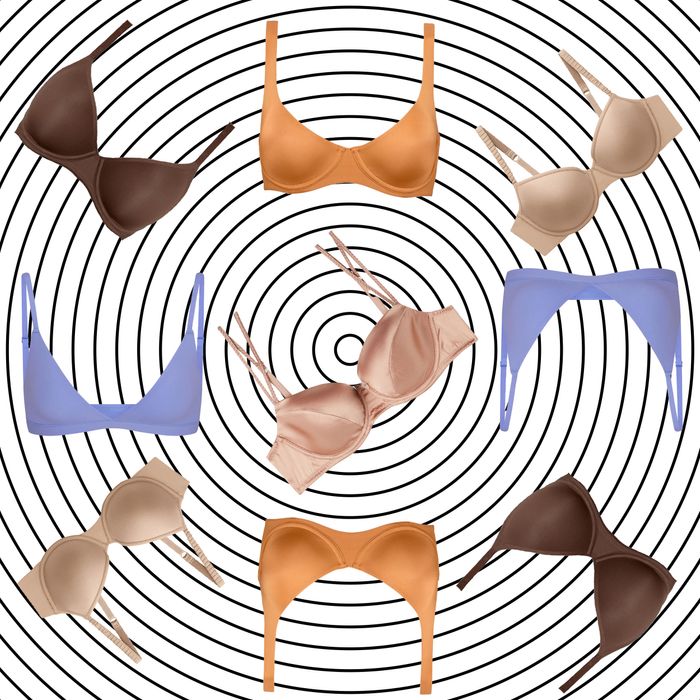 Photo-Illustration: The Cut; Photos: Retailers
For more of the Cut's favorite fashion, beauty, and home finds, sign up for the weekly Cut Shop Newsletter.
Boobs and bras are an infamous pairing. Bras can be a hard thing to shop for, and if you buy the wrong one, they're even a harder thing to wear. Boobs? No pair is alike. So what should you consider when you're shopping for this undergarment? Well, we've reached out to a handful of experts and boob connoisseurs to pinpoint the best bras for everyday, down to the easiest way to figure out your size.
What makes a good bra?
It varies. Some will say comfort, others will say support, and many of us just want one that's really cute. We'll try to tackle it all. First of all, you should know the basics: Thicker back bands and straps that don't cut or dig into your skin are best for more support, and so are fuller, lined cups if you're not going the bralette route.
How do I find the best fit?
If you can get measured by an expert, great. Lots of lingerie shops and department stores such as Nordstrom and Bloomingdale's offer fitting services to determine the best size. If you can't make it to a store, sites like CUUP offer quizzes and virtual fittings, with experts to talk you through sizing.
If you want to do it yourself, it's easier than you think. Simply make sure you have a measuring tape. Or, as Rachel LeBlanc, designer at Bombas, recommends, a piece of string or yarn long enough to wrap around your chest will work as well. You'll just need to measure it later … which beats the original purpose but still works!
To start, LeBlanc says, put on a lightly lined, non-compressive bra to keep your breasts in your ideal position. To measure your band size, proceed to wrap your measuring tape (or string you have on hand) around your rib cage under your bust and rounding to the nearest whole number. For your bust size, measure at the fullest part of your bust, making sure your measuring tape isn't too tight. Your cup size is the difference between the two measurements, according to Chine Leclere of Gooseberry Intimates: "If the difference is one inch, you are an A cup; two inches, you are a B cup; and so on."
Also to note: Since your size may change over time, you should try to measure yourself every six months to a year.
Read on to shop their picks.
Best T-shirt Bras
The Best Nudes
Coming in several nude shades to fit every skin tone, this bra is one of stylist Hattie Doolittle's favorites and go-tos. She assures that the lightly padded bra is breathable, comfortable, and practically invisible under her favorite shirts.
The Best-selling Bra
Riot Swim founder Monti Landers's go-to is a T-shirt bra. "They are seamless and designed to provide a smooth, invisible look under tight-fitting clothing," she explains. If you're not sure where to start, shop this reader-and-reviewer favorite. The lightly lined bra disappears under T-shirts. This bra offers plenty of support, comfort, and coverage and has garnered thousands of positive reviews.
The Classic T-shirt Bra
Bras really aren't one-size-fits-all, and the most intriguing thing about ThirdLove is its in-between sizing. If you haven't yet found a bra that fits quite right, give this classic T-shirt bra a try; not only can you get half-cup sizes, you can get this highly reviewed bra in smooth satin, cotton, and lace.
Best Strapless Bras
The Best for Small Cup Sizes
If you hate the awkward sizing and fit of strapless bras, this is for you. Doolittle loves this bra for smaller cup sizes; it's padded, so it fits comfortably and there are no awkward gaps.
The Best for a Lift
Sometimes you want a little extra padding and this bra has it, customized by cup size. So if you're a smaller cup size, you'll get more lift. Lined with soft fabric, the strapless number features a silicone grip to keep it in place and straps if you need them.
The Best Option for Bigger Cup Sizes
Yes, it's possible. This strapless bra comes highly recommended for those up to a G and even H cup. Available in four shades, the lightly padded bra offers support, seamless wear, and straps if you need them.
Best Everyday Bras
The Best Seamless Option
Living up to its name, this lightly padded (they're removable pads, too) bra slides on like your favorite bralette and is just as comfortable. Doolittle says this affordable basic is seamless and stays put under clothes.
The Best Minimal Option
Still sexy without being lacy, this one is made for minimalists. Kye Intimates founder Bonita Kye grabs this one for everyday wear. The flattering and supportive bra is made of deadstock mesh, and the front closure makes for easy and effortless wear.
Best Luxe Everday Option
For a bit of everyday luxury, Tania Garcia of CUUP recommends this balconette bra, which is "as beautiful as it is functional," she says. It's double-lined for extra support, and comfortable.
The One That Feels Like Yoga Pants
Garcia also recommends the lightweight and super-smooth Scoop bra. The customer favorite is often referred to as the "yoga pants of bras." The bra helps support, smooth, and shape without digging into your sides or shoulders.
The One That Fits Everyone
Pretty much a universal favorite, the Fits Everybody bralette is a great in-between option for everyone. Nia the Label founder Sonia Parvaneh says the flattering and supportive bralette is perfect for everyday wear. When you're in between cup sizes or unsure of your size, you can grab this in sizes XXS to 4X.
Another Luxe Everyday Option
Parvaneh says she grabbed this luxe everyday bra on a whim and it's been a wardrobe staple ever since. "The bra is so pretty and works with low, square-neck tops and dresses while offering good coverage," she explains, "The silk and fit feel luxurious but at such a good price point."
The Tried-and-True Bra
This classic has been one of Parvaneh's favorites for several years and the one she recommends to everyone. Coming in tons of colors and even more sizes, the demi-bra is lightly lined, soft, smooth, and supportive enough for everyday wear.
Best Lacy Bras
The Affordable Favorite
Photo: Courtesy the vendo
The highly reviewed bra will cost you just under $40. Shoppers love how comfortable it is and how well it fits. It also comes in several colors if you feel tempted to buy more than one.
Best Plunge Bra
Lacy and supportive, Leclere loves this super-deep V-bra for wearing under plunging blouses and tops. It features lightweight underwire adjustable straps and no padding.
The Prettiest Lace Option
Another flattering lacy option from Leclere? The Amore bra. It skips the padding but still features some underwire and lacy details you'll want to show off.
The Breathable Lace Option
Definitely on the more wearable side for everyday, Leclere's favorite petal bra features breathable mesh along with pretty embroidery.
The One Worth the Splurge
One splurge Doolittle considers well worth the money is this delicate, lacy balconette bra. It's not for everyday wear, but you'll love the support, and she says it's flattering no matter your cup size.
Our Experts