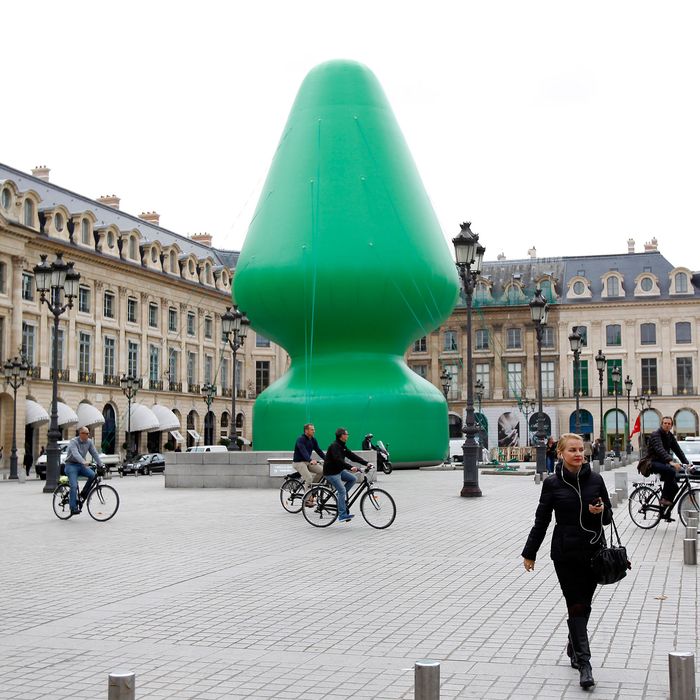 Photo: Chesnot/Getty Images
Social distancing has inspired all sorts of creative outlets for horniness: People are having more phone sex, snapping artful nudes, and investing in vibrators. So if you've always been curious about butt plugs, now's the time. Experts agree that a butt plug can enhance your sex life solo or with a partner, as long as you're patient and prepare properly.
The most important rule is to go slowly. "It's important to start small and use a lot of water-based lube (silicone can degrade your toys) so you're not damaging anything," says Gigi Engle, certified sexologist and author of All the F*cking Mistakes: A Guide to Sex, Love, and Life. "People think that because they can handle a big penis or dildo in other parts of their bodies that they can handle anything, but that's not true."
Whether you're new to anal penetration or not, it's important to remember that it should never be painful. "Getting turned on first will help you relax," says queer sex writer and influencer Molly-Margaret Johnson. "Masturbate or use a vibrator or your fingers to warm up your asshole." She also recommends romancing yourself with ambience for deeper relaxation. "Have a glass of wine, smoke a little, light a candle, and turn on some sexy music."
Ty Mitchell, a gay adult entertainer and writer also known as "Probottom," explains why butt plugs are so pleasurable. "It's a sensation of fullness and a feeling of pressure that permeates the whole pelvic area that's intense and good," says Mitchell. "You just have to lean into it with a little bit of submission." And if you're hesitant about making a mess, don't worry. "Sex is inherently messy, whether it's emotionally messy or physically messy, and that's what makes it amazing," says Johnson. "Whether it's shitting, squirting, sweating, cumming, or whatever, it's just part of the deal."
Keeping reading to see what three experts recommend as their favorites. And remember: Always make sure to wash your toys and your hands.
For Beginners
Available in three different sizes, this trainer set is perfect for starting out and "to get ready for larger ones," Engle says.
This beginner trio of nightstand eye candy makes for a cute gift for a lover or yourself. "They're all small and great for starters. Plus, the colors and shapes make the endeavor that much more fun," says Johnson.
"This one has beads around the neck of it that simulate rimming," says Mitchell. Combining a vibrator with anal play, it engages everything in that erogenous zone.
This one is teeny-tiny and not intimidating. "It's made by Tango — a queer, Brooklyn-based company," Johnson adds.
For More Experienced Users
This vibrating toy is noticeably more pointy at the tip. "You can use it as a clitoral vibrator for focused stimulation as well, but make sure the toy is thoroughly sterilized," says Engle.
With three ridges for more varied play, Engle says it "gives you room for experimentation, since you don't have to put the whole thing in. You can experiment with how much feels good."
Anal beads are part of a more involved process, making this hybrid more fit for advanced users. "What makes it feel really good is when you're removing it one step at a time," says Engle.
For Prostate Stimulation
Like the G-spot, the prostate can be a pleasure center if you reach it right. With this toy's curved shape, it'll hit that sweet spot. Engle also says that "it presses on the perineum, which adds extra stimulation."
"This daddy is sexy, and its weight alone will turn you on," Johnson says. "This heavy plug is perfect for temperature play." Try running it under warm water for some extra heat.
"This is the Cadillac of butt toys," claims Engle. And given the amount of features packed into the little thing at a luxury price point, it's no wonder it could be called that.
If You Have a Penis
For those with one, penis rings make erections stronger and last longer. Engle assures that this toy is "not actually scary."
If you buy something through our links, New York may earn an affiliate commission.