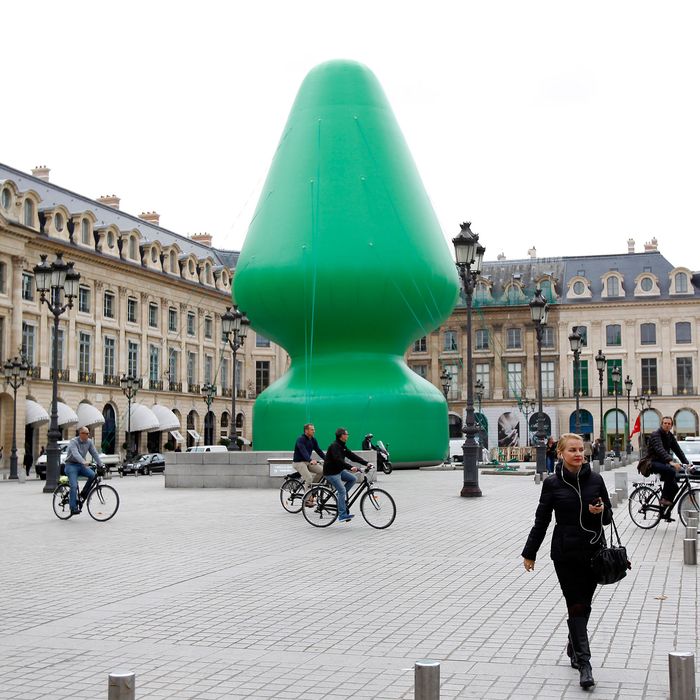 Photo: Chesnot/Getty Images
The 2020 lockdown inspired all sorts of creative outlets for horniness: People are still having more phone sex, snapping artful nudes, and investing in vibrators. So if you've always been curious about butt plugs, it's never too late to explore new horizons. Experts agree that a butt plug can enhance your sex life solo or with a partner, as long as you're patient and prepare properly.
The most important rule is to go slowly. "It's important to start small and use a lot of water-based lube (silicone can degrade your toys) so you're not damaging anything," says Gigi Engle, certified sexologist and author of All the F*cking Mistakes: A Guide to Sex, Love, and Life. "People think that because they can handle a big penis or dildo in other parts of their bodies that they can handle anything, but that's not true."
Whether you're new to anal penetration or not, it's important to remember that it should never be painful. "Getting turned on first will help you relax," says queer sex writer and influencer Molly-Margaret Johnson. "Masturbate or use a vibrator or your fingers to warm up your asshole." She also recommends romancing yourself with ambience for deeper relaxation. "Have a glass of wine, smoke a little, light a candle, and turn on some sexy music."
Ty Mitchell, a gay adult entertainer and writer also known as "Probottom," explains why butt plugs are so pleasurable. "It's a sensation of fullness and a feeling of pressure that permeates the whole pelvic area that's intense and good," says Mitchell. "You just have to lean into it with a little bit of submission." And if you're hesitant about making a mess, don't worry. "Sex is inherently messy, whether it's emotionally messy or physically messy, and that's what makes it amazing," says Johnson. "Whether it's shitting, squirting, sweating, cumming, or whatever, it's just part of the deal."
Rounding out our panel of experts is Em Odesser, sex educator and writer, and Liara Roux, sex worker, organizer, and writer. Keep reading to see what they recommend as their favorites. And remember: Always make sure to wash your toys and your hands.
Best Butt Plugs for Beginners
Available in three different sizes, this trainer set is perfect for starting out and "to get ready for larger ones," Engle says.
"Its small, minimalist design makes it a nonthreatening beginner's option, soothing nervous newbies," says Roux. "The smooth silicone construction makes it easy to slip in and out painlessly, and the vibration is a pleasant sensation — perfect for anyone who wants to explore prostate play for the first time, or anyone who has been burned in the past and wants something that won't hurt!"
Get the same minimalist design with a smooth silicone construction for a fraction of the price with this Maude cone.
This beginner trio of nightstand eye candy makes for a cute gift for a lover or yourself. "They're all small and great for starters. Plus, the colors and shapes make the endeavor that much more fun," says Johnson.
Plugs are also a way to spice up your nudes, as Odesser suggests. "I love the idea of sending a cheeky nude (he-he) with a plug in, especially as so much of our dating lives is relegated to the online world. A lot of indie shops sell cute and affordable ones."
For $150, this set includes three toys, an instruction guide, an enema, and a "lube launcher." "I'm not the most experienced with backdoor play, but b-Vibe's set seems to cater to that exact situation," says Odesser. "For the price of one expensive vibrator, you get a pretty good range of toys, which means you can explore with some flexibility."
Another option for taking your nudes to the next level, but with an artisanal twist. "It's glass, which means you can also engage in some temperature play," says Odesser.
Best Butt Plugs for Experienced Users
With three ridges for more varied play, Engle says it "gives you room for experimentation, since you don't have to put the whole thing in. You can experiment with how much feels good."
This vibrating toy is noticeably more pointy at the tip. "You can use it as a clitoral vibrator for focused stimulation as well, but make sure the toy is thoroughly sterilized," says Engle.
Square Peg Toys is the place to go when you simply cannot get enough. "They have toys large enough to satisfy the most insatiable booty holes," says Roux. "Their famous double fist plug will give such overwhelming stretch and sense of fullness that even the brattiest bottom will have to admit that they can't possibly fit any more."
Once you're familiar with what you can handle, a custom piece has tons of possibilities. "Hedonic Glass makes the prettiest glass butt plugs I've seen," says Roux. "They're less comfortable than silicone but very easy to clean. Each butt plug is handblown to your specifications, so whether you want something small and cute or an option that can give you a bit of a stretch, they've got you covered."
Best Butt Plugs for Couples
Anal beads are part of a more involved process, making this hybrid more fit for advanced users. "What makes it feel really good is when you're removing it one step at a time," says Engle.
"This one has beads around the neck of it that simulate rimming," says Mitchell. Combining a vibrator with anal play, it engages everything in that erogenous zone.
Best Butt Plugs for Prostate Stimulation
Like the G-spot, the prostate can be a pleasure center if you reach it right. With this toy's curved shape, it'll hit that sweet spot. Engle also says that "it presses on the perineum, which adds extra stimulation."
"This daddy is sexy, and its weight alone will turn you on," Johnson says. "This heavy plug is perfect for temperature play." Try running it under warm water for some extra heat.
"This is the Cadillac of butt toys," claims Engle — a luxury item filled with fancy features.
Best Butt Plug If You Have a Penis
For those with one, penis rings make erections stronger and last longer. Engle assures that this toy is "not actually scary."
Simple but effective. Just as Engle mentioned above, one reviewer can attest that this two-in-one sex toy "kept them hard and restricted ejaculation."
This article was originally published August 2020. If you buy something through our links, New York may earn an affiliate commission.