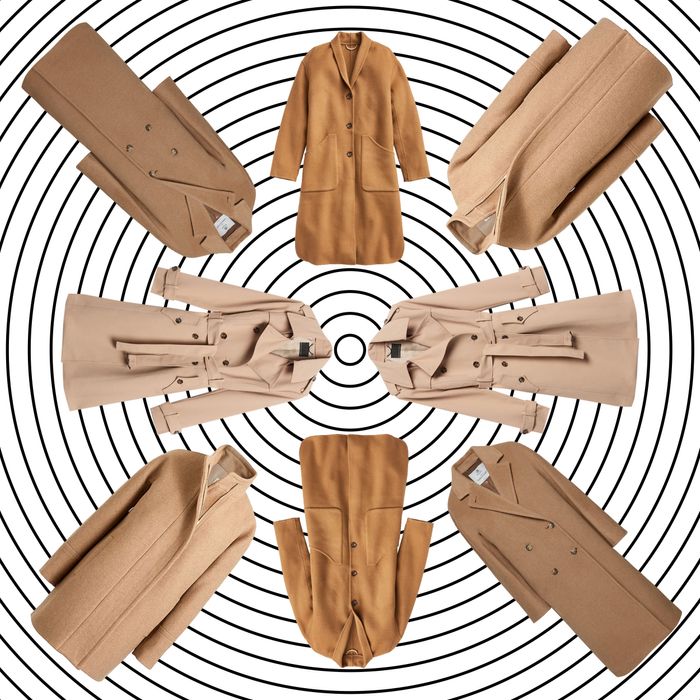 Photo-Illustration: by The Cut; Photos: Retailers
When it comes to shopping for a new coat, do you find yourself skipping over the neutrals? Maybe they aren't your thing and you prefer something flashier? Stop for a moment and consider the camel coat. It's a staple in just about every closet — and for good reason: It never goes out of style, and it makes you look instantly put-together even if you're just dashing to the bodega.
A camel coat works for everything: commuting, weekend brunch, or just running errands. Plus the color is easy to match with almost anything in your closet, making it that much easier to feel good about your outfit in the mornings. Scroll down for our picks for camel coats for every budget.
The Recycled Coat
In addition to being made with 80 percent recycled wool, this particular coat has a nice, roomy, cocoon silhouette that's perfect for layering sweaters under.
Available in sizes XS–2X.
The Lighter Coat
This camel coat isn't made with wool, so it's a good choice if you live in a warmer climate but still want the look of a winter coat.
Available in sizes XS–XXL.
The Cardigan-Coat
This relaxed, belted coat is long and slouchy, which makes it reminiscent of a comfy cardigan but warmer and more stylish.
Available in sizes XXS–XL.
The Not-Quite-a-Trench Coat
The close cousin of the camel coat is the trench coat. If you can't get enough of a trench shape (large lapels, double breasted, air of British aristocracy), but need something warmer, this Banana Republic coat is a good bet.
Available in sizes XXS–XL.
The Coat You Can Get in Two Days
Need a wardrobe upgrade, stat? You won't regret this classic Calvin Klein coat available on Amazon.
Available in sizes XS–XL.
The Coat That Comes With an Accessory
This Mango coat comes in with a built-in scarf, so you'll never have to worry about clashing.
Available in sizes S–L.
The Waist-Defining Coat
Most coats don't show off your figure. This one, however, is tailored at the waist and has a belt tie. No matter how many sweaters you have on underneath, you'll still look sleek and it's completed with a removable faux fur lapel.
Available in sizes XS–XXL.
The Best-selling Coat
J.Crew is known for its classic coats, and this mid-length topcoat is a best seller. They come in pretty much any color of the rainbow, but you can't go wrong with camel.
Available in sizes 00–24.
The Classic Coat
A longer length means exponential gains in warmth. Trust us — your knees will thank you.
Available in sizes 2–18.
The Multifunctional (and Toned) Coat
Wearing this coat belted or unbelted gives two totally different looks. When worn unbelted, it's a nice slouchy fit. Belted, it looks more like an elegant robe.
Available in sizes XS–XL.
The Slightly Embellished Coat
Say you want a coat with a bit more detail than just a belt? Well, this is the coat for you: a classic fit, full length, and accented with a fringe trim.
Available in sizes XS–L.
The Only Coat You'll Ever Need
We've already said you can wear a camel coat anywhere. But a perfectly simple high-collared coat like this will really go with anything from post-Pilates workout gear to a black-tie dress.
Available in sizes XS–L.
The Minimalist Coat
No bells, whistles, or belt loops to be found here. Just one button.
Available in sizes S–L.
The Button-Forward Coat
Take double-breasted coats to a whole new level with this Aritzia coat. It's super practical, but also just a tiny bit playful.
Available in sizes 1–3 (see brand size chart).
The "Shaket"
The shirt jacket ("shaket") trend isn't going anywhere. If you live somewhere where it's a bit warmer year-round (or just want to layer up), a camel shaket is a classic, too.
Available in sizes XS–L.
The Cuddly Coat
This is the kind of coat you just want to dive and snuggle into, which is great when it's below freezing and you're looking for any kind of comfort.
Available in sizes 0–14.
The Investment
A luxurious, quality winter coat can get expensive. But when you calculate the cost per wear of a classic coat you'll wear day after day, it makes some sense. This Max Mara coat, made entirely of camel hair, will never go out of style.
Available in sizes UK4–UK18.
If you buy something through our links, New York may earn an affiliate commission.