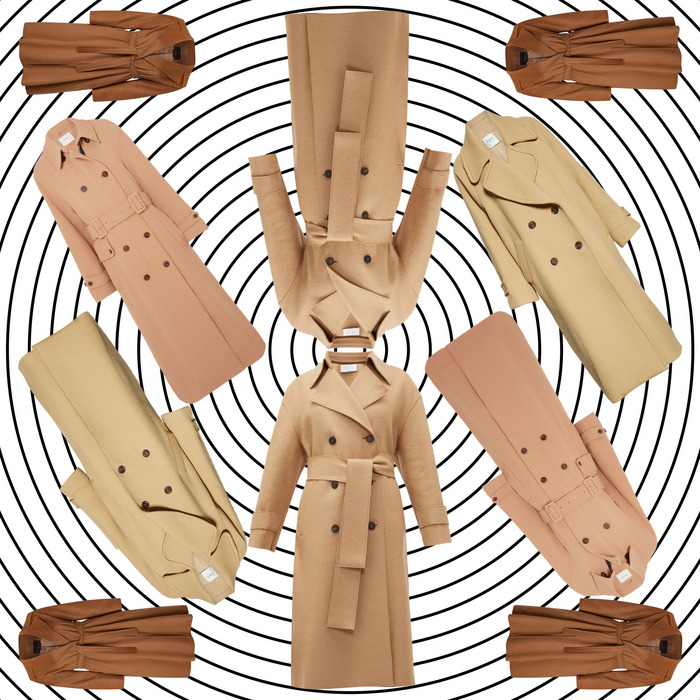 Photo: Courtesy of the Retailers
When it comes to shopping for a new coat, do you find yourself skipping over the neutrals? Maybe they aren't your thing and you prefer something flashier? Stop for a moment and consider the camel coat. It's a staple in just about every closet, and for good reason: It never goes out of style and it makes you look instantly put-together even if you're just dashing to the bodega.
A camel coat works for everything: commuting, weekend brunch, or just running errands. Plus, the color is easy to match with almost anything in your closet, making it that much easier to feel good about your outfit in the mornings. Scroll down for our picks for camel coats for every budget.
The Recycled Coat
The Lighter Coat
The Cardigan-Coat
The Not-Quite-a-Trench Coat
Harris Wharf London Double-Breasted Wool Trench Coat
The close cousin of the camel coat is the trench coat. If you can't get enough of a trench shape (large lapels, double breasted, air of British aristocracy), but need something warmer, this Harris Wharf coat is a good bet.
Available in sizes 36 IT–44 IT.
The Coat You Can Get In Two Days
The Coat That Comes With an Accessory
The Waist-Defining Coat
The Best-Selling Coat
The Girly Coat
The Classic Coat
The Multi-Functional Coat
The Slightly Embellished Coat
The Only Coat You'll Ever Need
The Scandi-Chic Coat
The Minimalist Coat
The Button-Forward Coat
The Short Coat
The Cuddly Coat
The Investment
If you buy something through our links, New York may earn an affiliate commission.