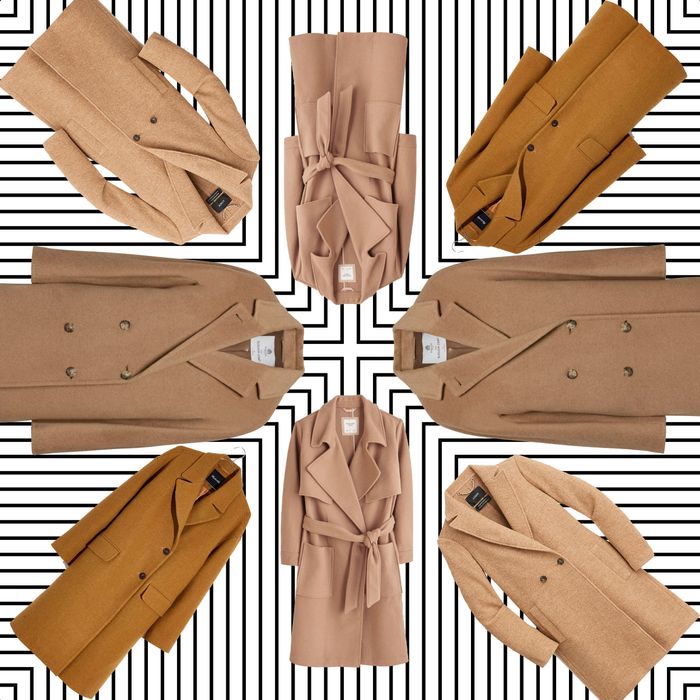 Photo-Illustration: by The Cut; Photos: Retailers
A camel coat is just as much a fall must-have as black boots. If you find yourself skipping over the neutrals, gravitating toward something flashier, but always picking your black puffer jacket, you need to stop for a moment and consider the camel coat. It's a staple for a reason: It never goes out of style, and it makes you look instantly put-together even if you're just dashing to the bodega.
Commuting? Wear a camel coat. Weekend brunch? Wear a camel coat. Simply running errands? Don't forget your camel coat! Still not convinced? Scroll down to find 17 options for every budget (and style).
The Multipurpose One
If you want something chic but fitting and still somewhat practical, opt for this one from Reformation. Sure, it doesn't have buttons, but it does have an adjustable belt, and that's pretty much the same thing.
The Best Seller
J.Crew is known for its classic coats, and this mid-length topcoat is a best seller. It comes in pretty much any color of the rainbow, but again, we're making a serious case for a camel coat.
The One Made to Withstand the Weather
Made from wind-resistant wool, this supersoft coat from Madewell will get you ready to brace NYC winters.
The Trench Option
Who knew the early-aughts mall brand could make a trench so chic? This belted wool-blend trench coat won't make you look like an undercover detective.
The One for Shoppers of All Heights
Nothing ruins a look more than an ill-fitting coat. This lightweight-but-warm topcoat comes in regular, tall, and petite. So no matter your height, you won't struggle to find a good fit.
The Recycled Coat
In addition to being made with 80 percent recycled wool, this particular coat has a nice, roomy, cocoon silhouette that's perfect for layering sweaters under.
The Belted One
If you still want a formfitting option, this belted coat provides the right amount of oversize and snug.
A Warmer Update
Or consider this quilted puffer. It's a warmer take on the camel coat (and another option to give your black puffer a much-needed break).
The Longwear Option
We can guarantee this timeless wool-blend and tweed coat won't end up in a donation pile next year. It's stylish without being too trendy and flattering without being too flashy.
The Coat That Comes With an Accessory
This Mango coat comes in with a built-in scarf, so you'll never have to worry about clashing (or being underdressed for the cold weather).
The Oversize One
This oversize wool- and silk-blend coat is a little less "morning commute" and a little more "model of duty"; it's also perfect for layering chunky knits and blazers underneath to really get the look.
The Polished Option
If you want something similar to a blazer but with a bit more structure, this peacoat is a polished option.
The Classic Coat
If you're looking for a coat for all your back-to-the-office outfits, this 60 percent wool coat is lightweight (but warm) enough to layer for your commute. Who wants to be sweating on the subway?
The Fuzzy One
Behold the grown-up version of those teddy-bear jackets. This fuzzy wool coat is as fun, but you won't regret buying it immediately after. It's also long enough to wear over mini- and midi skirts.
The Minimalist Coat
Keeping it super-simple (and affordable), this lightweight coat is one to grab when you don't want to think too much about your outfit.
The Button-Forward Coat
Take double-breasted coats to a whole new level with this Aritzia coat. It's super practical, but also just a tiny bit playful.
The Investment
A luxurious, quality winter coat can get expensive. But when you calculate the cost per wear of a classic coat you'll wear day after day, it makes some sense. This Max Mara coat, made entirely of camel hair, will never go out of style.