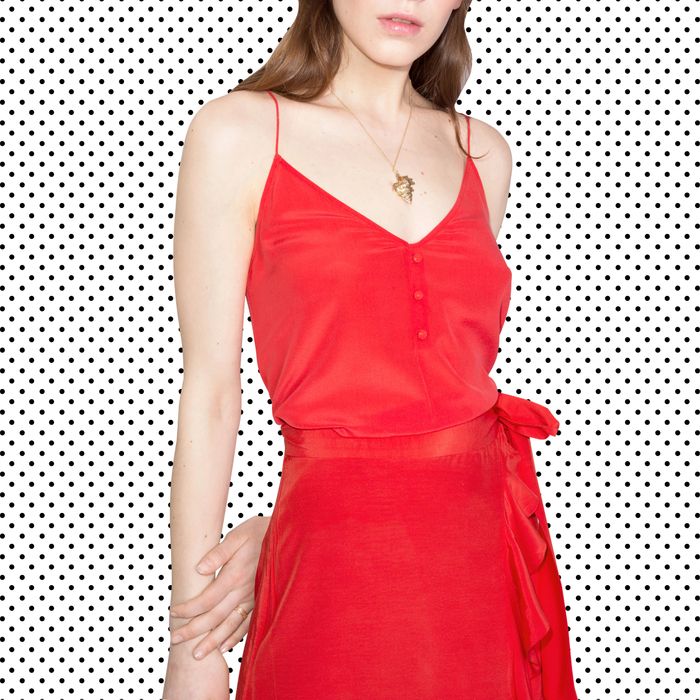 The sun is beaming, the flowers are blooming, and you can finally walk out of the house without a jacket. As much as you may relish the warm weather now, though, it's only a matter of time before it's uncomfortably hot and all you'll want to wear is the least amount of layers socially acceptable. Enter the camisole, which can feel just as dressy as a classic button-down with the right bra. Scroll below to browse all of our favorites.
During the summer I make sure to keep a heavy stock of basic white camis on hand: I wear them with skirts, high-waisted jeans, or classic trousers to work and they go with everything. Everlane's is particularly special because its supremely soft and lightweight.
The cowl neck, a.k.a. the statement top of the '90s, is quickly becoming a statement top of the '10s. At $30, this is an easy way to dabble in the rend. The side ties also add a bit of fun as a sexy going-out top.
If you're in a work rut, why not introduce a fun cami to shake things up? Treat the polka dot as a neutral, and if you're office dictates a bare shoulder rule, it'll also look great layered underneath a linen blazer.
You can never have too many black camisoles. The sheer side panels on this one add a cool twist without baring too much side-boob.
There's something about crochet that makes you feel like you should be on the sand, with a straw hat and margarita in hand. If you're planning on vacationing a bunch this summer, this top should be the first thing in your weekender bag.
Silk camisoles will usually run you at least $100 bucks, but this beautiful bold red cami is deceptively affordable. Take a cue from the site's lookbook and pair it with a matching skirt for an effortless summer look.
The black-and-white colorblocking at the bust is unexpected and stylish.
Bing's eponymous clothing line has been an underground favorite for over a decade. The brand's bread and butter: silky soft camisoles and feminine lace bralettes (which we also love).
Everlane's trademarked GoWeave material is amazing for two reasons: it's temperature-regulating so you won't overheat, and it's wrinkle resistant. Everlane just release a line of summer tops incorporating the material like this bright poppy red cami.
Although smocked tops have always been summer fashion canon, the look is on the verge of becoming a major trend. Here's one that marries a golden shade of yellow with a square neckline and thick straps for extra support.
Because You Love Interesting Details
While the front is a modest square neckline, the back features two bows that are great for particularly hot days when you want to feel like you're wearing as little as possible.
Play up the Lolita-esque color combo with a bold red lip.
If You Love Animal Prints
If you miss your leopard-print coat, this is a good seasonal alternative.
If you hate prints but you're also sick of solid black, try a monochromatic print like this polka-dot cami.
The Non Boring Neutral One
So it's one of those mornings where you hit snooze for half an hour, and now you have ten minutes to get dressed? Throw on this neutral top with some big earrings and black trousers, and you're all set.
A camisole that can also work as a dress? We'll take it in every color. Throw it on with strappy heels for a fancy night out.
If the earlier smocked top is not your speed, here's one in a neutral that's a little more sophisticated.
You know that cha-cha emoji everyone adds on Instagram? This is it in real life.
If you buy something through our links, New York may earn an affiliate commission.