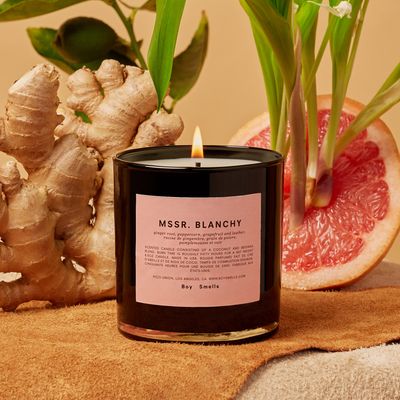 A Status Candle in a fitting Freakebana mise-en-scène.
Photo: Isabella Behravan
You may have noticed some posts from our friends at the Strategist on the Cut. They'll be dropping in every now and again, sharing their expertise on the basics you don't have time to research and the weird and wonderful things you don't yet know you need.
The millions of people who watched Meghan Markle marry Prince Harry couldn't smell the royal wedding. But if they could have, they would have experienced the distinct aroma of many Diptyque candles. Providing the Royal Wedding candle only confirmed what we've long known about Diptyque — it's the Status Candle. The French company has been around for over 50 years and its scents have inspired devotion in everyone from Mike Nichols (he always burned the Oranger ones) to Beyoncé (vanilla). When I told someone I've been asking around about the next Status Candle, he replied, "What's the current status ca — oh, Diptyque."
But as scent preferences shift away from flowery perfumes toward earthy scents like palo santo (which multiple people surveyed say they simply prefer over candles), and as a mini-boom in candle-making grows in the United States, now could be the time to name a new Status Candle. The newer ones aren't quite so formal and rarefied, either — it's easy to find 6-to-8-ish ounce candles for under $40 now, instead of for $65 and up. To name the newest status candles, we asked designers, buyers, and people with generally good taste about which ones they think will dethrone Diptyque.
Two new Status Candles
"Conceived beyond the gender binary," Boy Smells is a two-year-old brand out of Los Angeles. It's a small company — its two founders, a couple, started mixing the candles in their home and still run the company out of it — and it's extremely new-guard, what with the pale pink packaging and the fact that boy smells are usually not pleasant smells (irony!). None of which should distract from the fact that these candles also smell really good in unassuming ways. (I can personally attest to this: I discovered the brand in a beautiful shop in my neck of Brooklyn, and bought the ST. AL. candle, with a scent of sandalwood, clay, and oud. I light it almost every night.)
Boy Smells comes recommended from, among others, Ted Vadakan, founder of the Los Angeles shop Poketo. When I reached out to the Sydell Group, which runs stylish properties like the Line Hotels and the Freehands, they directed me to Vadakan, as there's a Poketo in the lobby of the Line in L.A. Poketo has carried Boy Smells from the beginning, when the latter's founders were peddling their new wares and showed up at Vadakan's shop. "I think so many candle lines are steered toward a more feminine point of view," Vadakan says. "With Boy Smells, it's definitely for both men and women." His favorite scent is the Cedar Stack, which smells like sawdust but also like labdanum, a floral resin. On the East Coast, jewelry and bag designer Susan Alexandra says she loves Boy Smells' Ash candle, which she found at the shop Mott NYC. "I walked in and I was like, 'What's happening here?' and they were like, 'Oh, it's Boy Smells,'" she says. Creatures of Comfort also burns them.
But an incredible aroma isn't quite enough to confer haute status. So I reached out to Lisa Says Gah, an online shop that sells brands like Maryam Nassir Zadeh and Paloma Wool, to ask why Boy Smells is the only candle they carry. "So many reasons," said Lisa's buyer Gabriela Pelletier. The unique scents for one, plus the Lisa team really likes the Boy Smells founders. But crucially, a Boy Smells candle is a notable object on its own. "Diptyque is really known for their branding," Pelletier says. "So is Boy Smells. It's a pink label and a perfect font. You can recognize it as soon as you see it. It's similar to a really prominent shoe brand: You know how women recognize each other's shoes? Any woman can always recognize a Maryam Nassir Zadeh shoe. You don't even have to be up close." It's a signal, a code, if you know how to read it.
This sampler kit of Kush, Ash, and Cedar Stack votives is great for a gift, or for yourself if you simply don't know which one to start with.
This luxuriously crunchy candle line is recognizable in its own way: many of their candles come in brightly colored vessels that look like tie-dyed tree trunks. The colors are coded to the scents (bright blue is night-blooming jasmine; yellow is grapefruit and lemon) and the vessels can be repurposed as planters or cups. It's a small company, with two women at the helm, and all the candles get hand-poured and "sculpted underwater." Christiane Lemieux, interior designer and founder of The Inside name-checks the brand as among her favorites. And at least two New York stores with reputations as arbiters of taste carry them: Oroboro in Soho and Primary Essentials in Brooklyn. Of the candle's stature, Primary Essentials owner Lauren Snyder says, "The vessels are both unique and a statement, but […] a subtle one (which is always important for us)." As for the rest — the packaging bears an almost-Comic Sans typeface — I couldn't put my finger on why exactly this candle would be a Status one until I found an old Lucky article by Jean Godfrey-June, then the magazine's beauty director (she's now the beauty editor at Goop). In her words, these candles are a "form of earthly élan. They are full-on '70s-naked-hot-spring-hippie." In other words, a person who's probably lit every candle out there has attested to Le Feu de L'Eau's transportive powers. A good endorsement.
Le Feu de L'Eau's candles cost $65, but they're also big, coming in 12 and 13 ounce sizes (which are twice that of Diptyque's candles).
More notable candles
Another small company, this time from Brooklyn. Anna Polonsky of the MP Shift, the New York design studio that's done interiors for the restaurant De Maria and graphics for Ferris, recommends them. She pointed out that Keap's candles can be found in notable restaurants around town, such as Cosme, Mettā, and June Wine Bar. "This is a super smart candle company — much more sustainable, natural, and affordable than most big brands," she says. "Good company to support." As for the sustainability Polonsky mentions, Keap uses coconut and soy wax. No paraffin and no metal or lead in the wicks. The newer scent profiles are more evocative of experiences than of objects: Hot Springs contains cedar leaves, cypress, and orange blossoms; Green Market has basil, cilantro, and fig leaves.
Did you know I'm a fan of this Asheville ceramics line? They've also started making candles, and partnered with Joya, a fragrance studio in New York that's worked with Malin+Goetz and Nike, among plenty of others. Like other modern candles, these are designed to smell more like the perfect camping trip than a department store. The East Fork team passed along some development notes from Joya founder Frederick Bouchardy: the Odd Woods scent is an "alien wood explosion, modern, polarizing … a liquid wood bomb: no top notes, sandalwood, tobacco, amber, cedar, cypress, and a lot of patchouli." And Tender Earth is "a[n] homage to Japanese forest bathing: grass, soil, wet earth with tobacco, and leather inflections." The larger candle costs $58; the mini version is $28. One big perk with these: after the wax melts, you're left with a piece of East Fork pottery.
Sarah Natkins runs the New York office of Camron PR, whose design-centric clients include Vitra, Block Shop textiles, and the MoMA Design Store. So I thought it wise to query her for this piece. Turned out Nick and Rachel Cope of Calico Wallpaper, "who have exquisite taste and always gift the best candles," Natkins says, had just gifted her one from the French line Overose. "Nympholia has woodsy notes but also a more floral, rose-y aspect mixed in, which I like. I'm a design person, so it has to look good on my coffee table. I love the monochromatic use of color — how the dusty rose takes over both the candle and the container, and I adore the font on the label. I'm also a sucker for packaging, and it came in a very substantial, Memphis-y, wavy shaped box that I loved. Was hard to part with it."
If you want your Status Candle to be extra-clean, CAP Beauty co-owner Cindy DiPrima recommends The Sphinx and the Priestess. "We are really limited in what candles we can sell," she says. "Our definition of all-natural means candles that contain no synthetics, and candles that are soy-based. But if the fragrance is synthetic it won't work." These candles use botanical essential oils for fragrance. The Sphinx line also mixes well with the ethos at CAP (which carries Moon Juice products) partly because each one has a crystal buried in its wax. "They have a deep study of witchy practices," DiPrima says of the makers. "They make candles during certain moon cycles."
"You definitely should be up on Burnin' For You," Susan Alexandra says. "Nothing she" — the brand's founder — "makes is normal; the candles are based on these visions she has, so she'll be trying to evoke the desert at midnight or a disco in the '70s." Prop stylist Kalen Kaminski, who works with plenty of clients but whom I found through Alison Roman, also recommends these.
In keeping with the experiential trend, Otherland names its candles after things — in this case, things you might sit on, or see at a vacation house, like Daybed (peony and summer greens) or Rattan (sandalwood, moss). Kaminski called the packaging "Matisse-like," which is totally true. Otherland recently created a custom candle for The Wing, with an of-the-moment terrazzo print on the packaging, and we take that as a solid co-sign that this candle is worth knowing.
If you want to out-Diptyque Diptyque
Polonsky also pointed out that in the realm of luxurious candles, few beat Cire Trudon: "Anything coming from Ramdane" Touhami, the skateboarder turned artist and designer who rebranded Cire Trudon in addition to Buly 1803 and Carrière Frères, "is very 'status'-friendly for sure." "Beautiful glass jar, too." Also, French. And, at $95, these candles have a mix of old world aromas (burning bushes, floral leather) and newfangled ones (mimosas). People go apeshit for these candles.
I also asked Wendy Goodman, New York's design editor and the person with the most unfettered access to the most sensational homes, about candles. Fresh off a visit to the home of Zac Posen and Christopher Niquet ("the arbiters of all things glorious and delicious from fashion to food to scent," Wendy says), she said it had smelled incredible. She asked why, and besides burning incense and freshening with Frédéric Malle's Cafe Society spray, Posen and Niquet burn candles from Régime des Fleurs. These include notes of things I've never even heard of (elemi, olibanum, shiso) and, at $100, cost the most out of everything on this list. The candles shown here are painted by Voutsa, which is especially extra.
Or, if you just want Diptyque
The brand is a classic for a reason, and even its newer competitors recognize its stature. An Instagram post by Boy Smells, in which their own candles mingle with ones from Diptyque and Byredo, refers to the former brand as "the elder statesmen of candles." Back to the royal wedding: If you want to know which ones were used, sorry. "The brand is unable to reveal the exact fragrances they supplied," according to Harper's Bazaar. But Baies is the longstanding best-seller, so you can always go classic.
There's also a middle-ground option: peruse Diptyque's many woody and herbal candles. No matter what, Diptyque's take on these scents will be more like perfume than that of other brands. (Visit the store if you don't believe me.) These won't smell quite like upstate, or Sour Diesel. But patchouli or oud might get you close enough.
The Strategist is designed to surface the most useful, expert recommendations for things to buy across the vast e-commerce landscape. Some of our latest conquests include the best acne treatments, rolling luggage, pillows for side sleepers, natural anxiety remedies, and bath towels. We update links when possible, but note that deals can expire and all prices are subject to change.
Every editorial product is independently selected. If you buy something through our links, New York may earn an affiliate commission.