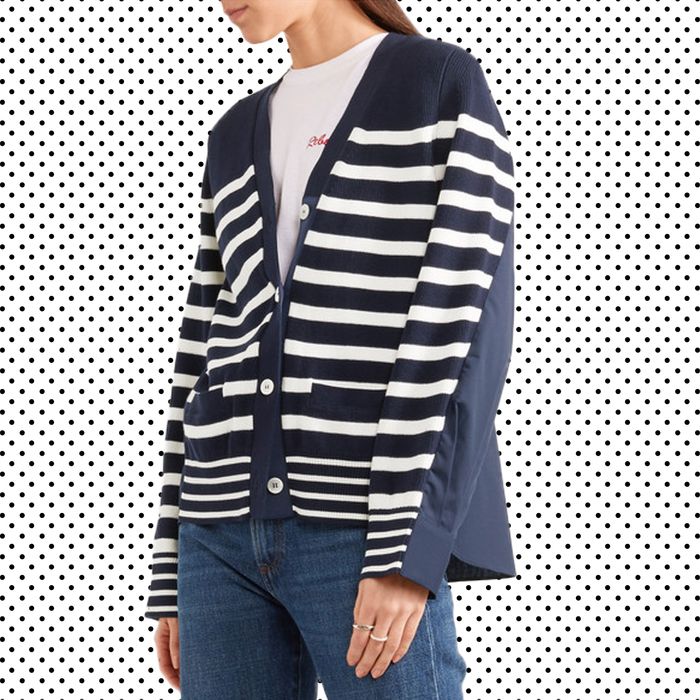 Getting dressed for work shouldn't be a bore. Welcome to Business Casual — here to make your weekdays easier.
Summer is finally here and nothing feels better than shedding those bulky layers. But wait, what happens when you enter the office in that pretty sundress? Why, yes, it's the women's winter, and your cute outfit is utterly unfit to combat the sudden onslaught of frigid air-conditioning. Don't shiver at your desk needlessly — now is the time for a stylish cardigan. You probably already have one stashed at your cubicle, but if you're in need of a new desk sweater, here are our current favorites.
Sick of that drab black cardigan draped on the back of your chair? Here's an option that literally looks like the sunshine you're sorely lacking in your Arctic office.
Eloquii's customers adore this cardigan so much that it's become one of their staples. This red-orange shade is a particularly pleasant option for summer if you're sick of neutrals.
The Pretty One (That You Can Make Edgy)
At first glance, this ruffled cardigan seems almost too sweet. But think about how designers like Simone Rocha and Comme des Garçons love to mix frills in with their edgy pieces. Style this with something black and cool, and it'll take on a whole new vibe.
This long, sleek navy style is refreshingly simple. It'll be especially striking if you're wearing tons of white this summer.
The Classic Staple to Buy in Multiples
Can you do a cardigan roundup without J.Crew? Of course not. The preppy brand is still the default when you're looking for a colorful layer, and this bright-red one checks all the boxes you'd require in a desk sweater.
Yoox's in-house brand is filled with affordable, high-quality basics like this cardigan.
As close to a faux-fur coat as you can get in the summer.
If You're Still Into Pink
She'd approve of this cream-colored cardigan. Wear it at your desk and pretend you're enjoying a crisp glass of Pinot Grigio while in a sun-drenched kitchen.
So you hate wearing cardigans because you think they're boring? Let the Opening Ceremony folks change your mind with this bright-red style that is definitely not for conservative offices.
The Environmentally Conscious Option
If you're trying to shop sustainably, you'll be happy to note that this Eileen Fisher cardigan is made from ecofriendly lyocell and organic cotton.
If You Love Awkward Pants
The cropped length on this cardigan is the ideal partner to high-waisted jeans, especially if you add in a camisole.
For the Eccentric Dresser
True to Sacai's signature hybrid style, this is the lovechild of a button down and a striped cardigan.
The Secret Summer Styling Trick
If all of your work clothes are in boring neutrals and it's making you depressed, try this rainbow-bright cardigan. Wear it over a year-round staple like a sheath dress to make it feel summery.
If you buy something through our links, New York may earn an affiliate commission.