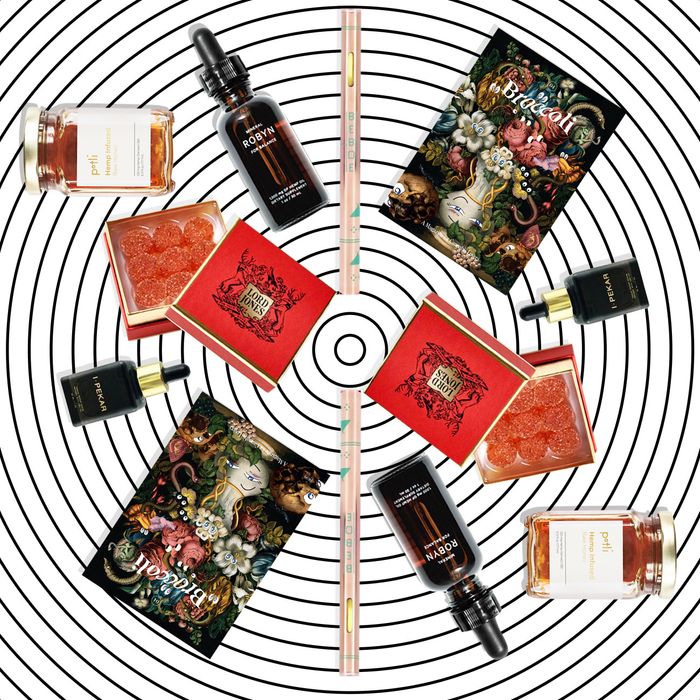 Photo: Courtesy of the Retailers
Below, cannabis expert Charlotte Palermino rounds up the best CBD products for everyone in your life.
With 2018 coming to a close, the best gift you can receive might just be the promise of a less stressful 2019. Dominating the wellness world and seemingly every local coffee shop, Cannabidiol (CBD) is the mostly legal compound that wants to deliver us from anxiety.
Before you start shopping for CBD gifts for your friends, though, it's useful to have a primer on how it works. CBD is one of the most abundant compounds found in both cannabis and hemp (the other one is tetrahydrocannabinol, otherwise known as THC). Hemp is legal in 40 states while THC is legal in ten, making hemp-derived CBD available in largely every state across America.
Despite what many people believe, CBD is psychoactive; it just won't get you high. While THC will bind directly to neural receptors, CBD, from what we know, activates responses in your body, triggering your endocannabinoid system, which regulates everything from mood to digestion to your immune system. The research is preliminary, but there are studies that indicate CBD may help relieve anxiety and inflammation. It might even help with your complexion.
It's important to note that CBD products are unregulated, dosing is all over the place, and much of the existing research is done with doses much higher than what you'll usually find on the market. (It's also mostly been done with isolate CBD, not full-spectrum, although one study indicates that full-spectrum is more effective.)
I've spent the past year building a network of scientists, researchers, activists, and doctors who work in cannabis as references for my website and consulting agency, Nice Paper. So I know a lot about this landscape — including how confusing it can be, and how much good stuff is out there. Below, I've rounded up 15 great CBD-based gifts to buy this holiday season.
For the Design Snob
Since hemp is unregulated, you have to do your homework before buying anything on the market. One standout — both in terms of quality and design — is MINERAL. The brand's daily hemp oil formula is different from other tinctures in that it uses the whole plant and doesn't just focus on CBD. It also has concentrated amounts of other cannabinoids that help with inflammation, including CBC and CBG. And the products are beautiful, too. This gift box contains a sublingual tincture that's formulated to promote balance and a salve that helps relieve aches and pains, both packaged in sleek amber.
For the Home Cook
If you want to infuse your weed into a homemade oil, you need to cook it first to release the THC. LEVO makes that easier for newbies and Iron Chefs alike. You can actually use the machine to infuse any herb into the oil of your choice, meaning you can whip up a batch of THC-infused ghee and follow it up with some rosemary olive oil. Who needs a dry magic brownie when you can make magic mac-n-cheese, MCT smoothies, or an olive oil cake? You can even use your LEVO to infuse hemp into argan or rosehip oil to add to your beauty routine.
For Your Mom
Real-life best friends Christine Yi and Felicity Chen started producing cannabis-infused honey to make weed more approachable to their mothers, who liked using it for medical purposes. They've recently expanded into a line of full-spectrum hemp olive oil and honey — the perfect buy for anyone who's curious about hemp but nervous about how to use it.
For Your Friend Who Loves Vapes
Cute vapes can be hard to come by, but Beboe's CBD rosegold pen is one you wouldn't be embarrassed to pull out of your bag in public. Great for beginners, this pen has hints of grapefruit and citrus terpenes with 500mg of hemp-derived CBD and around 120 doses per pen. As smoking CBD increases its bioavailability, this is especially perfect for anyone who won't stop JUULing and is stressed out about it.
For Your Friend Who Loves Snacks
Get someone the gift of chill snacking with Soul Addict's Holy Cacao Hemp Butter. A blend of raw cacao chocolate, raw coconut meat, hemp seed oil and hemp CBD, it's perfect for adding to smoothies or just eating by the spoonful.
For the CBD Newbie Who Wants to Experiment
Most subscription boxes end up creating a graveyard of expired lipstick samplers and receipts, but the items sent to you by cannabis mail-order service Allume won't get exiled to the land of forgotten products. You get a different curated box each month, and you can buy up to six months. Boxes sell out monthly, and each curation has a different theme, from beauty to chilling to essentials.
For Your Friend Who's Obsessed with Skin Care
Hailing from Budapest, allegedly the "spa capital of the world," celebrity aesthetician and skin whisperer Ildi Pekar has created a tissue repair serum packed with hyaluronic acid, probiotics, Vitamin C, and over 250mg of CBD. It promises to rebuild cells, reduce inflammation, and plump your skin during harsh winter months.
For Your Friend Who's Very Into This Whole Trend
This koozie will keep her beverages cold and her hands warm, while reminding everyone that she really, really likes CBD.
For Your Friend Who Knows a Thing or Two About Cannabis
Mister Green Life Store sells an array of products for high-minded people. If you're shopping for someone who's a bit more advanced in her weed consumption, help upgrade her smoking sessions with a brass rolling tray, roach clip, cute rolling papers, and a gold peace pin.
For Anyone With Cold Feet
Look, socks are the greatest gift of all time. Who doesn't want to be cozy? Or warm? Finding a pair of matching socks in the morning is a reminder that your life hasn't fully descended into chaos. Give someone peace of mind with Mister Green's Word Mark Socks, which are blessedly absent of stoner jokes, 420 puns, or weed leaves.
For the Magazine Lover
Take the aesthetic of Kinfolk, get it high, add some psychedelic flare, and you have Broccoli Magazine. The brainchild of Kinfolk's creative director Anja Charbonneau, this is a magazine for women who love weed.
For the Friend Who Takes Better Care of Her Pet Than She Does Herself
Forever Pet CBD is safe for dogs and cats and is said to help relieve pain, inflammation, and help with mobility.
For the Friend Who Loves a Holiday Theme
Lord Jones is putting a holiday twist on their classic flavors, which come with 20mg of CBD per gumdrop. Get Mango Chili or Sugarplum in cute festive packaging through December 31, and if you can't choose, just get both.
For the Friend Who Is Fashun
This acrylic bag with a detachable cross-body link strap is cute, chic, and goes with anything.
For the Friend Who Loves Sports
And finally, from my own company Nice Paper, a limited-edition soak and salve powered by Weedsport's topical technology and launched in collaboration with hot yoga darling YZ. A single ounce of AFTERFLOW salve packs 250mg of CBD, while the bath soak has 50mg of CBD per bag to ease post workout (or holiday dinner) aches and pains.
If you buy something through our links, New York may earn an affiliate commission.