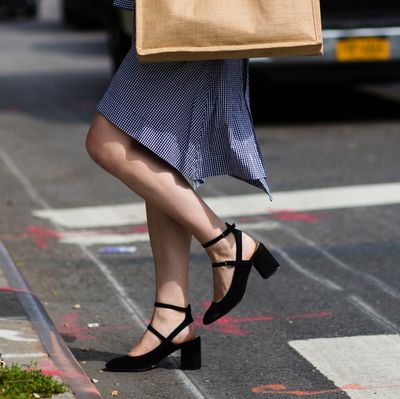 Photo: Nabile Quenum/Nabile Quenum
Getting dressed for work shouldn't be a bore. Welcome to Business Casual— here to make your weekdays easier.
The grandma-looking block heel isn't a new trend — early adopters have been wearing the chunky shoes for a few years now. But it's gone mainstream, as evidenced by Everlane's wildly popular Day heels and Nordstrom's devoted search filter. And for good reason: Block heels are comfortable, sensible, and very work-friendly. They look good with nearly everything in your closet, from dresses to skirts and even pants. The trick to keeping them from delving into schlumpy territory? Show a bit of ankle. Scroll ahead to shop our favorites that are $150 or less — sometimes much less.
Made with stretchy straps, these comfy suede heels are easy to pull on when you're in a rush.
If You Want to Shake It Up (Just a Little)
Black wrap-around straps add some drama to sedate gray shoes, but these will still look appropriate worn with work pants.
Photo: afront
Fiery red coupled with swishy tassels makes getting dressed for work more fun.
These would make for a stylish festive option as we approach the holiday party season.
Worried a short block heel will turn your calves into stumps? Try a pointy, slimmer take like this navy pair.
When You Want to Match Your Blazer
Match the turning leaves (or at least the local hot-dog venders) in mustard.
The One That Always Sells Out
Everlane's popular Day heels have sold out twice now. If this is your first foray into a block style, here's a good starting point.
Photo: afront
For the type of person who was an early adopter of awkward high-waisted pants, these grandma-looking pumps are right up your alley.
If you buy something through our links, New York may earn an affiliate commission.