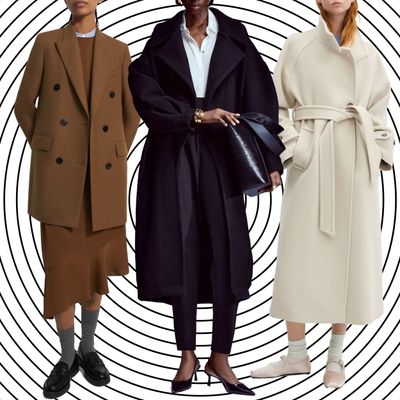 Sometimes a simple beige coat is the way to go.
Photo-Illustration: by The Cut; Photos: Retailers
For more of the Cut's favorite fashion, beauty, and home finds, sign up for the weekly Cut Shop Newsletter.
On the coldest days of the year, nothing will keep you warmer than a good coat, but extra-cozy outerwear sometimes comes off as schlumpy. That's where a classic wool coat comes in. It's the smart basic that you can throw over any work outfit. But if yours is starting to look a little worse for the wear, or you're just in the mood for a new version, you don't necessarily have to splurge on a new winter wool coat. In fact, there are plenty of stylish and good quality options for $400 or less. But if you're not sure where to begin, here's some tips to guide you in your search for the wool coat that's right for you and your winter wardrobe.
FAQs
How can I get a bang for my buck?
The key is to focus on the fabric percentages. Obviously, if the coat is made from only wool, nothing to question. But if it's a wool-blend coat, aim for the material composition to be at least 50 percent or more wool, or look for the inclusion of other warm quality fabrics like cashmere, so you can get the bang for your buck without sacrificing your limbs to the cold.
What is the best color for a wool coat?
Color is always a personal preference, but it's no surprise that people often gravitate towards darker shades in the fall/winter months. Sure, having a wool coat in black or gray is always versatile, and probably forever classic. But if you want to diverge from the winter wardrobe darkness, brighten up your coat closet with some colorful wool coat options and even some winter whites or cream colors. You don't have to have a rainbow of coats (though that is an ambition of some), but why not have a versatile assortment? You know, one black wool for everyday and one spicy red for special occasions.
How do I take care of my wool coat?
Make sure to double check the recommendations for washing the coat before attempting that first clean. Either read the tag or the material and cleaning details on line before ordering to know if you have to take it to the dry cleaners or if you can wash it at home. (Although it's pretty safe to say the majority of wool coats will need to be dry cleaned). In addition to cleaning, there are other care protocols such as de-wrinkling, fabric care, etc, that you want to make sure of before, let's say, putting a hot iron on a coat that can only take low heat and damaging the fibers.
So whether you want to diverge from your classic camel coat, want a classic shape and pattern, an oversize option, or something with personality, scroll ahead to shop our wool coat favorites.
The Surprise Favorite
Sizes: 0–18 | Materials: Wool, Polyester, Cashmere | Colors: 8
When a wool coat costs $200, it's fair to be skeptical, but if reviews are any indication, this coat is a surprise winner. It has a timeless silhouette that's perfect to wear for any occasion.
Because You're an Everlane Fanatic
Sizes: XXS–XL | Materials: Recycled Wool, Recycled Nylon, Recycled Polyester | Colors: 1
You know what you like. And it definitely includes this minimalist, cocoon coat made from the brand's own Rewool.
The Best Double-Breasted Wool Coat
Sizes: XS–L | Materials: Acrylic, Wool, Polyester, Rayon | Colors: 1
Made with 35 percent wool, this double-breast coat is ideal if you're aiming for a preppy look.
The Best Classic Wool Coat
Sizes: 2XS–2XL | Materials: Camel Hair, Virgin Wool, Polyamide | Colors: 2
A classic black coat is necessary for every wardrobe. Its slouchy silhouette is also perfect for layering.
The Best Under-$200 Wool Coat
Sizes: 2XS–XL | Materials: Polyester, Recycled Wool, Acrylic, Polyamide, Cotton, Viscose | Colors: 3
This beautiful oversize wool coat doesn't sacrifice quality. With its chic pointed lapel collar and button detailing on the sleeves, coming in a selection of gray, black or brown, you can now score it for just under $200!
If All You Want Is a Good Black Coat
Sizes: XS–XL | Materials: Wool, Nylon, Cashmere, Polyester | Colors: 2
Made of recycled MWool®, this wrap tie coats is an easy, street chic item to throw on for cool days when you want to achieve that "model off duty," effortless fall fashion girl look.
If You Want One That Looks Like a Shirt
Sizes: 2XS–XL | Materials: Wool, Polyester | Colors: 6
A shirt jacket (or "shacket" as the internet so lovingly refers to it) is always a great option for an added layer on those 60 degree, slightly chilly days. And while plaid and flannel shacket styles are always a popular choice, the soft lilac is a fun choice for something a little different. But if you're someone who really loves their plaid, or even classic camel, the style also comes in a varied selection of colors and patterns.
The Best Duster
Sizes: XS–XL | Materials: Recycled MWool, Recycled Polyamide, Polyamide | Colors: 3
This houndstooth coat exudes an elevated elegance, especially when styled over a pair of cool leather pants or some baggy jeans for a full fall look.
The Dad Coat
Sizes: 2XS–2XL | Materials: Polyester, Wool, Acrylic, Nylon, Viscose | Colors: 4
If you love a good boyfriend sweater, then this Abercrombie "Dad Coat" is for you. Similar to Reformation's houndstooth style coat, this brown color scheme gives vintage '70s dad blazer vibes, but in tailored-jacket form.
The One With the Structured Shoulders
Sizes: 2XS–XL | Materials: Wool, Polyester | Colors: 1
If you haven't heard, structured shoulders are back, and they're the crème de la crème of this stylish beige coat. But the best part of this L'Academie design? If you're not totally feeling the structured look one day, the coat's shoulder pads are removable!
The Sale Find
Sizes: 00 - 12 | Materials: Wool, Recycled Polyester | Colors: 3
For this sharp mid-length, peacoat style, you'd normally have to shell out about $800. But now, you can score this double-breasted design for a fraction of the price. This deep Bordeaux colorway is a rich hue that isn't just black or gray, plus it goes with the fall jewel-tone aesthetic.
The Best Belted Wool Coat
Sizes: XS–L | Materials: Wool | Colors: 4
There's something so elegant and yet so cool about coats with a wrap tie closure, but on days when it's truly freezing, those ties don't help much with true warmth. Luckily this trendy oversize coat has both a tie closure and concealed double-breasted buttons so that you're double secured for those extra cold days.
If You Want to Be Warm (and Colorful)
Sizes: XS - XXL | Materials: Wool, Polyamide, Cashmere | Colors: 2
If you're trying to be Beyoncé levels of "COZY" in whatever coat you're purchasing for the cold winter months ahead, the super-warm technology of Madewell's Italian Insuluxe fabric is sure to get the job done. Not to mention, this wood-rose shade provides a nice pop of color.
The Chic Cream-Colored Coat
Sizes: XS-L | Materials: Virgin wool, Polyamide, Wool | One Color
We love a slouchy-chic coat, especially one with a unique button-up turtleneck-style collar that's guaranteed to keep you warm. This cream-colored coat, made of virgin wool, has beautiful buttoned cuffs and snug side pockets. It's also a great option for breaking up your dark fall/winter wardrobe.
If You Want to Be Bold
Sizes: XS - XXL | Materials: Wool, Polyamide | One Color
Because people tend to gravitate toward a darker color palette in the fall and winter, why not make a statement in a bright, eye-catching color? If you're into the fitted coat silhouette, try this classic single-button coat in bold red for a statement-making — yet sophisticated — style that's sure to turn heads.
The Sleek Fitted One
Sizes: XS - XL | Materials: Wool-Inspired Fabrics, Viscose, Polyester | Colors: 2
This sleek and structured Free People coat is ideal for those who like the crisp, tailored look. It features thin, long lapels with cool side slits and a one-button closure.
The One With the Statement Collar
Sizes: XS - L | Materials: Wool, Acrylic, Nylon | Colors: 2
Featuring a large notched collar and puckered-cuff sleeves, this style is timeless and feminine. The oversize silhouette makes it perfect for layering over your favorite seasonal sweaters.
Because Brown Is Trending
Sizes: 00-20 | Materials: Melton Wool | Colors: 3
If you haven't already heard, brown is the new black — especially for the fall/winter season. Sport the trend with this relaxed, semi-collarless "Grounded Coffee" colored coat. It's made of melton wool (which is said to be the most weather-resistant of all woolen materials), plus it's majorly marked down for a limited time.
The One With a Detachable Collar
Sizes: XXS-L | Materials: Recycled Wool, Polyamide | Colors: 2
This COS coat is the subdued but fashion-forward winter essential you've been looking for. It has a cool convertible collar that can be worn flipped up, flat, or fastened with a turtleneck-style button closure (which is also detachable).