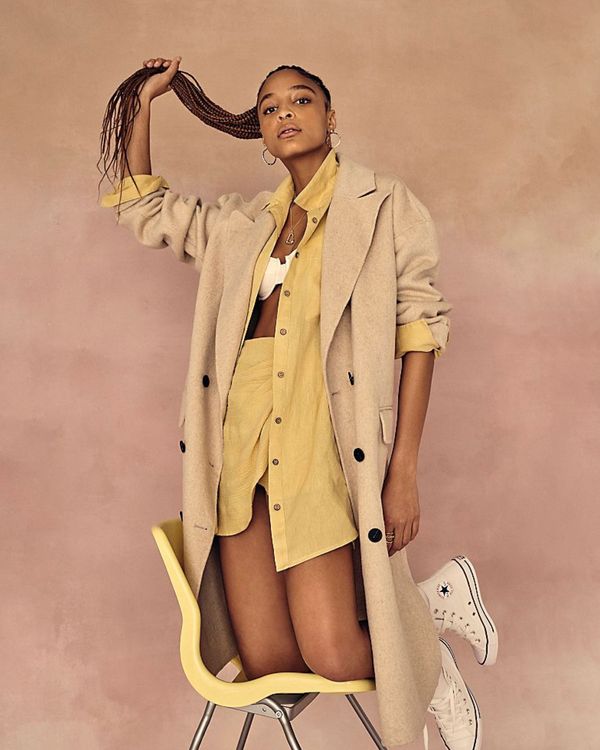 Sometimes a simple beige coat is the way to go.
Photo: Free People
On the coldest days of the year, nothing will keep you warmer than a good coat, but extra-cozy outerwear sometimes comes off as schlumpy. That's where a classic wool coat comes in. It's the smart basic that you can throw over any work outfit. But if yours is starting to look a little worse for the wear, or you're just in the mood for a new version, there are plenty of options for $250 or less. Whether you want a subtle pattern, a slouchy robelike option, or something with personality, click ahead to shop our favorites.
The Surprise Favorite
When a wool coat costs $84, it's fair to be skeptical, but if reviews are any indication, this coat is a surprise winner. It has a slouchy fit for a menswear-inspired look while the fabric is heavy and substantial.
Available in sizes S–XXL.
If You Love Bold Details
Buttons are truly an underrated outerwear detail. The gold ones on this rich maroon coat make the entire look more expensive .
Available in sizes XS–XXL.
The Under-$100 Find
The structured, slim silhouette means this coat would look just as good with a sheath dress and heels for work as it would with a pair of jeans and sneakers for running weekend errands.
Available in sizes U.S. 2–16.
If You Love a Dramatic Detail
The voluminous sleeves on this otherwise classic camel coat will make any outfit more interesting.
Available in sizes 14–28.
The One That Looks Vintage
Between its tortoiseshell buttons and plaid pattern, you can basically pawn this off as a lucky find from a chic Parisian vintage shop.
Available in sizes U.S. 0–10.
If You Love Being Cozy
Just because it's widely accepted to wear sweatpants everywhere doesn't mean that being cozy can't also mean looking put-together. Throw this on and you're good to go.
Available in sizes U.S. 0–18.
The Sale Find
If you're looking for an amazing wool coat at a decent price, sales are your best friend. It seems like a no-brainer, but there's a trick to making the most out of a discount buy: Look for classic patterns and shapes like this houndstooth style for the best value.
Available in sizes XS–XL.
Because You're a J.Crew Fanatic
You know what you like. And it definitely includes this cheerful pastel-blue coat.
Available in sizes U.S. 00–16.
If You're a Minimalist
You won't find crazy stitching or flashy buttons here, but you can extend the lapels for a high-collar look.
Available in sizes XS–XL.
The Festive Option
An elegant cherry-red coat feels appropriately merry and bright.
Available in sizes XS–XL.
If You're Sick of Black
Gray is a nice alternative! Although if you want a teensy bit of color, it also comes in olive green.
Available in sizes XXS–XL.
If You Want to Be Slightly Trendy
The pocket details bring to mind a boyfriend-style shirt and is a trendy way to wear a menswear-inspired jacket.
Available in sizes XS–L.
If All You Want Is a Good Black Coat
Sometimes the simplest coat is the hardest to find, but this one ticks all the requirements: clean lines, quality fabric, and sharp shoulders for a tailored-looking fit.
Available in sizes XS-XL.
If You Favor Sleek Lines
A clean rounded collar to show off all of your turtlenecks.
Available in sizes XXS-XXL.
If You Love Camel Coats But Want Something New
Why not try its lighter cousin, ecru? Sleek lapels and a dropped shoulder make this one look like it should cost twice as much.
Available in sizes XS–XL.
If you buy something through our links, New York may earn an affiliate commission.