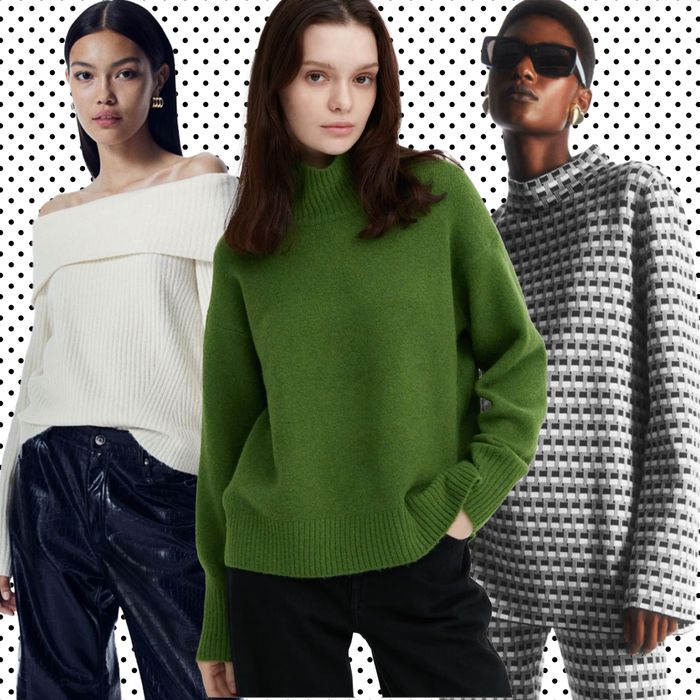 Photo-Illustration: by The Cut; Photos: Retailers
For more of the Cut's favorite fashion, beauty, and home finds, sign up for the weekly Cut Shop Newsletter.
It's almost time to bring out the knitwear. It's not freezing just yet but as fall inches closer the temps will steadily decline. Until then, it's time to start thinking ahead or at least be prepared for your freezing-cold office. We know good-quality cashmere and wool sweaters can be an investment, but being warm, stylish, and cozy is possible without spending a ton.
Whether your aesthetic is colorful, preppy, minimalist, or somewhere in between, we rounded up 22 cheap sweaters under $200 that with great care will last you more than one season.
The Best Seller
Made from 60 percent alpaca, this under-$150 sweater from Everlane is a fan favorite. It's cozy and the ribbed sleeves allow you to scrunch them up for a puffy-sleeve look.
The Sweater Vest
Oversized and cool, there are countless ways to style this sweater vest. Layer it over a button-down, a white tee, or a printed turtleneck, and your outfit is immediately chic.
The Oversize One
Lean into the oversized look by pairing this one with pants that are just as big.
The Short-Sleeve Sweater
It's a T-shirt and a sweater for those in-between weather days.
The Not-so-basic Mock-Neck
You already know we're big fans of all things Uniqlo. This sweater is no different. The green adds a little flair.
The Perfect Winter White
Where else can you get 100 percent cashmere under $80? This sweater comes in over 25 colors for your choosing.
The Cardigan Set
This set comes equipped with a wool-blend tank and a cardigan to throw over your shoulders for a matching set moment.
The Cropped Sweater
Consider this a grown-up crop top. It's not too cropped and pairs well with your favorite high-waisted trousers, so you can probably get away with wearing this to the office.
The Elevated Basic
Because you have enough solid-color sweaters and sets, opt for this jacquard knit top. Pair it with jeans or the matching pants.
The Pink One
Channel your inner Barbie — without going overboard — with this pastel pink sweater. It's a wool and alpaca blend with lots of chic little details like the extra wide collar.
The Mullet Sweater
Business in the front … and a party in the back, or the other way around. This sweater with a twist is reversible so you can show as much skin as you want.
The Striped One
This 100 percent cotton option is for anyone who would rather be on a boat or a field. The men's fit allows for a boxier shape, which looks great tucked into jeans with a belt.
The Cashmere Option
This fitted cashmere J.Crew sweater is not only chic, but it is fair-trade.
The Hoodie Version
Hoodies are pretty comfortable already — add in Mongolian cashmere and it's the perfect combination. This supersoft piece comes in a bunch of colors.
The One With a Fun Detail
Sometimes you really can't settle on a color and now you don't have to. Even though this is technically a black turtleneck, you won't look like you're about to unveil new Apple products, thanks to the white detail.
The Bright-Colored One
This bouclé sweater is the perfect chartreuse color for fall. It will look great paired with some black pants or jeans. So if you're ordering some discounted layering pieces, you might as well throw in this marked-down sweater, too.
The Collared Cardigan
Another Uniqlo favorite, this wool cardigan is perfect if you don't want something too bulky. It's slightly form-fitting but you can size down for a tighter fit.
Not Your Average Sweater
A little off-the-shoulders moment for just under $30? Go ahead, grab it in all three neutral shades.
Another Off-the -shoulder Option
Enjoy the very rare combination of cozy and dressy. Pair this with trousers or a skirt to make it more date-night appropriate.
The Colorful Mock-Neck
If your closet is already filled with neutrals, consider this mock neck that comes in 13 different colors, including three shades of pink and green.
The Lightweight One
If you'd rather skip the chunky sweaters altogether, this one (made from soft merino wool) is form-fitting so you don't have to worry about layering it under your coats and jackets.
The Fluffy One
A little more premium than some of H&M's usual offerings, this perfectly oversized, fuzzy sweater is also made of a blend of mohair and wool.