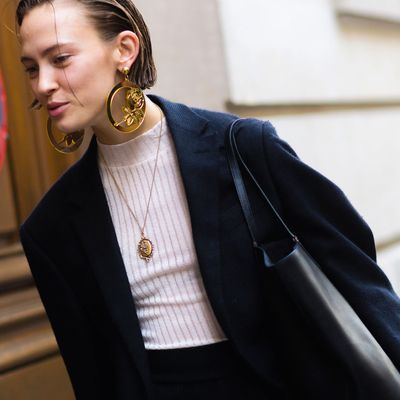 Now's the perfect time to wear a thin sweater under a blazer.
Getting dressed for work shouldn't be a bore. Welcome to Business Casual— here to make your weekdays easier.
The moment the temperature dips below 70 in the fall, everyone's eager to declare it sweater weather. But not all knits are created equal — you don't need to bust out that chunky turtleneck when it's barely chilly. For these temperate days, a thin sweater is your best friend. Treat them like a dressier, work-friendly version of your favorite white T-shirt and tuck it into a midi skirt or slip it under a blazer. Then when it legitimately gets cold, you can use it as a base layer under warmer clothes. With plenty of options under $100, you can buy a few and rotate them throughout the week, making getting dressed in the morning that much quicker. Scroll ahead to shop our favorites.
Get this in black, white, blue, and a fun color like purple or pink, and you have your entire week's worth of tops ready to go.
If You Want Cheap Cashmere
This one is cut slimmer than similar cheap styles from Uniqlo so it tucks nicely.
A Non-Boring White Turtleneck
Delicate ruffles at the sleeves and neck give it extra oomph.
If You Love a Striped Tee
Photo: Tsui, Diana
The bright red lines are sportier than your average black-and-white top but just as versatile.
Two years later, this turtleneck looks like new despite the fact I wear it at least once a week from late fall through early spring.
Original Price: $88
If You Want More Color in Your Closet
Don't want to always wear black now that it's chilly? Get this sweater in cheerful shades like cobalt blue,, coral pink, and icy lavender.
This cozy cashmere turtleneck will more than recoup its costs.
If You Want That Fall Instagram Pic
Forest green looks especially striking against the changing leaves.
If you buy something through our links, New York may earn an affiliate commission.