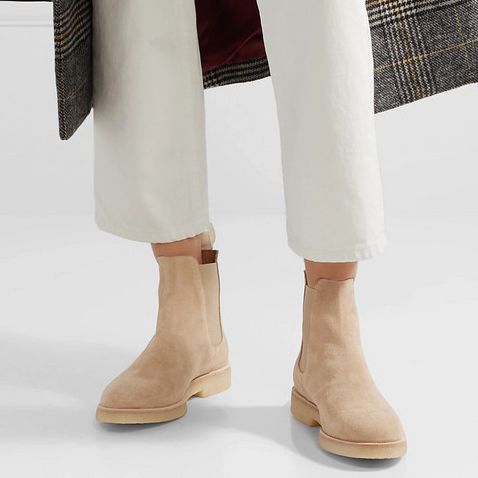 For those of us who don't get to do back-to-school shopping, browsing for fall clothing is the next best thing. And one of the big decisions to make is what kind of boot you will wear this year. You could go with the trendy cowboy or the celeb-favorite thigh-high, but your feet will thank you in the long run for choosing a low-heeled hero. Because of the Chelsea boot's go-with-anything quality, it's a good item to invest in. We've rounded up the 11 best boots available now. Shop the story below.
The Pastel Ones
The unusual color choice makes these look more expensive than they are.
The Ones That Are Made for Walking
Docs have stayed fashionable for so long for the same reason Birkenstocks have — they're just comfortable. These also have the added bonus of being cute, and in a slightly different shade of oxblood.
The Sophisticated Ones
Even with such a sleek black boot, the rebels over at Acne Studios couldn't resist adding a little edge, in the form of a (sort of) steel toe.
The Classics
You can't go wrong with a flat pair in basic black.
The Mod Version
Chelsea boots were popularized during the swinging '60s in London. We're sure the truly stylish wore them in white.
The Punk Option
If the burgundy Docs just weren't hardcore enough.
The Understated Western Ones
Fryes are an easy, comfortable way to experiment with the Western trend without buying a cowboy boot.
The Ones That Are Ready to Party
The Understated Option
A minimalist boot rendered in a pretty, light-colored suede.
If You're Still Singing Along to Mamma Mia
Photo: PADRE/LEON PHOTOGRAPHY
It's the summer of ABBA. Embrace it with these '70s boots.
The Artsy Option
Between the mixed leather and the silver orb heel, this is a statement piece that makes more than one statement.
If you buy something through our links, New York may earn an affiliate commission.